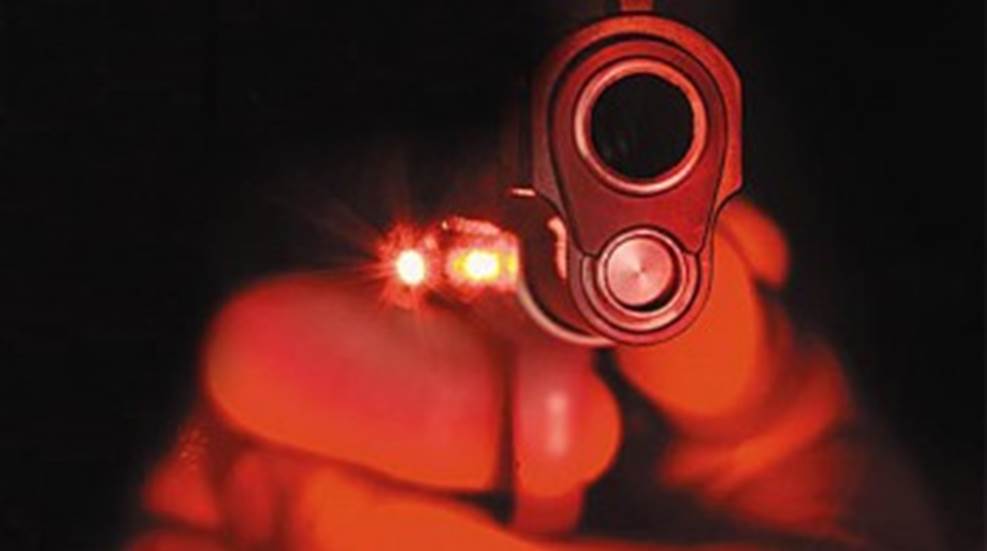 It may have been years since Frankenstein scared black-and-white moviegoers out of their seats, but the storyline that paralyzed entire Saturday-matinee crowds has become something of a recurring nightmare for 1911 fans. The list of aftermarket sights, triggers, grips, bushings and barrels is staggering and growing by the day. Most are fine products and easily bolted on, but if you get carried away, it's not long until your personal-defense handgun is big, clunky and unable to outrun angry, torch-wielding Transylvanian mobs.
Sure you'll amaze your friends and garner longing stares from that aloof woman at the range snack bar, but you just might get it hung up the first time you really need to draw. Alterations to a 1911 should work in concert with a firearm design that's withstood the test of time, and they must be reliable enough that you're willing to bet your life on the changes. Anything else, as Mel Brooks might say, is "Abbey Normal."
It goes without saying that I was a little skeptical when I learned about Kimber's new Custom Crimson Carry II. Why would a company with one of the most attractive lineups available today alter anything, even by adding something as seemingly innocent and functional as Crimson Trace Lasergrips? When two of the firearm industry's giants work in partnership, though, it's worth a look.
As it turned out, this is hardly the first time the pair have teamed up. "The new rosewood Pro-Custom Carry products are the latest joint effort by Kimber and Crimson Trace," said Lane Tobiassen, Crimson Trace marketing director. "Prior to this, we created exclusive, OEM-only Pro-Custom models in digital camo that continue to do very well, and two models in a gray color."
Among those in the Kimber lineup with Lasergrips are the Custom TLE II (LG), Stainless Pro Carry II (LG) and Ultra Carry II/Night Sights (LG). The Pro TLE (LG) was initially introduced with Lasergrips, but the handgun proved so popular that a laserless version has been added to the company's catalog.Then came the digital camo Covert series mentioned by Tobiassen.
Cosmetically, it's easy to see the Custom Crimson Carry II is unlike anything else from Kimber. With a propietary rosewood finish on tough polymer grips and double-diamond checkering, it sports the looks I've come to expect from the company. Crimson Trace offers aftermarket 1911 Lasergrips in a very attractive burlwood finish, but Kimber owners have grown to expect something special, and this finish definitely accomplishes that feat, and in an elegant manner.
"It certainly was a challenge to develop a Pro-Custom grip that looks like real wood, but also offered the durability and performance that Crimson Trace and Kimber require," Tobiassen said. "For those who aren't familiar with water-transfer printing, it basically involves dipping items into a tank of water with a partially dissolved film floating on top. The film, which is kind of like wallpaper, sticks to whatever is dipped into the tank and covers every contour. The trick is finding the right film, primer and topcoat combination that will survive the intense heat and pressure of an injection-mold machine and still look good for many years." The company tested 30 different combinations until it came up with this rosewood finish.
You don't get points for looking good in a gunfight though, and because this is a change to the basic 1911, I wanted to ensure the comfortable handling and geometry were not compromised. I started by inspecting the master on-off switch, which is located on the left grip. For long-term storage or daytime practice it can be disabled to prevent accidental battery drain.
Its vertical orientation was a smart move. Were it horizontal, the odds of inadvertent disabling upon presentation would have been increased. It's also smartly located in a recess that measures less than 1⁄16 inch deep
to further minimize the chances of accidental movement. The toggle itself does not protrude above the recess, and as a result you don't know it's there when handling the gun. Nothing extrudes to hang up on a holster or clothing. It took a little more than 2 pounds of pressure to activate the master switch on the test gun. After the conscious effort it took to move it with my fingernail, that figure came as a pleasant surprise.
The switch is located at the lower right side of the grip panel, again a smart move considering most shooters are right handed. While it's worth noting, the fact that the switch is covered by a southpaw's palm upon presentation shouldn't be a concern. When you draw is not the time to decide whether you want the laser on or off.
Even with the master switch on, the laser-sighting device is only activated when a pressure-sensitive switch located on the front of the grip is depressed. There's really no movement involved—hold the gun and the laser appears downrange. "All of our products feature an overmolded, pressure-sensitive switch that's ergonomically located," Tobiassen said. "We position the switch so that holding the gun in a normal firing grip will activate the laser. The small pressure switch contact inside the overmolded button is very thin and requires very little pressure to activate. Thus we can produce a button that doesn't interfere with the ergonomics of the grip."
But it's a rubberized finish, which left me curious about performance in the cold. After leaving the handgun in 32-degree weather for 2 hours, activation took only 11⁄2 pounds of pressure. Four hours later, at 70 degrees, that figure had dropped to a single pound—not much variance despite a 40-degree temperature swing.
The overmolded switch wraps around the front of the grip, covering about 5⁄8 inch at its thinnest and nearly an inch at the sides. When compared to a standard 1911, it did not compromise the feel and handling of the Custom Crimson Carry II, despite the slight 1⁄16-inch swelling needed to accommodate the pressure switch and enclosed circuitry.
The laser itself is on the right grip panel, high and out of the way. Adding only 1⁄8 inch of width to the grip, it's about the same as an ambi safety, perhaps a little wider. But it's completely rounded to minimize hang-ups and it is even angled up front to ensure fast holstering.
Replacing batteries is a snap; the unit is entirely self-contained and the wood finish is befitting a classic two-tone handgun like this. The pressure-activation switch even anchors in the grips with a stylish Kimber logo. "All our products are water-resistant," Tobiassen said. "The diode itself is sealed water-tight. One model, the LG-204M for Beretta M9 pistols, is waterproof to MIL-STD 810-F and is designed for military applications."
Like all experiments of this magnitude, there's at least one catch. A laser skating across the right side of the pistol could have its beam compromised if it struck the slide-stop pin. Kimber remedied the problem by slightly recessing the hole and shortening the pin. As a result, sighting performance was flawless, although to field strip the pistol I had to use a pen to deal with that finger-defying, albeit tiny, recess.
As for laser longevity, my 1911 has had a pair of Lasergrips for more than seven years and I've never had a problem. Point of aim has never shifted, they're comfortable and remaiin reliable despite many years of downright abuse. About the only complaint I have is that I can never remember to turn off the master switch when I store the gun.
There's nothing ugly about this lasered monster, either. The frame is machined from a solid block of 7075-T7 aluminum, and at 1.28-inches wide, it sports a satin-silver finish.
The steel slide is matte black, giving the Custom Crimson Carry II a classic, businesslike look. Wide serrations at the front and back of the slide ensure positive grip when chambering or clearing the pistol, and they've been finished in a contrasting matte black. The low-profile sights are absent any sharp edges that could complicate things during the draw. There are no white dots on the sights or tritium inserts. The sights are dovetailed into the slide and fixed. The Lasergrips are both windage and elevation adjustable via a small Allen wrench provided with the handgun.
At the heart of this gun beats a rugged and reliable .45 ACP 1911, with proven Kimber embellishments. The aluminum frame, for example, under testing has not shown any signs of appreciable wear, even after 20,000 rounds. With an extended thumb safety, beveled magazine well, subtly extended magazine release and a high-ride beavertail safety, the pistol offers everything you've come to expect from the company.
Its 5-inch barrel, barrel bushing and chamber are all match grade. The breech face has also been polished to ensure reliability.
When it was time for testing I paid particular attention to the pistol's handling and feel. There were no surprises. It felt great to shoot, and laser activation came naturally. "One of the core attributes of our products is maintaining or even improving the ergonomics of a given firearm," Tobiassen said. "Our engineers work very hard to integrate the electronic components of the laser into a grip package that's at least as good, if not better, than the stock grips. We don't tout this aspect very much since we focus so much on the laser sight, but our customers tell us that our grips are great."
At 25 yards, benched, the best groups were produced when using 185-grain Hornady XTP load. For five, five-shot groups, it averaged 21⁄8 inches. Interestingly, groups widened noticeably with the 200-grain version of the same bullet, leading me to the rather unscientific conclusion that the Custom Crimson Carry II I tested may have an affinity for lighter bullets. My theory was dispelled instantly when the 185-grain Remington Golden Sabers failed to tighten groups any.There were no failures to feed and the gun ran flawlessly.
Experimentation can be dangerous, especially when it's an effort to improve on something as timeless as a 1911. But, Kimber and Crimson Trace have been prudent in their take on the masterpiece, maintaining what many have come to love and respect—reliability, ergonomics and comfort—while adding modern enhancements that mean a decided tactical advantage for today's shooter.
The approach when it was determined the gun's slide-stop pin could interfere with the laser's efficient transmission is a sterling example of Kimber's adaptability. Instead of asking Crimson Trace to simply raise the laser housing, potentially compromising speed and ease in presentation, Kimber's engineers lowered the pin, recessed its hole and then tested at length to ensure the system functioned without fail. Trying to cobble together that kind of remedy at your workbench is what produces those groaning, maiden-grabbing monsters that cynical gunwriters love to cite in their monthly diatribe.
Kimber and Crimson Trace's partnership has created something special. "The partnership has been great," Tobiassen said. "The Pro-Custom products provide customers with distinctive-looking grip stocks for their 1911—which just about every 1911 owner wants—but still incorporates the real-life tactical advantages of the best laser sight on the market. Kimber does a great job of promoting the products and highlighting the visual appeal of the grips."
And, you can expect to save "20 to 30 percent when you buy the entire package, versus buying the products separately," Tobiassen said. That's significant savings when you're not buying a bargain-basement personal-defense gun—it is a Kimber.
Building up your own fire-breathing monster may be a lot of fun, and it's guaranteed to turn a lot of heads, but with Kimber's latest offering there's no reason to throw money away only to ultimately wind up like Mel Brooks in "Young Frankenstein"—insisting your creation's name is really pronounced "Frankensteen."