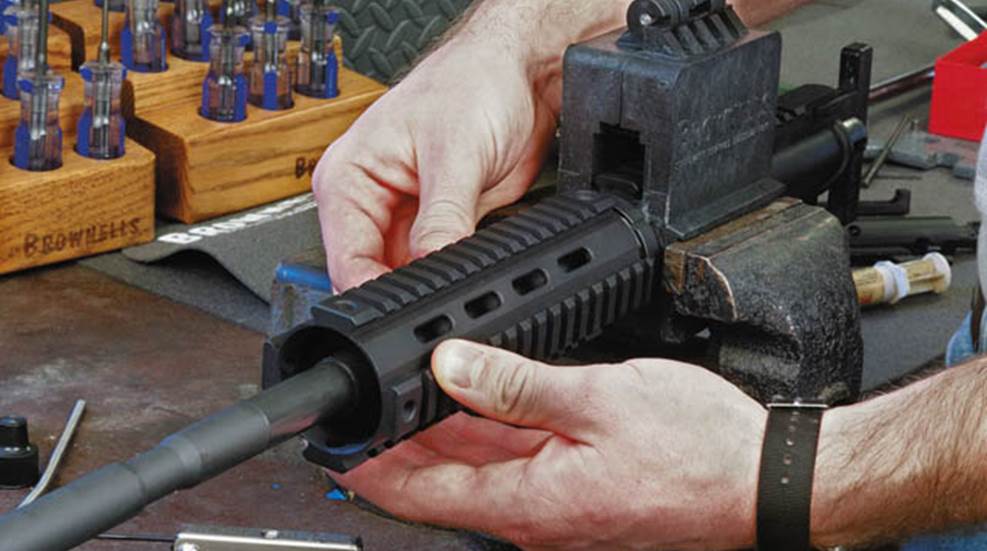 Parts
YHM fore-endJam nutAnti-rotation screws (2)
Tools
YHM fore-end wrenchLevelBrownells upper-receiver action block with insertBench-mounted viseScrewdriver
Screw the jam nut onto the barrel nut until it is flush with the end closest to the upper receiver. Then unscrew it 1 1⁄2 turns. A little grease on the threads will make it easier.
Slide the fore-end over the barrel and turn it until it contacts the jam nut. Make sure the sling swivel holes are to the front. Align the anti-rotation screws at the three- and nine-o'clock positions.
With the receiver clamped in the vise, place a level on the rail of the receiver and level the upper assembly in the vise. Then place the level on the fore-end's top rail, and turn the fore-end until it is level and in perfect alignment with the rail on the receiver. Tighten the jam nut using the YHM fore-end wrench. Put some No. 242 Loctite on the anti-rotation screws and install them in the fore-end with a screwdriver.