Parts
BarrelBarrel nut
Tools
DPMS Multi-Tool or other barrel wrenchBrownells upper-receiver action block with insertTorque wrench with 1⁄2-inch driveBench-mounted vise
The YHM free-floating fore-end I chose for this build came with a barrel nut. The following instructions are for installing the barrel using this hardware and are typical for fore-ends of this type. However, the process may vary a bit with other models.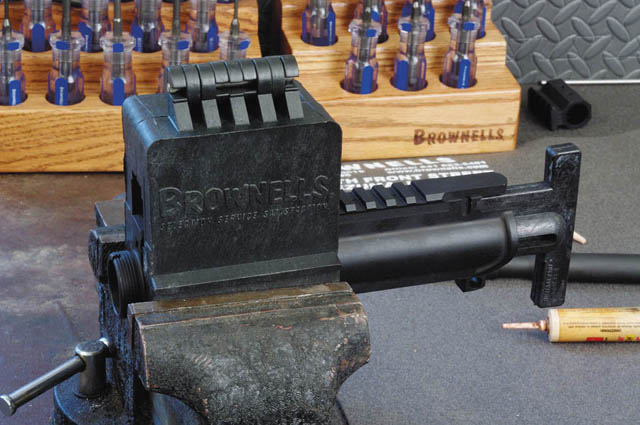 Slide the action-block insert inside the receiver to support it and prevent distortion under pressure. Then clamp the receiver in the action block, and secure the works in a bench-mounted vise.
Clean the receiver threads with a small brush, and coat them with an anti-seize compound or high-quality grease. Insert the barrel through the front of the receiver. Thread the barrel nut onto the receiver with the wide, threaded portion to the rear. Tighten the barrel nut using a DPMS Multi-Tool or other barrel wrench.
The Multi-Tool is designed to be used with a 1⁄2-inch-drive torque wrench. The mil-spec tightening technique is as follows: Torque to 35 foot-pounds. Loosen. Torque again to 35 foot-pounds. Loosen again. Torque past 35 foot-pounds, until the next hole in the nut aligns with the gas-tube hole in the receiver, but do not exceed 80 foot-pounds.