Before we start this tale of an AR-based pistol, let me get something out of the way, because this is the Internet. The firearm in question is an AR-15-pattern gun. Its cosmetic design was inspired by the A-10 Thunderbolt II, an aircraft in the inventory of the United States Air Force. A-10 is the designation for the aircraft. You will note it lacks the "R" after the "A" that you would see if I was writing about an AR-10 firearm. This is NOT about an AR-10-based firearm. Begin article.
It all started in the spring of 2019, when I first got a chance to shoot the then-new .300 HAMR cartridge from Wilson Combat. We were down at the Wilson Combat facility in Berryville, AR, shooting an array of the company's outstanding firearms. We shot steel with AR's chambered in 5.56 NATO, .308 Win., .300 BLK and then the HAMR. There was just a different sound when the HAMR round hit the steel—a sound of pure power—and it made me want something chambered for it.
Things started to come together when I remembered I had purchased a Sharps Bros. stripped lower. But this was not just any stripped lower, nor was it one of that company's more…striking…designs. It was the first generation of the Hellbreaker model, without the skeletonized "teeth." While less visually arresting than the current, skeletonized offering, I prefer my lowers to not have unnecessary cuts, if only to deny debris another point of entry into the chamber. But I digress. I remembered I had this very-well-made, appealing stripped lower sitting around with nothing to do, and I thought "Aha! I shall do something with it!"
What, though, should I do with it? Well, Steve Adelmann's outstanding and comprehensive review of the U.S. Air Force's A-10 Thunderbolt II, affectionately known as the Warthog, provided all the further inspiration I needed, so off I went to the drawing board to create an homage to the greatest military aircraft ever built. See, the A-10 was built around its massive gun, the GAU-8/A, so what better way to honor it than with an AR-15 derivative built to look somewhat like it?
I ordered a pistol-length .300 HAMR upper receiver assembly from Wilson Combat, a CMMG RipBrace, a Timney Targa two-stage drop-in trigger assembly, an OD-green Magpul MOE pistol grip and a set of Mission First Tactical flip-up BUIS. Then I sat patiently and did nothing for about a year, as one does.
Actually, my reason for doing nothing was slightly better than that. I was looking for the right place to Cerakote the stripped lower, RipBrace and handguard to mimic an A-10 Warthog. A chance encounter at the 2020 SHOT Show provided the answer to that question, as a CMMG representative mentioned that the company has some Cerakote artists working at its Missouri facility. The one hitch being that CMMG does not offer custom Cerakote jobs, since the company is busy enough building and Cerakoting its own guns to sell. Fortunately, my friend offered to pull some strings and get my parts in the queue.
Before I could send the parts to CMMG for the artwork, two things happened. The first was good—I got to spend some time hunting hogs with Bill Wilson on his ranch in Texas. We exclusively used Wilson Combat rifles chambered in .300 HAMR, and I can tell you from experience, the HAMR with proper shot placement will drop a feral hog in its tracks 100 percent of the time. At least it did for me, Wilson and my colleagues. This trip provided impetus to get my Warthog gun built, already.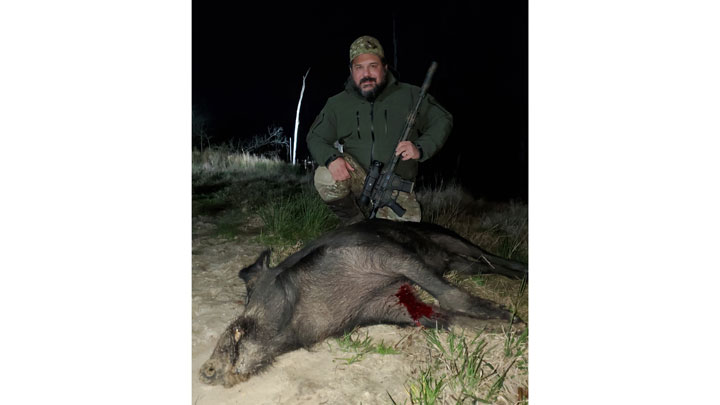 Then, however, our cuddly friend COVID-19 decided to show up on our shores. The ensuing shutdown put the brakes on everything, but after about a month or two, I got the call from CMMG that it was ready to Cerakote my parts to my design.
What was that design? Well, you can see it in the photos, but it is as true a tribute to the A-10 Warthog as one can make without a GAU-8/A on hand, and those are rather difficult to come by. Also, it lacks an engine, wings, empennage, landing gear, a cockpit, etc. That's because it is an AR-based pistol, not an airplane. But it is inspired by the Warthog. When I received the painted parts back from CMMG, I built the lower in my basement shop and then attached the upper. The result is shown, and I think it turned out pretty darn awesome.
The whole gun is in the shade of green found on early versions of the A-10 that deployed to Europe during the Cold War to help prevent a communist armored attack through the Fulda Gap. Stopping communists is an inherent good, so I like that about it. Also, that shade happens to fairly closely match Magpul's OD-green grip color, which is nice. The mag well, which came with eyes and teeth cut into it when it was a standard, black Hellbreaker model, has been Cerakoted in red, white and blue both to celebrate our great country and to mimic the nose art found on many an A-10 and other USAF aircraft. The 3-D effect of the raised eyes and teeth add to its visual appeal.
The Wilson Combat M-Lok handguard has a white USAF roundel on both sides, while the top of the CMMG RipBrace has "NO STEP" in white stencil letters. Why, you ask? Well, the wings of many aircraft have this painted to inform maintenance personnel that they should not walk on various control surfaces, and since stepping on the brace of an AR-pattern pistol is also a bad idea, I thought it would be a nice way to honor the A-10 while serving as a solid reminder not to walk on my gun. It doesn't hurt that "No step on snek" is a popular, simple-English version of "Don't tread on me" found on the Gadsden flag, the Culpeper Minutemen flag and the First U.S. Navy jack.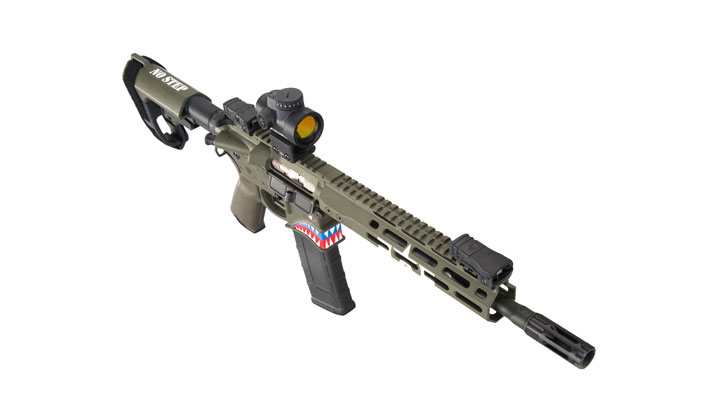 So, I finally have a .300 HAMR firearm and it is a suitable homage to the flying gun. Unsurprisingly, since it sports a Wilson Combat upper, it shoots quite nicely. Beyond looking awesome, it is also an ideal short- to medium-range tool for home defense, vehicle defense and, of course, feral hog control. Now that .300 HAMR is a SAAMI-approved cartridge, I expect ammo availability and selection to increase. Well I did, before everyone in America decided to buy ammunition and likely delay introduction of new factory loads while manufacturers struggle to keep up with demand.
Why, you ask, am I telling you about it? First off, yes, I am bragging. But more importantly, I hope to inspire others to build fun, practical AR-based firearms. The genius of the AR platform—and the main reason it is so popular—is that it allows us to be creative, to tinker with our ARs with ease at home and to enjoy our hobby in ways that no other design can. Never forget that while we own guns to protect life, limb, property and our rights, the responsible ownership and use of firearms is also fun. When we can combine the serious with the fun, we have something to cherish.