Support NRA Shooting Illustrated
DONATE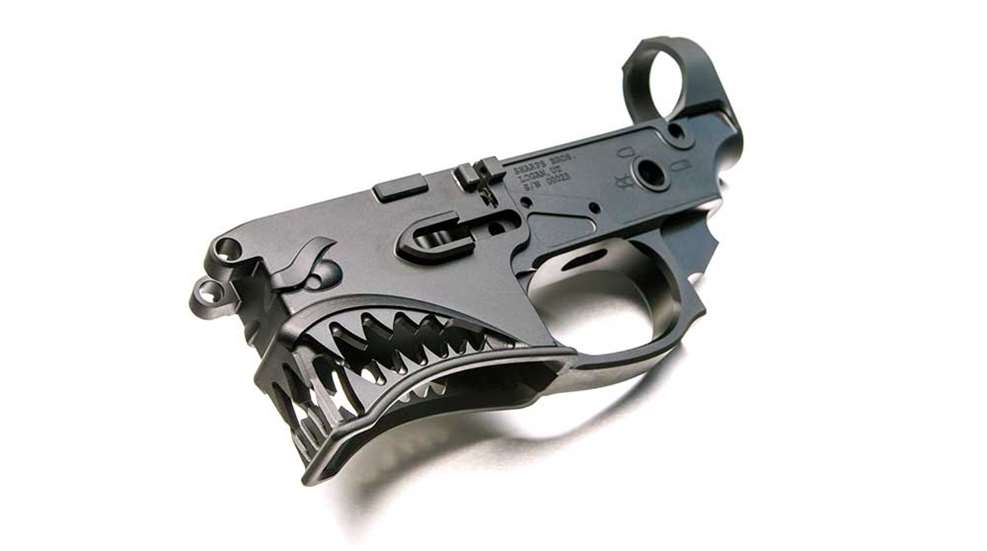 Building on the success and popularity of its original line of unique AR-15 lower receivers,
Sharps Bros.
announced the launch of Gen 2 models of its unique Hellbreaker, Warthog and The Jack AR-15 lower receivers.
All three AR-15 receivers still retain the innovative design found in the company's original generation of specially designed lowers. The Hellbreaker is modeled after the iconic paint scheme used on the P-40 fighter aircraft in WWII. The Warthog, like the name implies, incorporates the design of a boar's head into the machining done on the magazine well, large incisors and all. Finally, The Jack is one of the company's more well-known AR lowers, featuring a skull-shaped magazine well.
Each model in the lineup, though, includes newly designed aggressive styling, including some skeletonized machining that allows for a look into the magazine well, as well as reducing the overall weight of the lower receiver by removing excess material. The lower receivers are all machined from solid billet blocks of 7075-T6 aluminum and are molded into their final eye-catching designs, thanks to the company's skilled craftsmen and high-quality machining.
The new Gen 2 AR-15 lower receivers are all loaded with a number of features, including threaded bolt-catch pins, a feature not seen on the company's earlier models. The Sharps Bros. AR receivers also provide AR builders with oversized trigger guards that are integral to the overall design of the lower and allow for easy trigger control, even with gloved hands.
The AR lowers also include beveled magazine flares, which aid shooters in performing rapid reloads. Each lower also receives a hard-coat anodized finish that meets all military specifications and is marked with a multi-caliber designation.
Despite the unique design and appearance of the Gen 2 AR-15 lower receivers from Sharps Bros., the lowers are all compatible with mil-spec internal components, allowing owners to use any standard AR-15 lower parts kit to complete their build. The lowers also mate up with any standard AR-15 upper, and the magazine wells found on each of the lowers are compatible with all standard-capacity AR-15 magazines on the market.
The suggested retail price for the Hellbreaker and Warthog lowers is $299.95, while The Jack lower retails at a suggested price of $339.95.