Experienced concealed carriers know that department-store belts aren't the best option for everyday carry. In many cases, a belt designed just to hold up your pants isn't stiff enough or strong enough to bear the weight of a gun, holster, and spare magazine (you do carry a spare magazine, right?) all day. Pretty soon, your pants begin to sag, while the belt shows definite signs of wear, often stretching to the point where it's unusable even for its original purpose of keeping your pants from falling down.
Gun belts, on the other hand, are designed for everyday carry. Thanks to their purpose-built design, they hold up better under the all-day weight of EDC gear yet look like belts anyone would wear, thus keeping your secret, well, secret. While there are a ton of great gun belts out there, here are some we think are worth considering. All of these belts are 1.5 inches wide, so they fit most standard belt loops.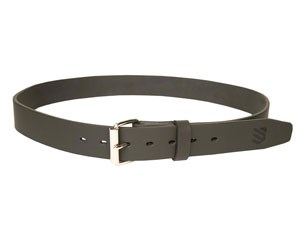 Blackhawk Leather EDC Belt
This rich leather belt is constructed from .219-inch, ultra-thick, heavy-duty premium American Steerhide leather, the thickest part of the hide, adding an extra bit of stiffness for a secure hold of your firearm without the need for polymer or steel insert often found on other gun belts. Cinch it with a standard buckle that looks like an ordinary leather belt to maintain that covert look in jeans or a suit. MSRP is $69.95.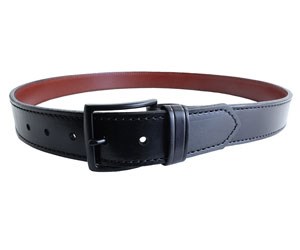 DeSantis 1.5-inch Reversible CCW Belt
From a company that gained its excellent reputation from decades of top-quality leather products comes the 1.5-inch Reversible CCW Belt. Designed to look like a fancy but normal leather belt, this CCW Belt is constructed from two layers of stiff yet supple premium saddle leather, meticulously cemented and stitched together with DeSantis' propriety nylon cord. Those two layers would probably be enough to make this an excellent gun belt, but they went another step by adding a layer of polymer in the middle. MSRP is $119.99.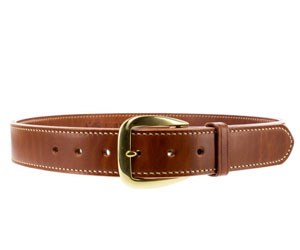 Galco SB2 Casual Holster Belt
Another company with a long-earned reputation for great leather goods, Galco brings us the SB2 Casual Holster Belt, a 1.5-inch casual leather belt that looks good on jeans, shorts, or khakis. This seven-hole design is closed with a polished brass- or nickel-plated buckle, depending on the color leather you order: one tan and two black options. The steerhide is double-layered for added stiffness and wear longevity. MSRP is $126.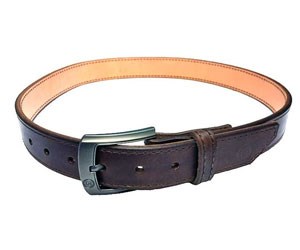 CrossBreed Executive Gun Belt
Don't let the name fool you. The Executive Gun Belt from CrossBreed looks good with a suit or jeans. Available in two browns, grey, and black, this belt features a woven nylon webbing strap as a liner between two layers of seven-hole top-grain leather with recessed stitched for a smooth look and to provide longer wear, as the stitching is less likely to rub when putting and off or as you add or remove your holster. MSRP is $79.95.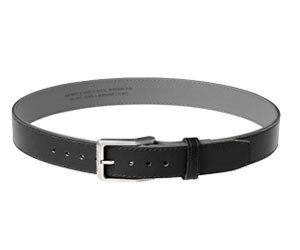 Magpul Tejas Gun Belt 2.0 – "El Original"
It's the one that started it all for Magpul's belt division, the Tejas Gun Belt 2.0 "El Original"—but updated. Magpul did something different with the 2.0 that most other belt companies won't try. They added a "supportive but flexible" polymer layer as the backing rather than wedging it between layers of leather. So you get 100 percent North American bull hide leather on the outside and polymer on the inside. Part of the 2.0 redesign was an upgraded lower profile buckle that lets you blend in better in your everyday world. MSRP is $94.95.