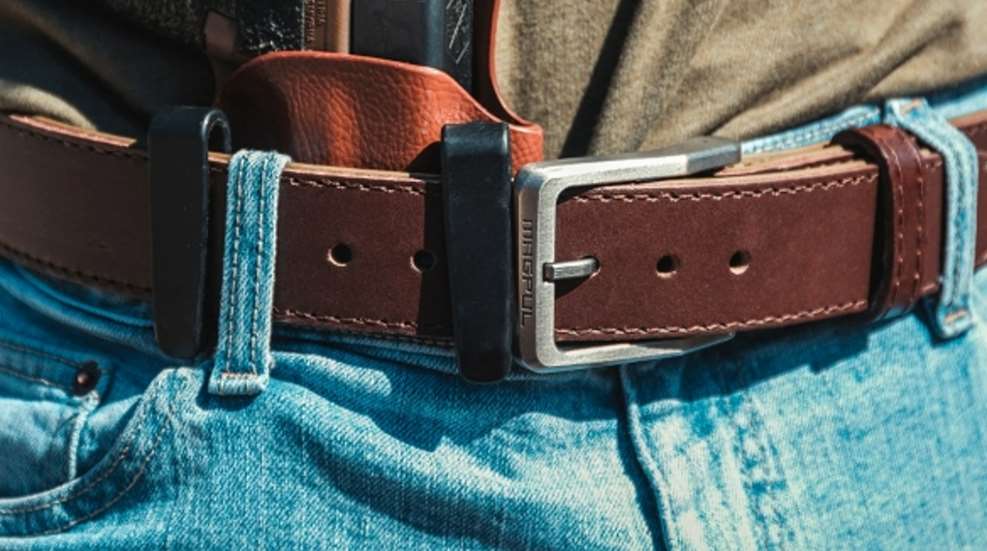 Department store belts just don't cut it when carrying a gun. You need something sturdier, able to withstand the rigors of supporting a gun, a holster, and at least one spare magazine and pouch throughout your everyday routine. Cheaper belts tend to sag and twist over time, allowing the gun to dip and drop, maybe fall off entirely – not a safe practice.
What makes a gun belt a gun belt? What's so different from other belts?
There are many different styles of gun belts made from various materials, but for this article, we will look at leather belts, by far the most popular style because of their versatility. They look like normal belts, so they can be worn with jeans, slacks, a suit, just about anything.
Typical leather gun belts start with heavy-duty leather, which has strength of its own, and then either double up for extra gusto or insert a thin layer of Kydex or metal for even more stiffness. Gun belt buckles tend to be a bit beefier, too.
That groundwork laid, let's look at six popular gun belts on the market today.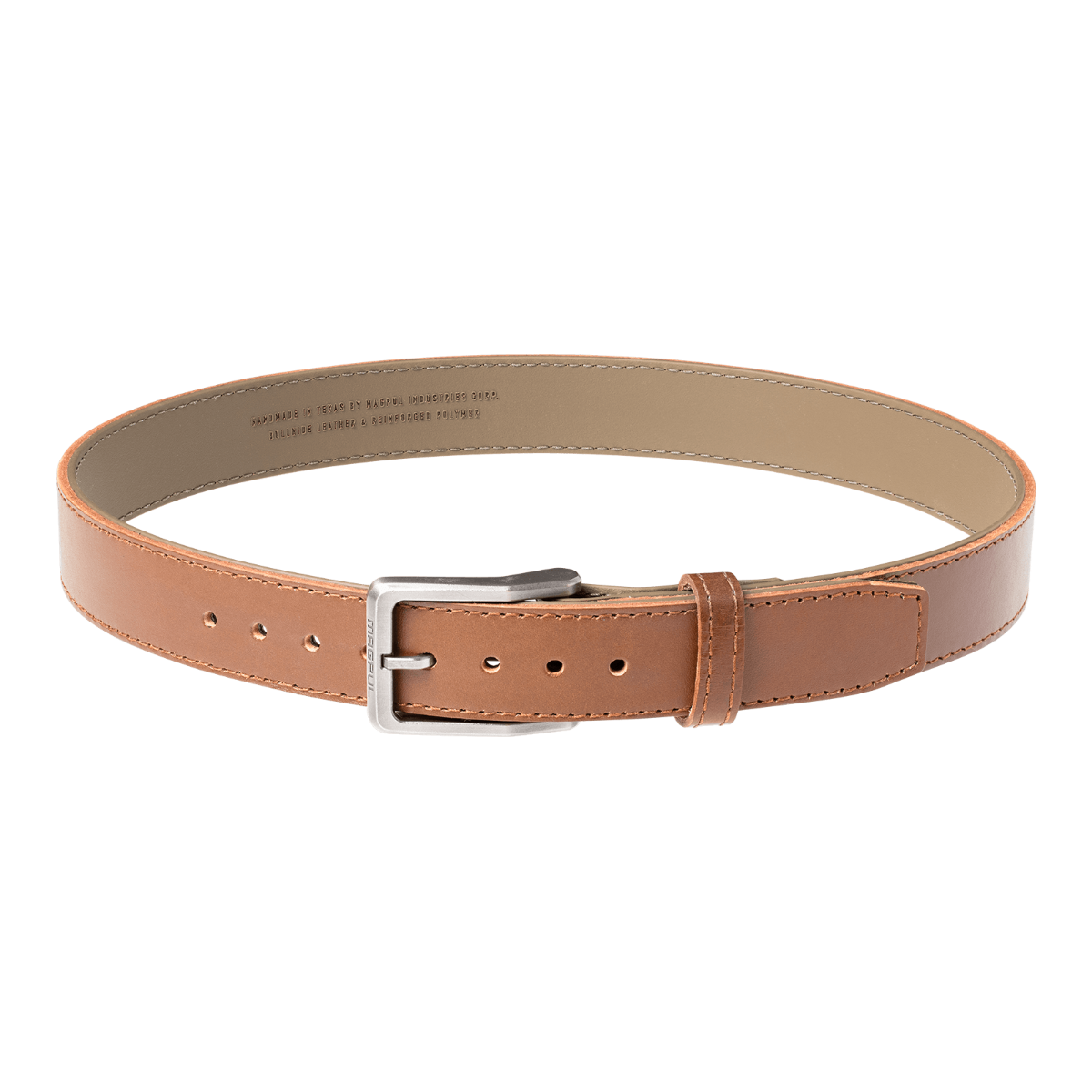 Magpul Tejas Gun Belt 2.0 – "El Original"
While we typically think of Magpul as a magazine and rifle-accessory maker (which the company of course is), it also supports gun carrying in other ways, including a line of gun belts. The Tejas Gun Belt 2.0, dubbed "El Original," was the company's first and still most popular model. Updated for 2020, the "El Original" is crafted from 100-percent North American bull hide in two widths: 1.5-inch and 1.75-inch. It's sturdy, strong and backed by a supporting layer of flexible polymer. The "El Original" belt also sports a new buckle that's engineered with a sleek profile design to sit flat against the waist and help reduce printing while carrying. Available in even sizes from 32 to 44 inches and three colors: black, chocolate, and light brown. MSRP is $94.95.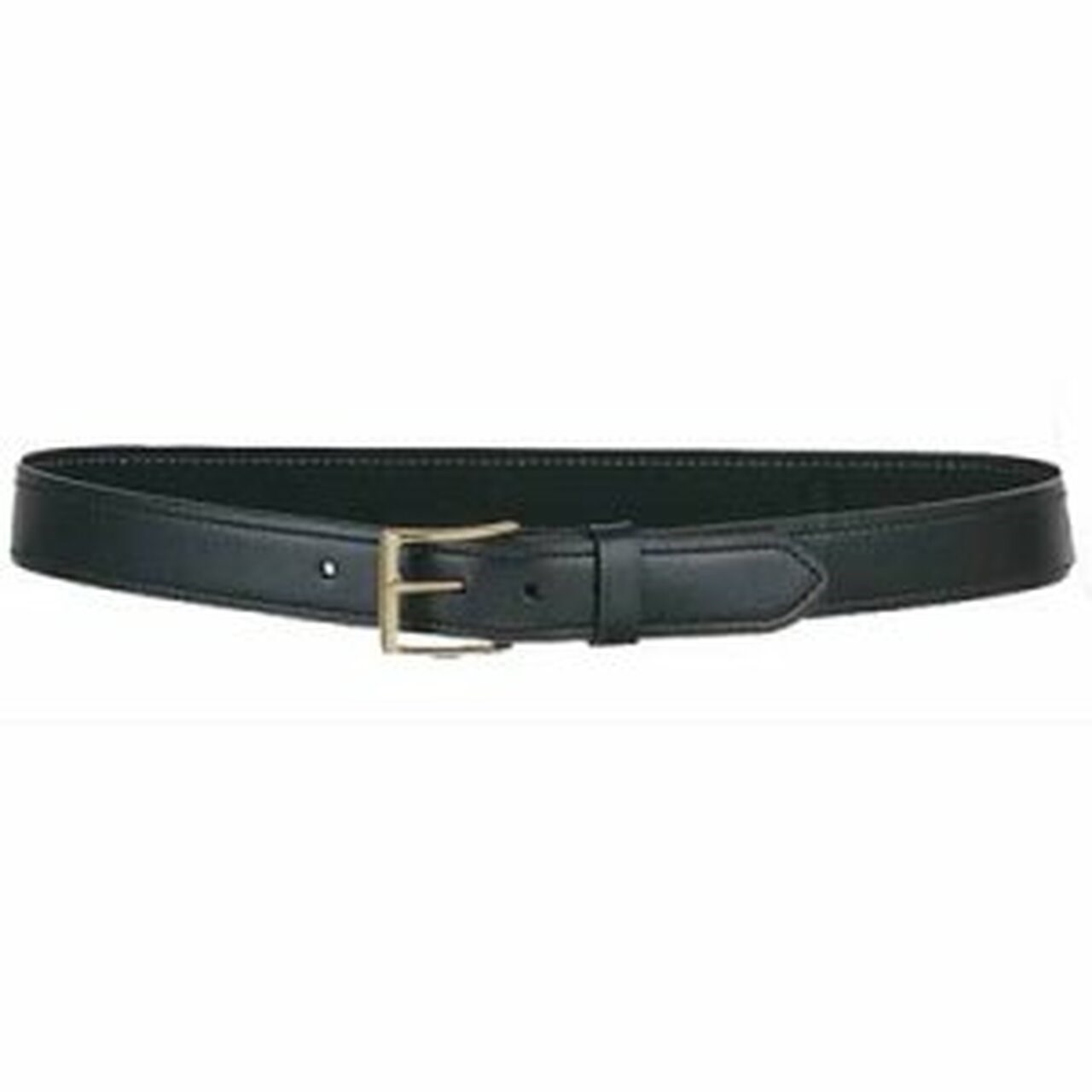 DeSantis Plain Lined Belt
Long known for outstanding leather holsters, DeSantis Holsters tapped into its lineage of leather goods for the Plain Lined Belt. As the name implies, this is not a fancy or flashy design. In the spirit of "if they know you're concealing, you're doing it wrong," this belt is instead designed to blend in and go unnoticed while offering great support for your gun and accessories. Whether you're headed to the office or out on the town, the Plain Lined Belt looks right with slack, khakis, jeans, or a suit. The black leather version comes with a nickel buckle, while the tan leather version features a gold-tone buckle. Both buckles are removable and replaceable. Available in size 26-52 inches. MSRP is $95.99.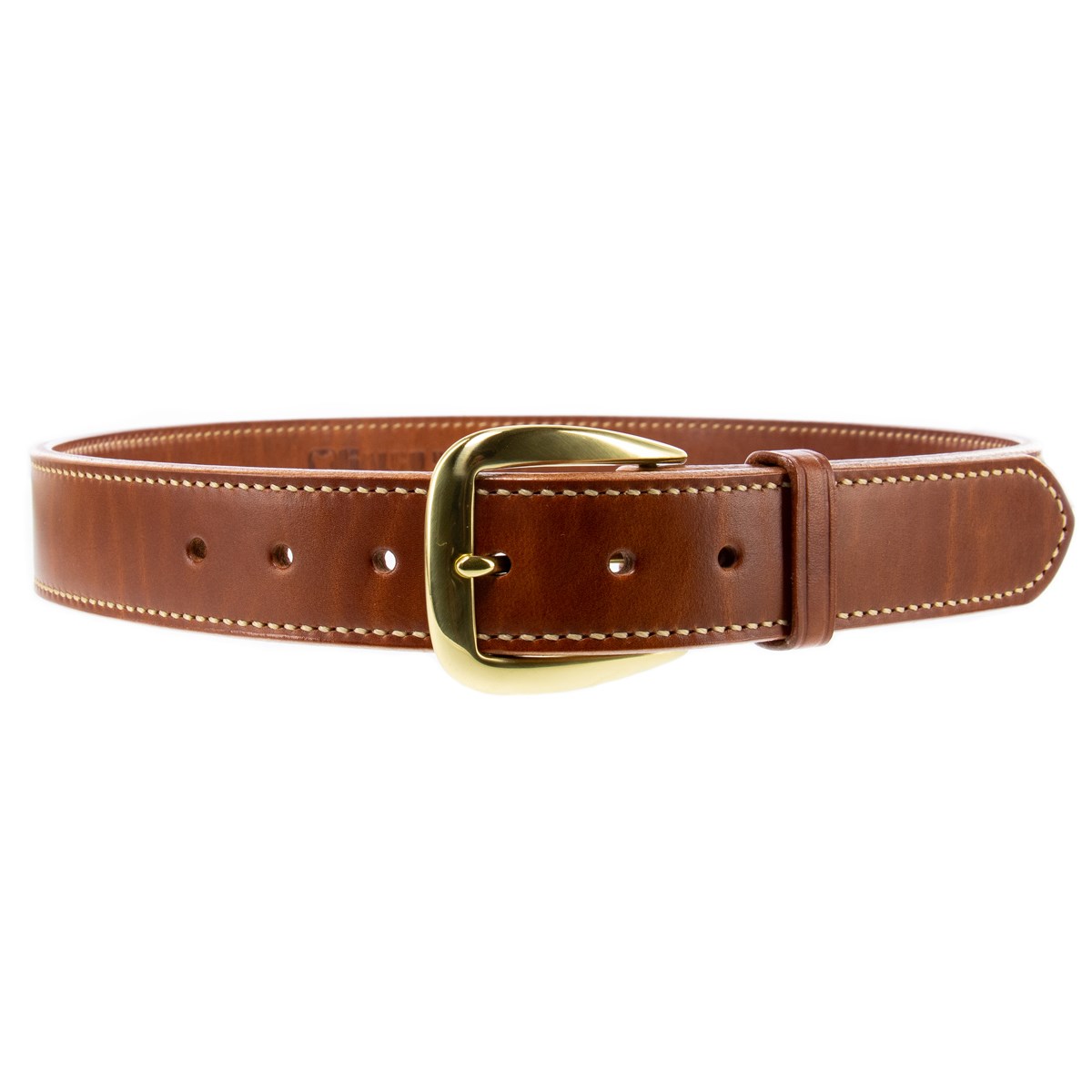 Galco Holsters SB2 Casual Holster Belt
Like DeSantis, Galco Holsters has also built its legacy on top-quality leather holsters, so it's no surprise the company would offer leather gun belts to accompany your everyday carry. The SB2 Casual Holster features a double-thick premium grain vegetable-tanned steerhide for added stiffness and durability held in place by a solid casual look buckle that pairs well with any pants. (Yes, fine belts are a lot like fine wines.) This 1.5-inch belt comes in a 32-54-inch size range and is available in three colors: tan, black, and Havana brown. Additionally, Galco offers 100%-percent satisfaction on all their leather holsters and belts purchased directly through them. MSRP for the SB2 Casual Holster Belt is $102.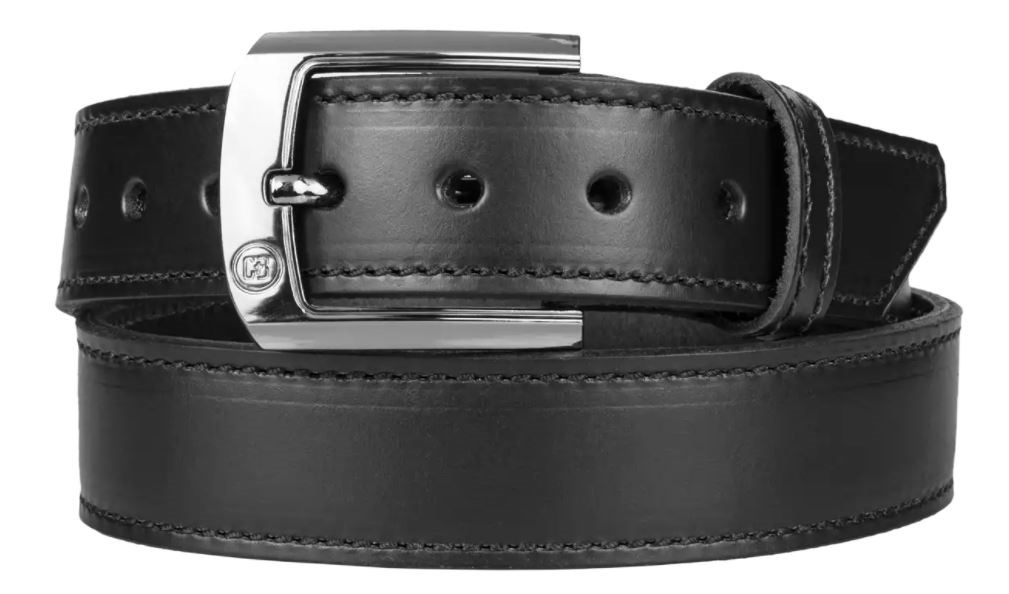 CrossBreed Executive Gun Belt
Another classic leather company, CrossBreed Holsters has made Kydex-leather hybrid holsters for years, to the point where it is almost synonymous with the style. So it makes sense that they would add gun belts to the mix. Enter the Executive Gun Belt, stage right. This rugged yet refined, wear-with-anything premium smooth leather belt is comfortable in the board room, on the town or on the range. Made from 7-ounce, top-grain leather, it features a nylon-reinforced liner for added stiffness that holds up under the weight of a full-size gun and accessories over years of everyday wear. Available in black, brown, and Founder's leather, a lighter tan. MSRP is $74.95.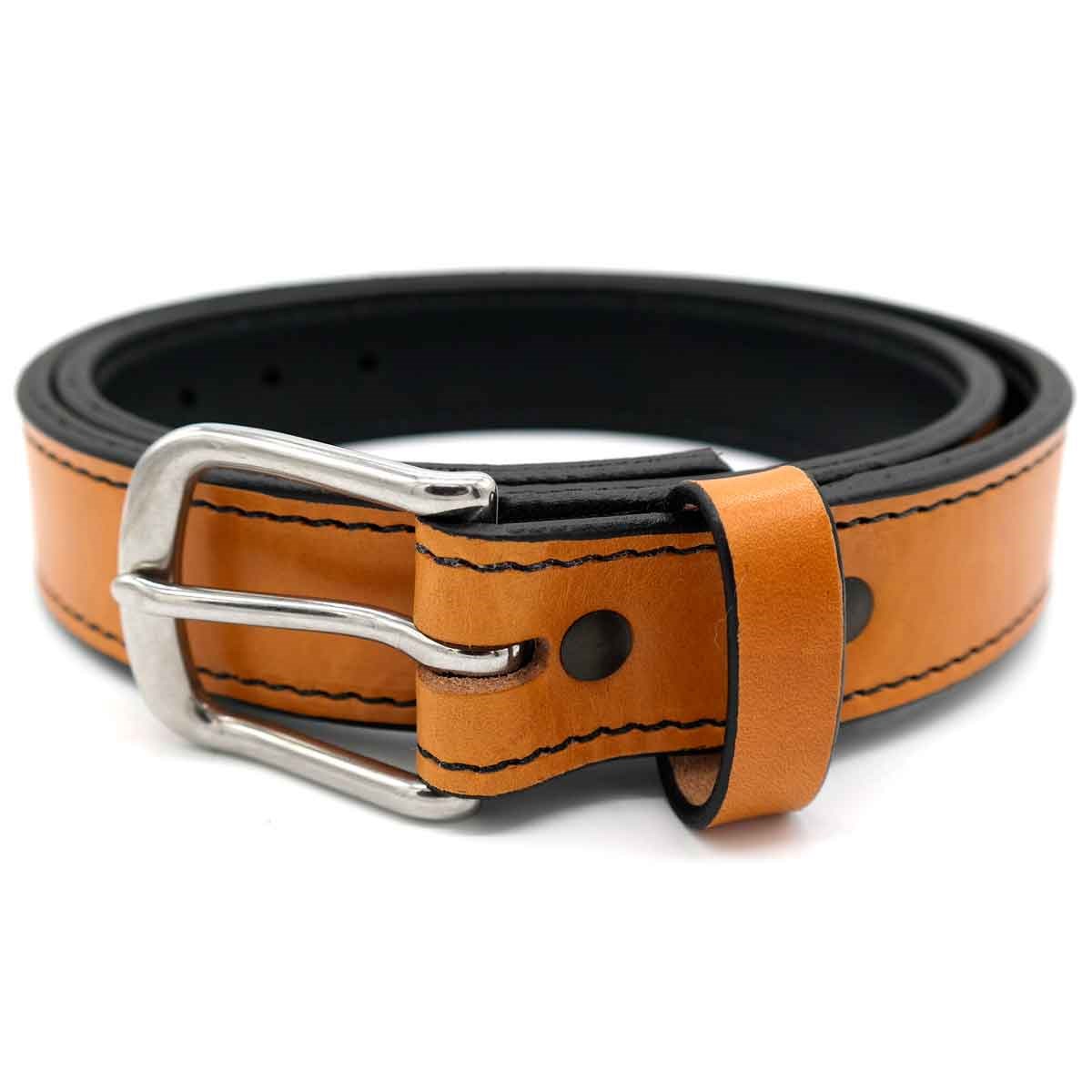 Wright Leatherworks EBL Gun Belt
There is a trend of leather holster manufacturers that also make leather gun belts, and Wright Leatherworks fits perfectly into the pattern with its EBL Gun Belt. Each one is made from two layers of American English Bridle leather with a smooth wax finish. Bridle leather is also used for horse reins because it is strong and durable yet flexible enough to wear all day long. Each EBL is handstitched and features 8-ounce smooth leather on both sides, helping with easy holster on and off. Choose from a standard buckle or roll buckle when ordering. All colors are matched with a London Tan inside or outside for a two-tone look. MSRP is $135.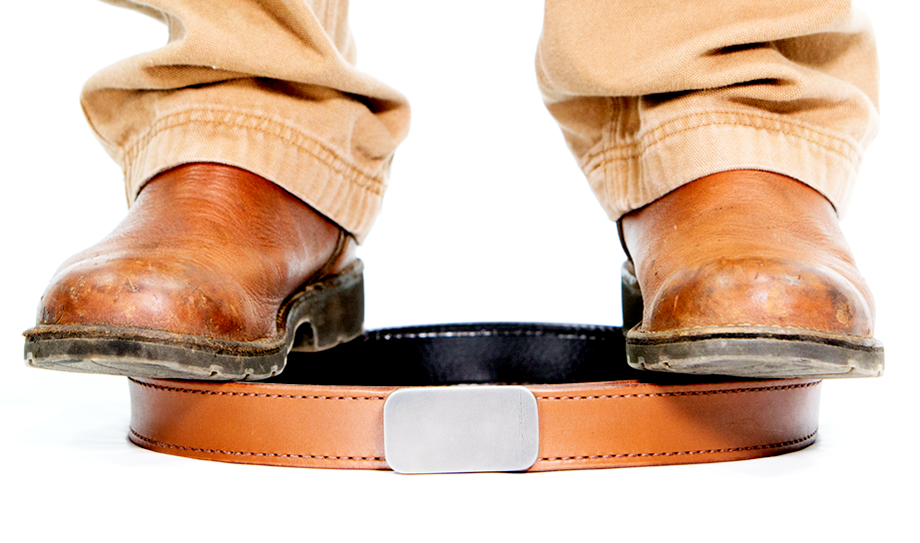 Lenwood Blunt Force Trauma Hybrid Belt
St. James, MO-based Lenwood took the carry belt one step further by incorporating a non-descript impact device into the belt. In addition to the layer of 10-ounce, full-grain leather stitched to a PVC-coated, polyester webbing with a 1,000-pound break weight that by itself is worth the price of admission, owner Jason Davis added a hefty solid steel ½-inch thick buckle that could serve as a blunt-force-trauma device. The BFT Belt is available in men's and women's styles with three different buckle finish options for both. MSRP is $100.