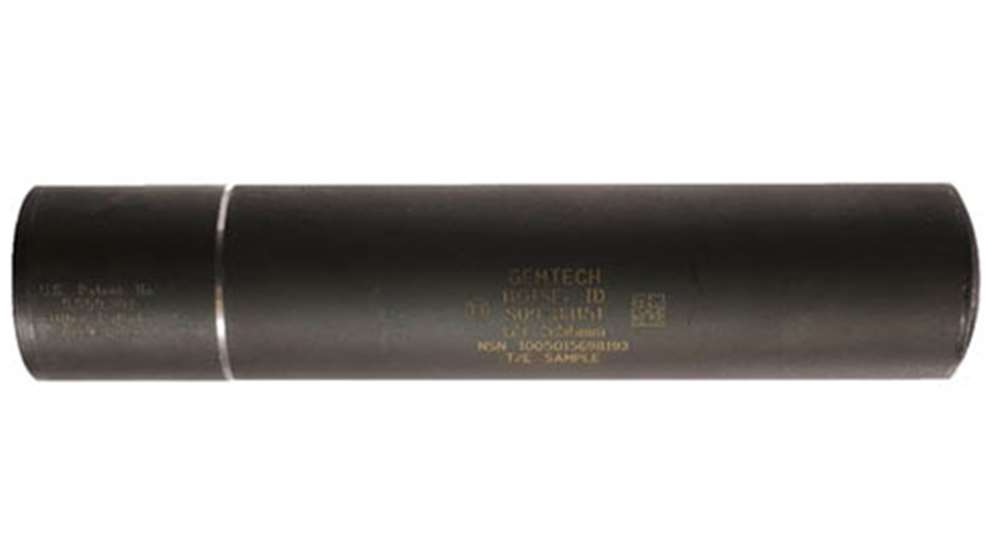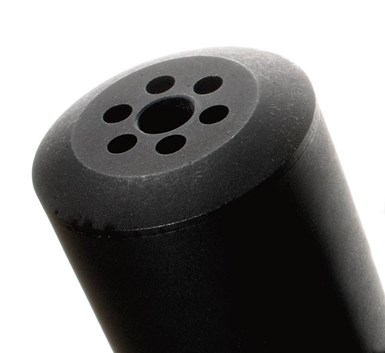 Gemtech's Quickmount attachment system caught my eye at the 2010 SHOT Show, so I selected its G5 suppressor for testing. The mount has two locking lugs that engage a spring-loaded housing inside of the suppressor, and it certainly lives up to its name. To attach, simply align the lugs with the suppressor's slots, push the can down onto the mount until it bottoms out, then rotate slightly to lock the lugs in place. It is a simple mounting system and the can stayed firmly in place through all test firing. I am not fully convinced the Quickmount would survive the rigors of dynamic ground combat, but my days of that sort of testing have long since passed, so I limited my evaluation to static range work and accuracy evaluation.
The G5 was the longest and heaviest of the suppressors tested. Shooting results were mixed. The Black Hills 55-grain TSX load gained more than 50 fps in velocity, but accuracy was compromised slightly. On the other hand, Hornady's 55-grain V-Max load lost 20 fps and average group sizes shrunk by nearly .1 inch.
Shift direction for both ammo types was low and right, with shift distances in the middle of the pack among the suppressors tested. The G5-equipped rifle fired flawlessly through all 150 rounds of the test. This can is also compatible with Gemtech's older mounting systems, as well as a Smith Enterprise Vortex Flash Eliminator that is made specifically for the G5. It is worth noting Gemtech offers a different mounting system for its 5.56 HALO suppressors that is compatible with a wide variety of military flash hiders, such as those found on the M16/M4 families, the HK416 and the M249 Squad Automatic Weapon.
Gemtech G5 Specifications
Weight: 18.8 ounces
Length: 7 inches
Diameter: 1.5 inches
MSRP: $900 (suppressor only)