My previous experience with SureFire cans involved larger models that used the same rotating-collar locking system as the Mini. Unfortunately, this design is my least favorite in the QD field.These suppressors have alignment pins that index with slots milled at each mount's 6-o'clock position.
This pin is both visible and tactile, while a smaller bump is located at the suppressor's 12 o'clock to help users figure out which side should be on top when attaching it in the dark. Aligning the can is fairly easy as long as you pay attention to pin orientation.
Once it is fully seated rearward, the locking collar is rotated until an internal ratchet engages tiny teeth on the mount's top side. I always rotate the lock ring outward slightly after it is tight so the teeth are fully engaged, similar to the way you remove "lash" from a riflescope's knobs. It is possible to engage the ratchet when the suppressor is not fully seated, so be sure to check it after installation by attempting to rotate the suppressor body while pulling away from the gun at the same time. SureFire suppressors require you manually pull the release buttons upward to complete the locking process after tightening the rings. For some reason, the return spring design cannot overcome the binding of the ratchet lock on its own.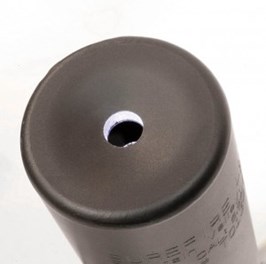 I mounted the Mini on SureFire's FH556 suppressor adapter. This adapter provides good flash suppression and muzzle braking on its own. SureFire includes a shim kit with each adapter to allow the index slot to be aligned at the 6-o'clock position. Each shim is a different thickness, ranging from .005 to .020 inch. Once the correct combination has been determined, the included thread-locking compound is applied as specified in the directions and the adapter mount is properly torqued to the muzzle's threads.
The Mini handled well during firing, reducing felt recoil to a small degree. Accuracy improved slightly with each ammo type, while velocity got a nice bump up with each load. The SureFire Mini was both good and bad in the zero-shift department. While movement was less with each load than on any of the other suppressors tested, it was erratic. The point of impact (POI) shifted down and right with one load and (barely) up and left with the other. I had no malfunctions with the SureFire Mini attached throughout the 150-round firing sequence.
SureFire Mini-BK Specifications
Weight: 14 ounces
Length: 5 inches
Diameter: 1.5 inches
MSRP: $1,390 (suppressor only)