Many of us want an improved AR-15 trigger set to replace mil-spec components. At the same time, we don't want to break the bank. Trigger sets can get pricey quick, with some reaching more than $250. The good news is there are improved AR-15 trigger sets on the market for less than $100.

Where the lower parts kit triggers are concerned, they can certainly do the job. Generally though, mil-spec AR-15 triggers tend to be heavy and a gritty in feel, producing inconsistent trigger pulls. This makes shooting accurately somewhat of a challenge. Weight and grittiness can be remedied to an extent with time and effort. That said, sometimes it's just easier and cheaper, time-wise, to just buy a decent trigger set.

With that in mind, I set out to find what was available that was better than a lower parts kit offering but didn't cost much more than a nice dinner out, at least if you include a couple of drinks. I also chose to confirm the pull weights of the triggers. This involved installing them and checking them with a Lyman Electronic Digital Trigger Pull Gauge. Each trigger was tested five times and the results averaged. All triggers tested were installed using Slip 2000 oil on the pins and Slip Extreme Weapons Grease on the hammer hooks.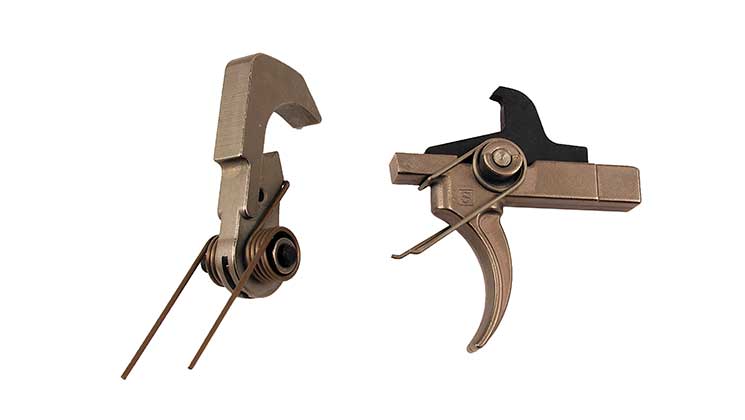 Sons of Liberty Gun Works Liberty Fighting AR-15 Trigger

Sons of Liberty Gun Works (SOLGW) is a relative newcomer to the shooting world but that hasn't stopped them from quickly growing into being an AR builder of note. SOLGW places a strong emphasis on doing things correctly. SOLGW's goal in creating their AR-15 trigger was a crisp, clean break with an aggressive, positive reset while maintaining a 5.5-pound pull, the minimum for many police departments. They weren't aiming for fancy. They just wanted a good, consistent work trigger. Their Liberty Fighting Trigger is consistent with the company's goals.

The hammer and trigger in the Liberty Fighting Trigger set are finished in a nickel-Teflon blend coating. The engagement surfaces are polished to remove any grittiness in the trigger pull. As tested, the Liberty Fighting Trigger showed an average pull of 5.5 pounds. MSRP is listed as $66.95.

If you prefer a lighter trigger they also offer the Liberty Competition trigger, but I was unable to obtain one in time for the article. Trigger pull weight is designed to be 4.5 pounds. MSRP for it is listed as $74.95.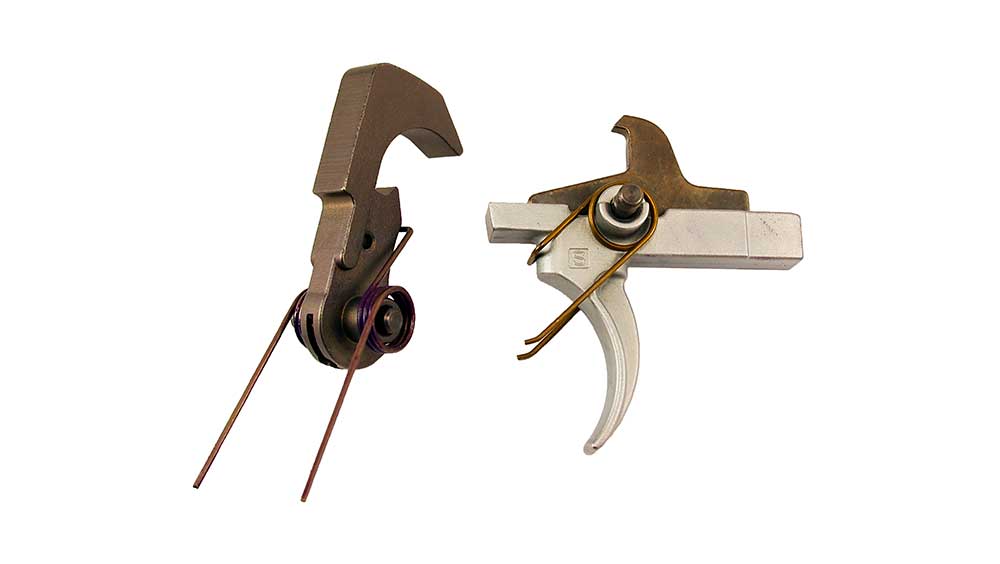 ALG ACT (ALG Combat Trigger)

ALG has developed a reputation for putting out affordable, quality parts. The company's trigger offerings are no exception. Its QMS and ACT triggers are both solid options.

ALG's ACT trigger and hammer are made of 8620 alloy steel castings, while the disconnector is 1070 high-carbon steel. Rather than mild steel, the hammer and trigger pins are made from quenched and tempered 4140 chrome molybdenum steel (chrome moly). The trigger is finished in nickel boron and can be painted on non-critical surfaces. The hammer, pins and disconnector are finished in a nickel-Teflon finish.

There were two hammer springs included, and I opted to use the lighter one, which yielded an average trigger pull of 4 pounds, 3 ounces. The other hammer spring that is included would increase the pull above the minimum 5.5-pound specification listed for the M4/M16 pattern rifles. This may be a consideration if you are subject to employer policies on such things. MSRP is listed as $69.00.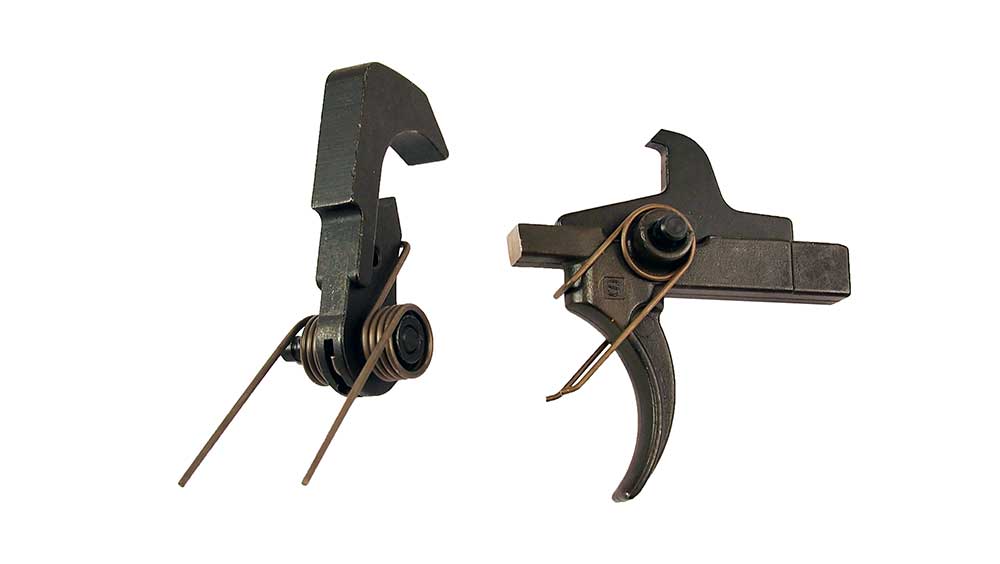 ALG Quality Mil Spec AR-15 Trigger

ALG's QMS (Quality Mil Spec) trigger really looks like a stock trigger until you look closely at the engagement surfaces and notice that they're polished. The underlying materials of the QMS are the same as those of the ACT's ALG trigger but in the traditional black-oxide finish rather than the upgraded finish of the ACT. The average trigger pull was a grit-free 5 pounds, 12 ounces. MSRP is listed at $49.00.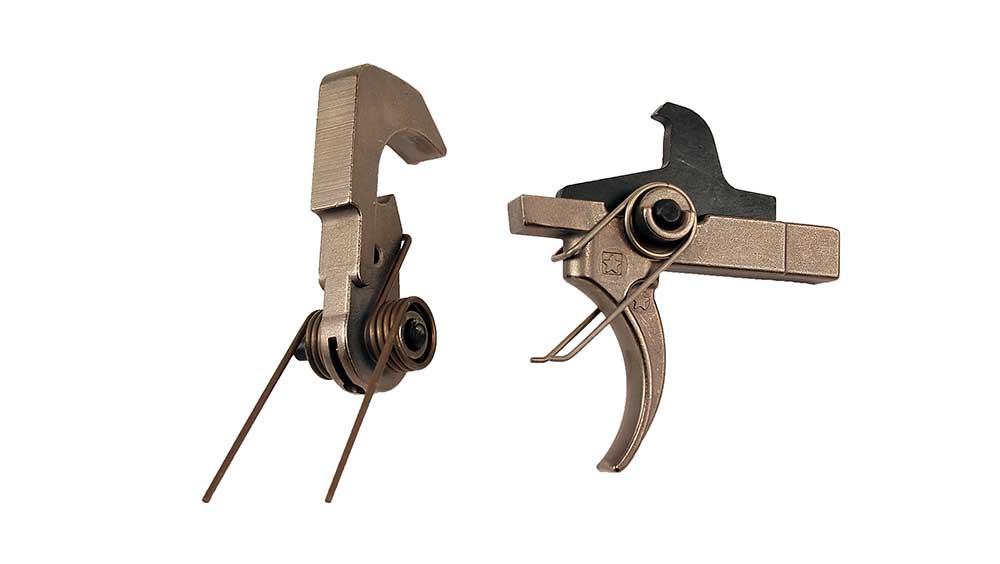 Bravo Company USA PNT AR-15 Trigger

Bravo Company USA has developed a reputation for quality firearms and components for military, law enforcement and the commercial market. The company's entry into this group is its PNT trigger. The hammer and trigger are investment cast 8620 alloy steel and the disconnector is stamped from 1070 alloy steel and fine ground for size. Finished in a nickel-Teflon coating, the hammer and sear have had their sear surfaces hand-polished.  The average trigger pull in my testing was 5 pounds, 15 ounces. MSRP is listed as $65.95.

While the pull weight varied some between the triggers tested, they were all quite consistent. All of these triggers are a noticeable improvement over the typical mil-spec type triggers that are found in entry level AR-15s and budget lower parts kits. Whichever you opt for, you'll end up with a solid quality trigger set.