Support NRA Shooting Illustrated
DONATE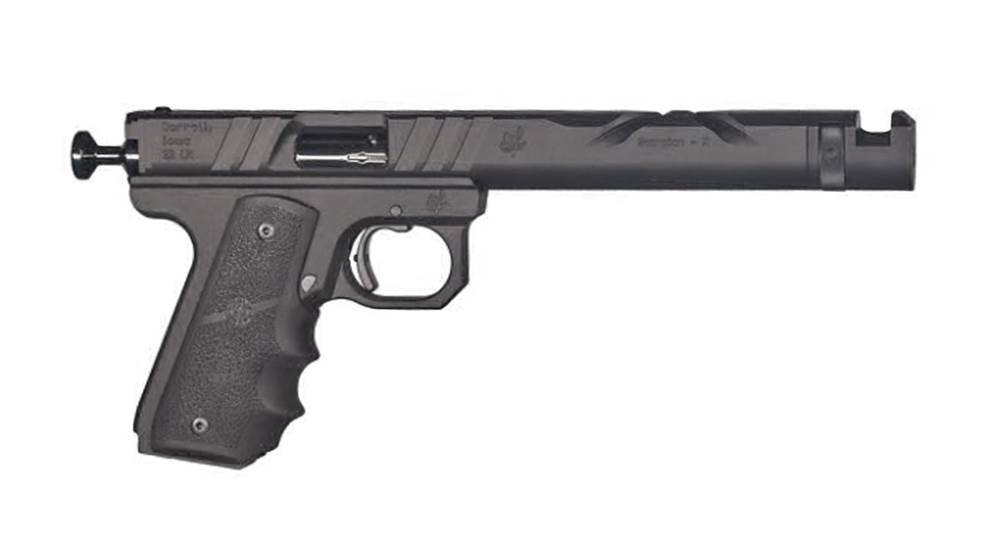 Volquartsen Firearms is known for producing high-performance guns and parts for rimfire firearms. Now Volquartsen is introducing the new Scorpion-X pistol, which is derived from the Ruger Mk. III 22LR pistol. The heart of the Scorpion-X's is its LLV-X upper. The LLV-X upper has multiple pre-drilled holes, allowing the shooter to mount a wide variety of electronic red-dot sights directly to the pistol. The pistol also has a factory-installed single-port compensator, and Volquartsen Scorpion-X shooters also have the choice between a 4.5-inch or 6-inch stainless steel barrel. Similar to other rimfire pistols, the Scorpion-X grip shape resembles that of a 1911 pistol, which is arguably one of the most well-known and preferred grip styles in the world of handguns. This feature also allows Scorpion-X shooters the choice to install 1911 style stocks on their pistol.
Volquartsen is also selling their LLV-X upper as a standalone option for the Ruger MKII, MKIII, and prior Scorpion 22 LR calibers models. The LLV-X is compatible with both the Volquartsen Competition Bolt as well as the Ruger MkII or MkIII factory bolt.
Features of the Scorpion-X Pistol:
A 1/2 x 28 tpi threaded stainless steel 4.5- or 6-inch barrel with stainless steel laser-hardened breech
Type III hard anodized aluminum barrel shroud
Accurizing Kit for a 2.25-pound trigger pull
DLC coated competition bolt
Single-port compensator
LLV-X upper
Scott Volquartsen, the President of Volquartsen Firearms, had this to say about the new LLV-X upper, "Why did we develop the flat top universal red dot mounting system? Many of us were introduced to pistol shooting using iron sights and having the red dot mounted directly to the top of the upper makes that red dot acquisition like those same iron sights. Competitive shooters are always searching for that 'little something' that will make them a fraction of a second faster. Matches are sometimes won or lost by a fraction of a second. In talking to world champion level shooters, they will tell you that many times the split to that first target sets the tone for the rest of the string. In fact, they spend what seems to the casual observer a disproportionate amount of time working on that transition from low ready to first plate. Keeping the red dot mounted as low to the bore axis as possible makes for faster sight acquisition. The easiest and cleanest way to do this is to mount the red dot directly to the top of the upper"."
Retail pricing for either the 4.5- or 6-inch-barrel Scorpion-X pistol starts at $1,410. The standalone LLV-X uppers start at $514 for both the 4.5- or 6-inch models. For more information on the Scorpion-X rimfire pistol, the LLV-X or any other Volquartsen products, please visit their website at volquartsen.com.