by
posted on March 26, 2021
Support NRA Shooting Illustrated
DONATE
In recent years, one of the biggest frustrations has been buying that new pistol only to see the optics-ready or tactical version of it come out the next year. One of the biggest guns to hit the market of late has been the Taurus TX22. This mid-sized .22 LR handgun filled the needs of many trainers and plinkers and even found itself into the hands of many Steel Challenge competitors. Spring-boarding off of its popularity, the Taurus TX22 Competition launched earlier this year and unlike most manufacturers, Taurus offered up an upgrade kit to current TX22 owners.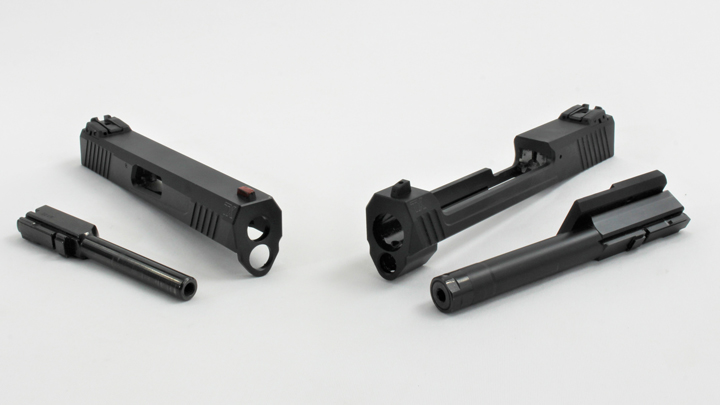 Everything below the slide on the TX22 Comp is identical to the original; however, up top things get really interesting. As previously mentioned the upper half is optics ready, however not in a way that you would expect. Instead of playing the game with slide weight and springs, the TX22 Comp wears its optics plate on its barrel. This eliminates issues with optics that are too heavy to ride the slide without impeding function. The slide is still indeed relieved but it's to allow for the plate as well as the new elongated bull barrel. All of that extra barrel enables the TX22 Competition to receive factory threading for a suppressor or muzzle device, making it one of the flattest shooting handguns you can ever imagine. 
Aside from saving you cash, the upgrade kit saves you a bit of hassle as well. First, because it's not an ATF item, you can have it shipped right to your door. This saves you the trip and associated paperwork involved with hitting the gun store for a complete gun. If you are in a state where you have to deal with registration and extra permits this is a godsend because that can become an all-day ordeal. Also, for our friends in states that restrict threaded barrels, since it's not a firearm you can have the threads addressed by a gunsmith before making it part of a pistol (as always, check local laws). That's precisely what I did with mine and thus stayed legal throughout this entire evaluation. 
Once I had the completed gun, I got my hands dirty by mounting a TruGlo TRU TEC Micro Red Dot. Well, green dot, really, as I opted for this version because I find that it shows up far better in bright conditions. This inexpensive four-post optic features a brilliant 3 MOA dot and an automatic shut-off for if (more like when) I forget to turn it off at the end of the day.

As the TX22 Comp comes with two two-sided adapter plates I was able to mount this onto the barrel with nothing more than the included hardware. Using a Real Avid Torx Driver, I ensured everything was locked down properly without worry about stripping either the plate or the screws themselves. After confirming everything was correct, I packed the car and was on my way to the range that very same day.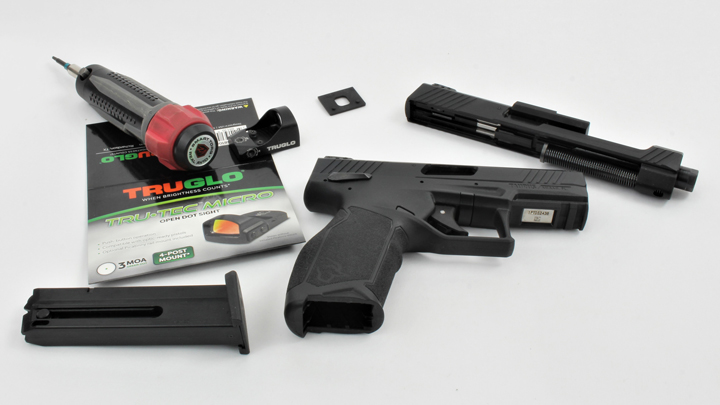 I started my range session by zeroing the optic for 15 yards using a wrist-supported position. I centered up a group in just a magazine's worth of ammunition and then turned my attention to generating a formal 5x5 accuracy average. On the bench sat Winchester's 40-grain Round Nose Super-X alongside CCI's new segmented hollow-point Mini Mag.

I chose these two types because round nose ammo is perfect for target work, as it rarely experiences feeding issues. The hollow-points made the cut because they make for a good acid test as many guns choke on them. Besides, if this gun is accurate enough I might just carry it as my squirrel sidearm, so I might as well start auditioning hunting ammo right away.

After shooting my first group of Winchester ammo, I had to stop and take a walk downrange because I thought I missed a few shots. It turned out that I didn't miss at all, they just produced a group so tight that I couldn't differentiate a few of the holes! The remainder of my groups were nearly just as tight with the best one measuring just .38 inches. The five-shot average came in at .73 inches, which is phenomenal for a gun/optic package that costs less than $600.

Moving onto the CCI Mini Mag, I was equally impressed as it digested every single round without a hiccup. Groups with this ammo opened up a bit with our best group measuring 1.23 inches and our average sitting at 1.56 inches. That's still a headshot on a squirrel, so I wouldn't exactly leave this ammunition on the shelf if I came across any.
I finished my range day by spending some time on the club's plate rack where after just 200 rounds I said to myself, "I gotta shoot a match with this." Transitions were smooth as glass with this pistol and its light weight made it effortless to swing, coupled with outstanding accuracy and flawless feeding it was certainly up to the challenge.

Before leaving the range, I signed up for that weekend's Steel Challenge Match (my first ever) and found myself squadded with a bevy of Master and Grand Master Class shooters. The gun continued to run without interruption through each stage and I even managed a halfway decent finish, especially considering this was my first Steel Challenge. I was happy with the gun and content with my shooting, leaving me wanting to shoot more matches, which is exactly what a good gun should do for you.
Overall, I am very fond that Taurus offered this upgrade option to its faithful followers, saving us some green. This move is unapologetically Taurus, as saving shooters money without cutting valuable functionality or accuracy is exactly what this company is about. Above all, I found the top features of the TX22 Comp upgrade to be its outstanding accuracy and reliability.

The only advice I have for those making this is move is if you plan on shooting Steel Challenge don't forget to stock up on extra magazines. Two 16-rounders will get you through a stage (granted you don't miss too much) but if you live in a restrictive state you're going to want to get five of the little 10-rounders to keep the flow of the match going. Oh, and ammo...you're gonna need lots of ammo.