by
posted on April 27, 2019
Support NRA Shooting Illustrated
DONATE
If you are new to shooting or have maintained a stockpile of .22 LR, then the phrase "ammo shortage" might be lost on you. However, for years, it was a sad reality for those in the market for .22 LR. Big-box stores resorted to rationing, online stores were out in seconds and folks were even starting to reload the tiny rimfire round!

Luckily, the shortage is over and not only are some of the harder-to-find varieties now readily available, but new flavors of America's favorite plinking round can be found in just about every sporting goods store around the country.

After gathering up a few favorites, I gave my old Ruger 10/22 a facelift and hit the range. That facelift came in the form of a Volquartsen 18-inch, I-fluted heavy match grade barrel ($405.00). Topped with a TRUGLO 4-16X Eminus Scope, I had everything that I needed to punch paper. My .22 LR tests are different from most other writers, as I like to conduct them at 100 yards. The lowly 22 is often regarded as a 25-50 yard round. However, in our Long Range Course, we hand out a button to anybody who can hit the 6-inch gong at 300 yards with one in fewer than 10 rounds. To this date, we have never failed to issue a button. I also fired five 5-shot groups, tabulated an average and reported the best group. Let's see how some of the latest .22 LR offerings did.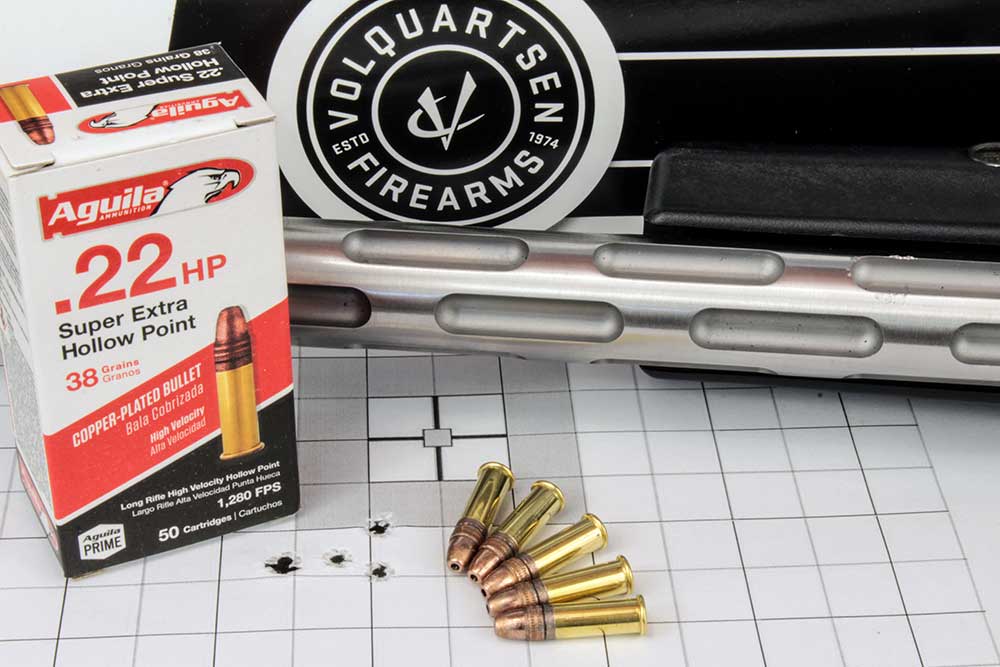 Aguila Super Extra Hollow Point

Aguila has always had the round-nose version of this round on the market, however new for 2019 is an all-new hollow-point version. The 38-grain rebirth of this legendary round is also clad with a copper plating, allowing it to be driven a bit harder than its predecessor. The high-velocity hollowpoint leaves the gun at 1,255 fps and produces amazing accuracy; it was the best performer in our Volquartsen 10/22 on range day.

Best Group: .69 inch
Average of 5 Groups: .94 inch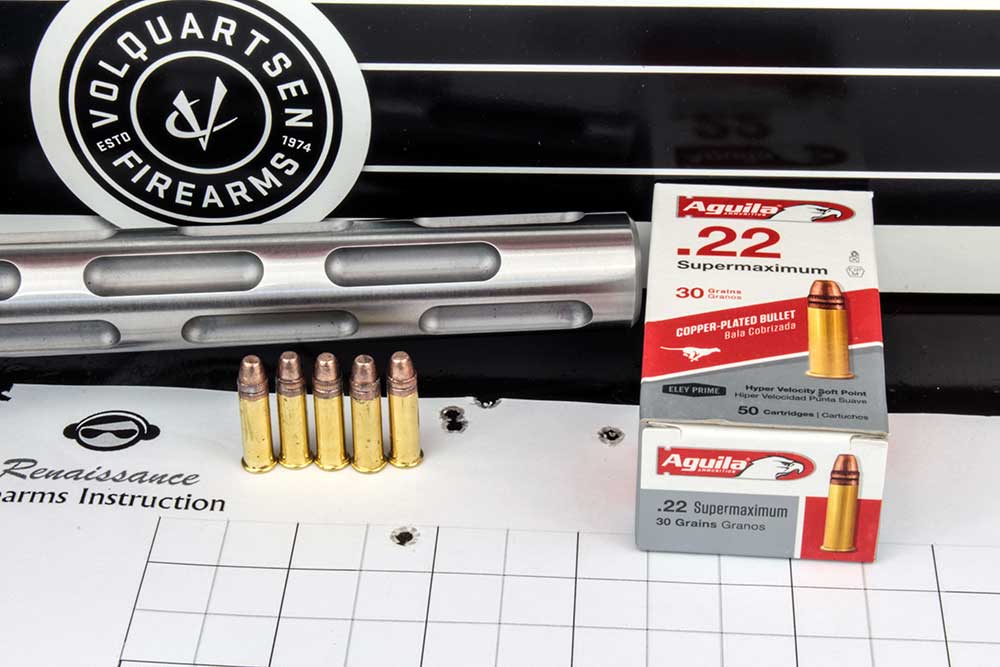 Aguila Supermaximum

With time to catch its breath on standard offerings, Aguila was able to get these popular rounds on the shelves again this year. With a tiny 30-grain bullet, the Supermaximum is able to deliver velocities of up to 1,700 fps. The flat-point bullet is lightly plated. This allows it to simply explode on contact with small game. From our original zero we noticed a drop reduction of nearly 5 inches, helping this round make it a little further than others.

Best Group: 2.31 inches
Average of 5 Groups: 2.92 inches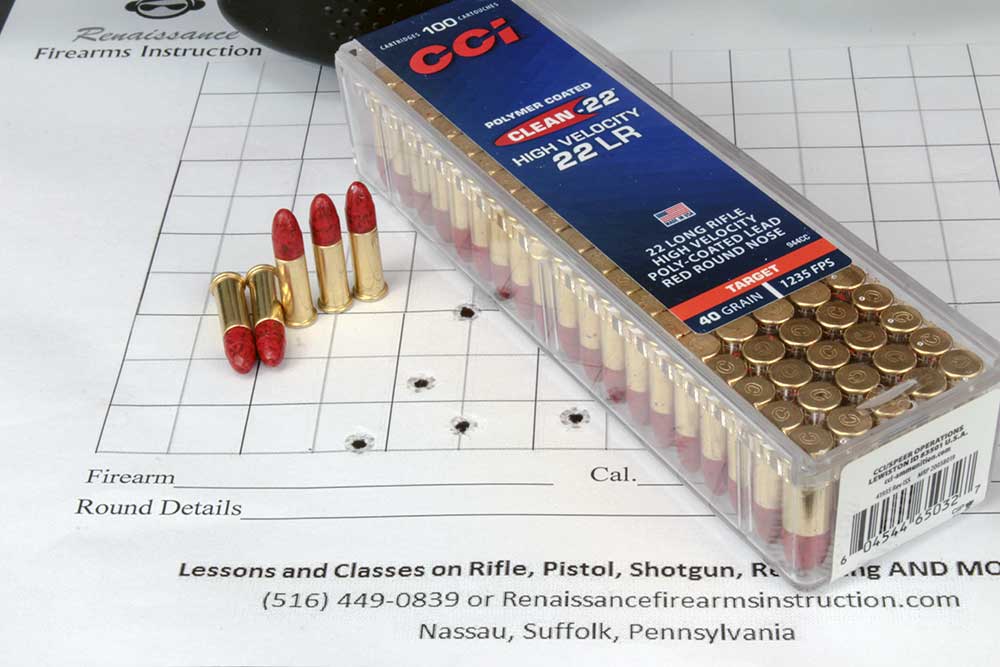 CCI Clean 22 – High Velocity

Also new for 2019 are these polymer-jacketed rounds from CCI. The Clean 22 rounds were designed to reduce lead exposure and fouling, which is easier on a firearm and healthier to a shooter. The high-temp plastic coating stays put during firing and its travel to the target, leaving you with less cleanup, so you can spend more time on the range. The polymer jacket is also less likely to ricochet than conventional copper. These come in both a high-velocity version with a rating of 1,235 fps and a subsonic version with a rating of 1,070 fps. Both options are built around a 40-grain solid bullet.

Best Group: 1.50 inches
Average of 5 Groups: 1.81 inches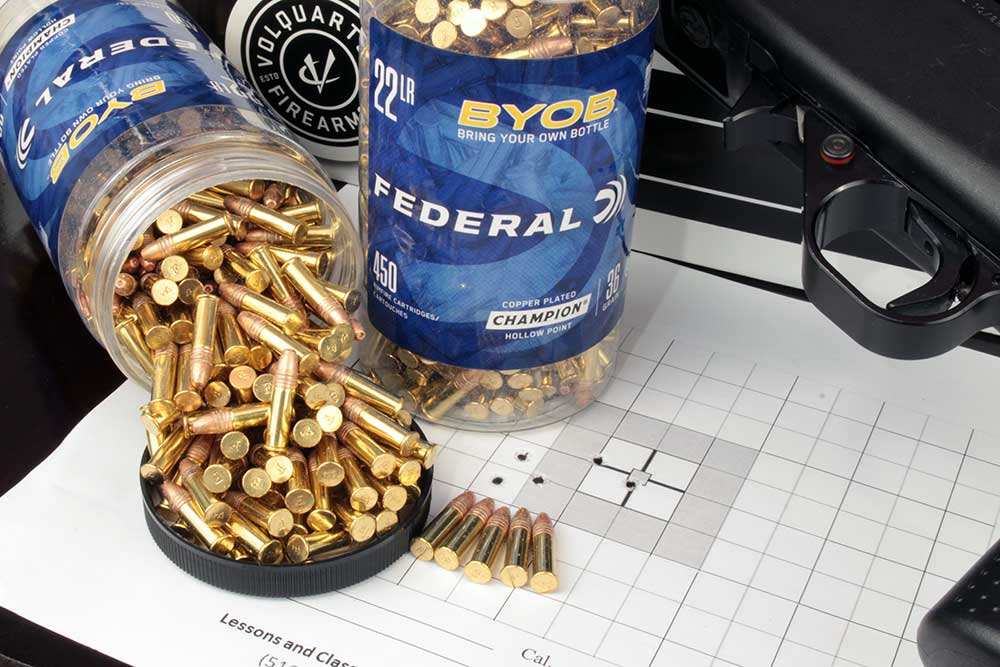 Federal Premium BYOB

Of course, drinking and shooting don't mix, but a bottle of .22 LR provides more relaxation than a six-pack of beer! Federal's fun packaging of this 36-grain copper-plated, hollow-point round hit shelves in early 2019 and actually offers a lot of functionality. The all-plastic container with screw-on lid keeps the ammo dry when the weather isn't playing fair, and it keep them from spilling out in your range bag. TSA really doesn't have a sense of humor about finding stray rounds in your luggage (Ask me how I know). There are 450 rounds in a bottle with a little fun meter on the side that gives the "average" person an idea when to buy more. This bulk ammo ran very well and was more accurate than we thought it would be.

Best Group: 1.37 inches
Average of 5 Groups: 1.88 inches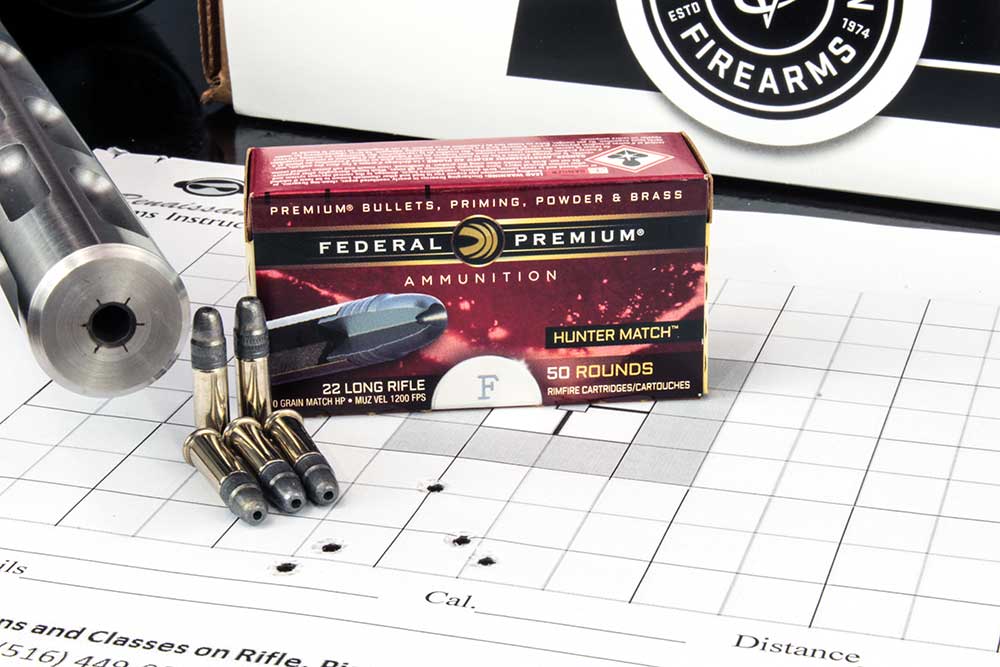 Federal Premium Hunter Match

Federal Premium is one of the leading manufacturers in rimfire production, churning out millions of rounds a year when the demand was in full swing. While known for the company's bulk ammo, it has developed quite a few interesting special-purpose rounds. The Hunter Match is designed to be accurate enough to reliably hit small game at extended distances, yet still expand. Its nickel-plated case helps it ward off the elements and contains a modest powder charge that propels the 40 grain hollow point bullet to speeds of 1200 FPS. This makes it perfect for long-range squirrel or close-range prairie dogs.

Best Group: 1.31 inches
Average of 5 Groups: 1.87 inches

During every introductory session at Renaissance Firearms Instruction, we ensure that students understand the importance of conducting experiments like this to see which rounds perform the best in their particular firearm. While the centerfire shooter has the ability to change projectiles and powders to find their perfect fit, a rimfire shooter must do it by trying various factory-built loads. Having a quality barrel is going to go a long way as well. With the shortage over and new products hitting the market every day, we welcome more new shooters to the range. Grab a buddy and a brick, and go enjoy .22 LR plinking again!