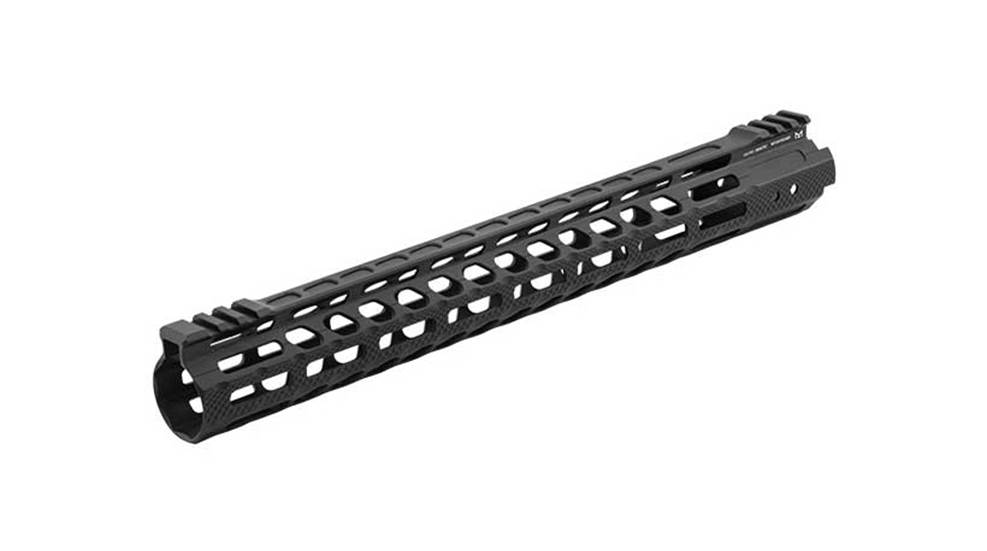 Building on the success of its Super Slim AR-15 handguard design, which provided consumers with an already-lightweight fore-end option,
Leapers
expanded its product lineup with the even-more lithe Ultra Slim Handguard. This all-new design shaves even more weight off the company's Super Slim design, providing AR aficionados with an ultra-light design for their ultra-light rifle.
Machined entirely from 6061-T6 aluminum, the UTG Pro Ultra Slim handguard saves weight by shaving off the bulk of the Picatinny top rail found on many AR handguards. Instead of having a full-length attachment option, the handguard features a short segment of rail that buts up against the Picatinny optics rail found on flattop AR-15 receivers and a shortened segment found at the muzzle-end of the handguard to allow for the attachment of iron sights. The fore-end also features cuts in the body of the design, removing excess material without compromising the overall strength of the design.
Compatible with M-Lok accessory attachments, the Ultra Slim design provides slots at 3-, 6- and 9-o'clock positions rather than at seven positions around the circumference of the handguard. In between these M-Lok attachment points, the design features larger lightening cuts that eliminate the excess weight and bulk that surrounds the M-Lok attachment slot. As an added benefit, the extra machining on the left and right side of the handguard provides a textured surface that provides enhanced grip and also creates a unique, attractive look.
When used with a standard, two-piece barrel nut, the entire Ultra Slim handguard assembly weighs in at 11.5 ounces, but the weight savings doesn't stop there. Leapers also allows consumers to order a titanium barrel nut in lieu of the traditional steel barrel nut. When this two-piece titanium design is used to anchor the handguard to an upper receiver, the entire weight of the unit is a scant 10 ounces. Other features of the handguard design include anti-rotation tabs that provide perfect alignment during installation, as well as a hard-coat anodized finish. Each handguard ships with two M-Lok accessories: an eight-slot Picatinny-rail section and a quick-detach sling-swivel adapter.
The Leapers UTG Pro Super Slim AR-15 handguard is made at the company's facility in Michigan, and retail prices start at $179.97. With the addition of the titanium barrel nut, the price on the entire assembly is $239.97.