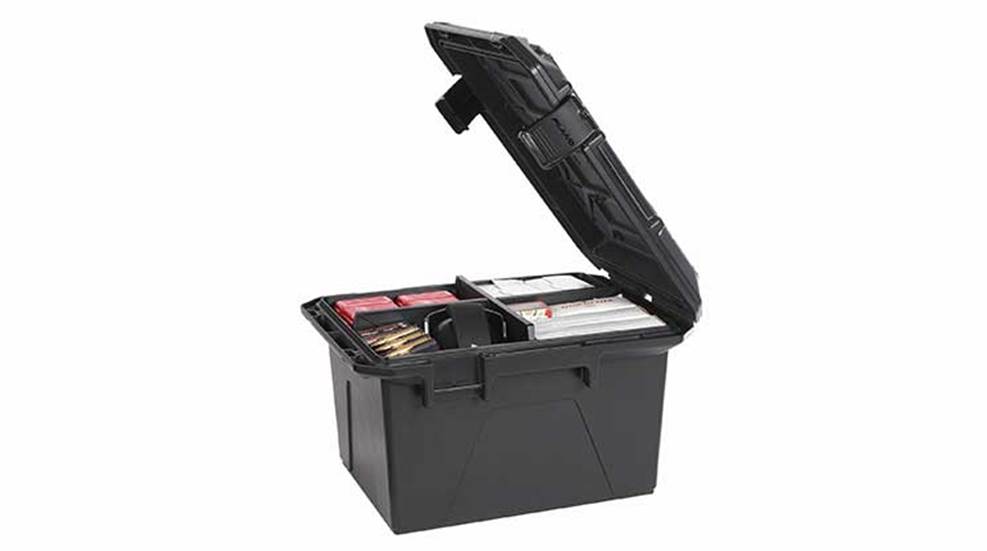 Shooters who get out to the range tend to bring a heavy load of bulk ammunition along with them, and the new Tactical Ammo Crate from
Plano Molding Company
allows tactical shooters to secure and transport their heavy ammo loads with ease.
The Tactical Ammo Crate is made with a molded outer shell that features a perfectly matched lid made from molded polymer that allows users to keep their ammo stored in a dry, secure box until its ready for use. The crate features snap-latch closures that keep the lid secured to the molded body, and further security is provided through the inclusion of two slotted metal plates on either side of the storage unit that allows for the use of padlocks.
The exterior design of the crate allows it to be easily stacked with other products, and the durable, heavy-duty polymer construction ensures that it can withstand any stacked weight without issue. On either side of the crate, consumers will find molded-in handles that allow for easy carrying.
The interior of the Plano Tactical Ammo Crate provides shooters with up to 975 cubic inches of space for ammo and gear storage. The case ships with two removable sections that allow owners to divide the compartment into four different areas for added organization.
The inside of the case measures 12.3 inches long, 9.3 inches high and 8.5 inches in overall height, allowing for the storage of a wide assortment of ammunition boxes, containers, magazines and other gear. Outside dimensions of the case measure 16.25 inches in length, 13 inches in width and 9.5 inches high, ensuring that users can store the compact case anywhere they need it until its contents are needed.
The Plano Tactical Ammo Crate is completely made in the USA, along with the company's new tactical long-gun cases and tactical pistol cases, which are also made from the same rugged, molded-polymer construction. The suggested retail price on the new case is $19.99.