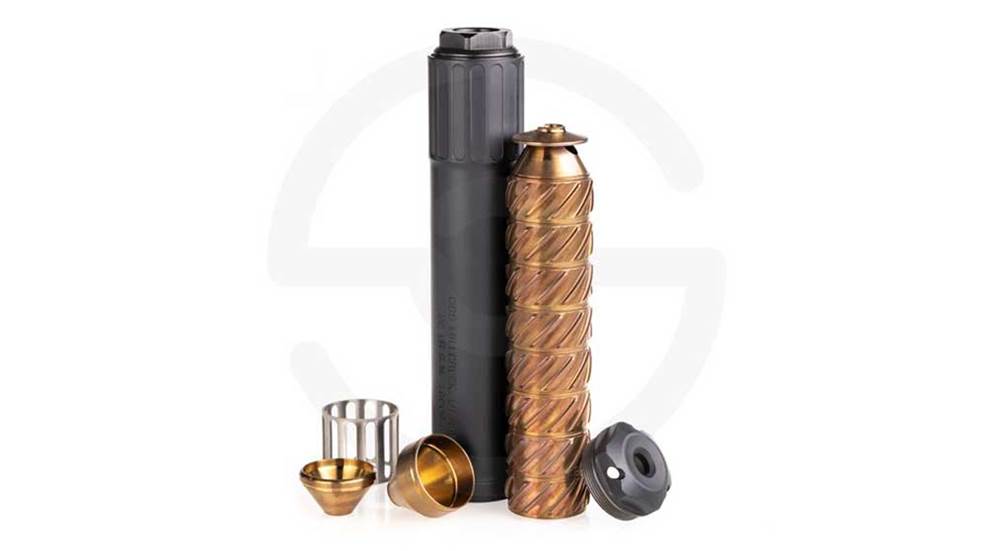 OSS Suppressors is known for the company's effort to produce innovative products aimed at suppressing the noise of a gunshot, and its new RAD 22 rimfire suppressor continues that innovation. The RAD 22 uses Flow Baffle technology, a unique design which incorporates radial grooves that direct expanding gases away from the bore-line. This design then routes the gasses from each shot forward through the suppressor and away from the shooter. Flow Baffle technology means the RAD 22 runs quieter and much cleaner than other rimfire suppressors, and it also makes it easier to disassemble and reassemble the suppressor for cleaning without the use of special tools or indexing.

Made with titanium and 17-4 heat-treated stainless steel, the RAD 22 is built to last, and has a lifetime warranty just in case things go wrong. The suppressor uses an industry standard ½ x 28 thread pitch to connect directly onto the threaded barrel of your rimfire firearm of choice.

The unique design of the RAD 22 and quality construction make for a quiet suppressor. Sound-pressure levels for most .22 LR guns using standard CCI ammo range from 115-133 dB, and 130-133 dB when the suppressor is mounted on an 8-inch barreled CMMG Banshee 5.7x28mm rifle.

The Rad 22 weights just 6.2 ounces and measures 5.57 inches in length. The diameter of the suppressor is 1.08 inches, and it has an MSRP of $449. More information is available at osssuppressors.com.