by
Shooting Illustrated Staff
posted on December 30, 2019
Support NRA Shooting Illustrated
DONATE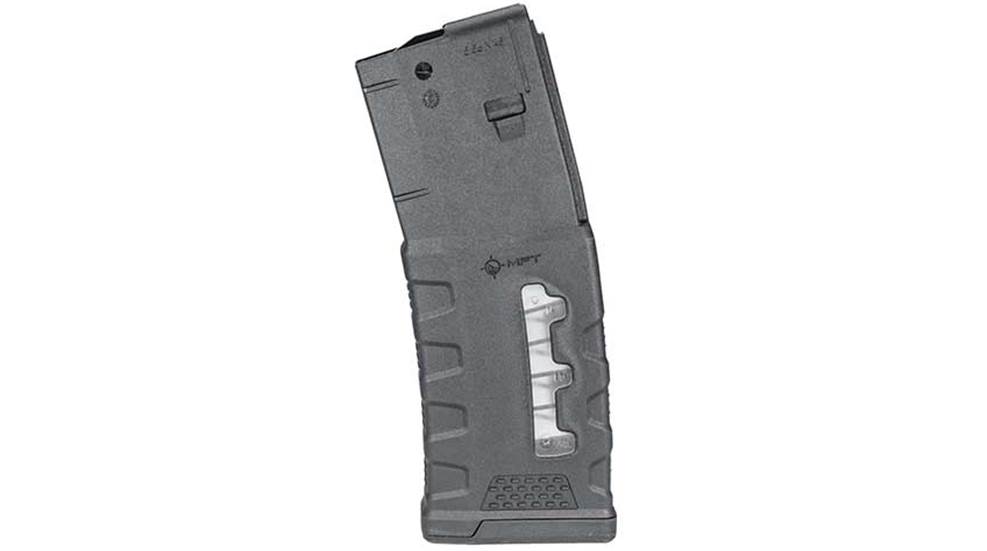 Mission First Tactical
expanded its lineup of Extreme Duty polymer AR-15 magazines with an all-new Window Mag that provides shooters with a view inside their mag, enabling them to keep track of the amount of fired rounds in an inserted magazine. The MFT Extreme Duty Window Mag ensures that shooters can keep an eye on their ammunition consumption with a quick glance, thanks to the generous viewing windows located on both sides of the magazine body.
With the addition of the viewing window on these magazines, Mission First Tactical maintained the durable, rugged character of the Extreme Duty lineup, which is designed to exceed military specifications. The transparent window includes molded-in numerals that provide indications of magazine capacity at certain points within the body, providing users with indicators at 25, 15 and 5 rounds. The windows are constructed from anti-glare polymer, and the high-visibility indicator coil on the magazine spring allows shooters to see where the bottom of the stack is at a fast glance.
Each Mission First Tactical Extreme Duty polymer AR-15 magazine is constructed using a next-generation process complete with new materials that enhance structural performance in terms of overall strength, durability and stiffness. Longer-length reinforcing fibers within the polymer ensures that the magazine body won't deform from rough treatment, and the material won't experience fatigue as early as other polymer magazines. Other features found in the magazine include a USGI-spec mag spring made from stainless steel, as well as an anti-tilt, self-lubricating follower that's designed to eliminate jams. An oversized bolt catch ensures that rifles will reliably lock back on an empty mag.
On the exterior of the Extreme Duty AR-15 Window Mag, consumers will find ribbed surfaces at the front and rear that provide a positive grip, and the flared magazine floor plate provides an easier gripping point that allows for improved handling, extraction and one-handed reloads. The floor plate also features a paint-pen dot matrix that allows users to number their mags in order to keep track of usage and maintenance, and the mags come apart without tools, thanks to the safety-release tabs located at the bottom of the magazine body.
Mission First Tactical Extreme Duty AR-15 Window Mags are available in black and scorched dark earth and retail at a suggested MSRP of $14.99.