by
Shooting Illustrated Staff
posted on October 7, 2019
Support NRA Shooting Illustrated
DONATE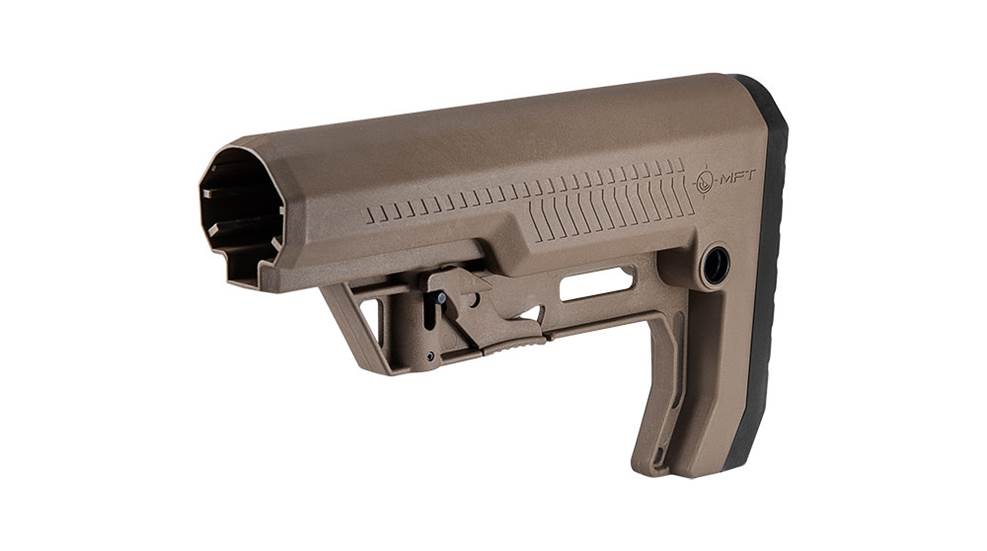 Mission First Tactical has introduced its new Battlelink Extreme Duty Minimalist Stock, which builds on the success of the company's earlier Minimalist Stock designed for use on AR-15 rifles. This all-new Extreme Duty design is built to stand up to the long-term abuse delivered by larger-caliber firearms while still having the size to keep you nimble in the tightest of spaces.

Many of today's AR-compatible platforms are chambered in heavier-hitting calibers, such as 7.62 NATO or even 12-gauge, and stocks designed for use on 5.56 NATO rifles are not built to handle the long-term punishment of these hard-recoiling rounds. The Battlelink Extreme Duty Minimalist Stock fulfills the need for a more robust stock capable of withstanding this recoil while still being a great option to use on a 5.56 NATO carbine.

The Battlelink Extreme Duty Minimalist Stock is a slide-on replacement for a collapsible buttstock. The angled, non-slip, rubberized removable buttpad allows for faster presentation, even when donning body armor. The stock also has multiple sling slots with single-point mount points, with a quick-detach sling mounting point that is positioned in the rear.

The stock comes equipped with a single M-Lok connection point, and the upper section provides an enhanced cheek weld. Mission First Tactical Battlelink Extreme Duty Minimalist Stocks are built for hard use under extreme shooting conditions and come with a lifetime warranty.

Available in black and scorched dark earth, the Battlelink Extreme Duty Minimalist Stock has an MSRP of $69.99. For more information, visit missionfirsttactical.com.