by
Shooting Illustrated Staff
posted on February 12, 2019
Support NRA Shooting Illustrated
DONATE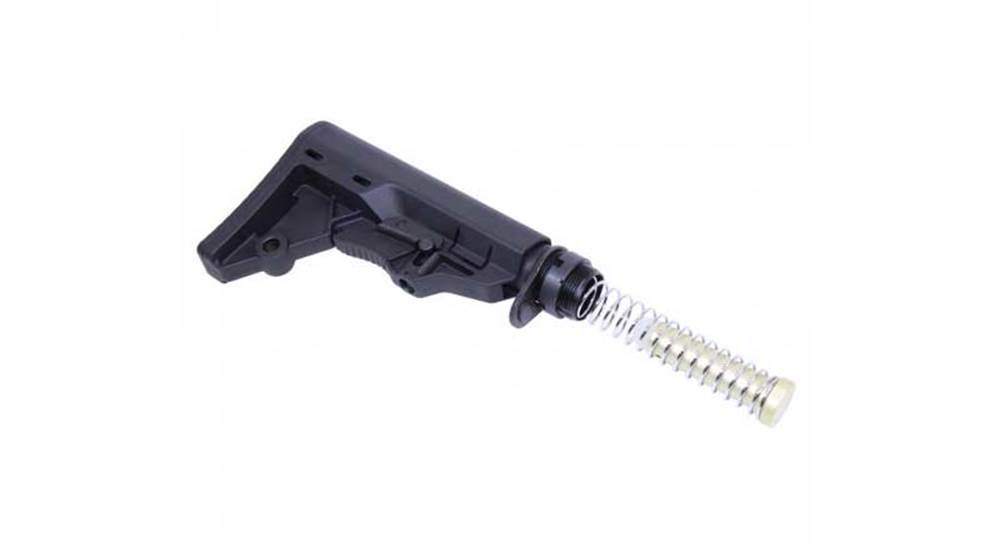 With an incredible number of stocks available to today's AR-15 owners, finding an option that fits both their needs and budgets can be overwhelming. Cutting through the mass of expensive stocks loaded with countless features is
Guntec USA,
which now offers its AR-15 Tactical Entry Stock as a simple, inexpensive, durable option for AR enthusiasts.
"We are very anxious to get the new AR15 T.E.S out into the marketplace," said Charles Kent, president of Guntec USA. " It is my belief that our customers will see the quality, performance and simplistic design as a value at a very affordable price."
Each Guntec USA Tactical Entry Stock is molded from a high-density, impact-resistant polymer, complete with a matte-black finish. The entire package ships with a buffer tube, end plate, chrome recoil spring, 3-ounce carbine buffer and castle nut, giving AR owners everything they need to finish a build or start from scratch on an upgrade project. Though the stock itself is constructed from dense, rugged polymer, the stock shell itself weighs just 5.4 ounces, and the entire package, when assembled, adds 15.2 ounces to the overall weight of a carbine.
The stock itself features a curved, rubber recoil pad, along with a comfortable, contoured surface along the top side of the unit that offers a solid cheek rest for ARs equipped with iron sights or low-mounted red-dots and magnified optics. A lever located on the rib running along the bottom of the stock allows users to easily adjust the overall length, enabling a custom length-of-pull for different-size shooters. Quick-detach sling-mounting points are available on both the left and right side of the stock.  The compact overall dimensions of the Tactical Entry Stock offers an affordable option for those looking to build a compact carbine for easy transport and maneuvering.
Guntec USA Tactical Entry Stock are also available for other AR-style guns, including a 9 mm pistol-caliber carbine example with a specialized 9 mm carbine buffer that's optimized for use with blowback 9 mm bolt-carrier groups. The total weight of the 9 mm model is 20.2 ounces. All of the same features are also found on a .308 AR model of the Tactical Entry Stock, coming with a .308 Win.-specific buffer.
Suggested retail pricing on the Guntec USA Tactical Entry Stock starts at $89.95 for the AR-15 model, with the 9 mm and .308 Win. options retailing for $99.95.