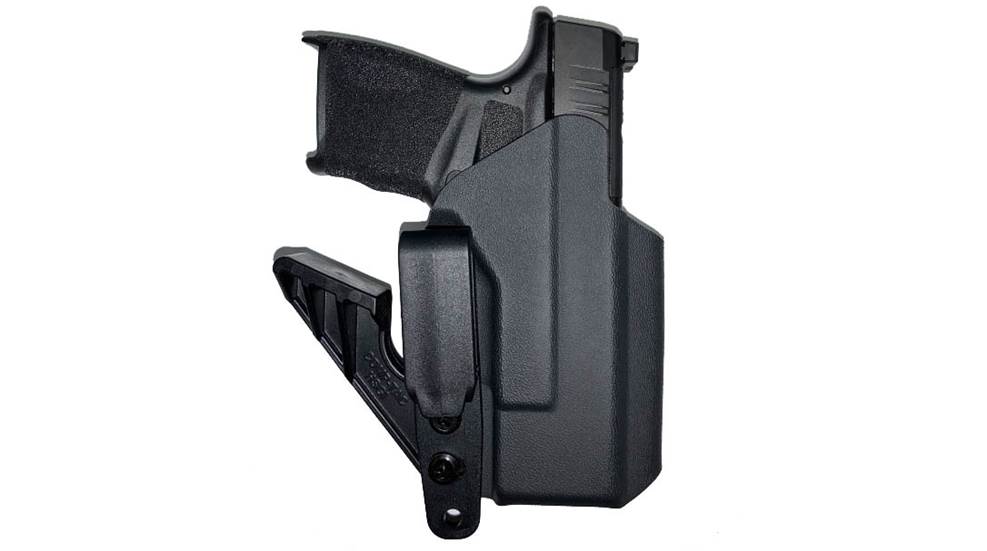 The Springfield Armory Hellcat is a popular new option for concealed carry. It's a small and easy-to-carry pistol, but it needs good holsters if it's going to be carried every day. This is why Comp-Tac holsters have recently rolled out new versions of three of its holsters. Comp-Tac has been building high-quality concealable holsters since 2001, and its holsters soon gained popularity in the concealed-carry and competition holster markets. They have also become a trusted source for gear for off-duty and undercover law enforcement members all over the world. These new versions of the Comp-Tac Warrior, eV2 and Infidel Max holsters are designed to work with the Hellcat in order to provide you with maximum comfort and concealability.
An outside the waistband (OWB) holster, the Warrior was recently approved by the National Training Officers Association (NTOA) for law enforcement use. The holster is an all Kydex pancake design that is excellent for concealed carry and/or general range use. Optics friendly, it will accommodate both the standard Hellcat and the OSP optics-ready version.
The Comp-Tac eV2 holster is an appendix inside the waistband (AIWB) model designed for concealed carry. It is optics compatible and includes the Comp-Tac KICK, which is specifically designed to help press the grip of the gun into the body for better concealment.
Lastly, the Infidel Max holster is an inside the waistband holster designed to be worn behind the hip at the 4 o'clock or 5 o'clock position on the waistline. With an easy-on-easy-off single clip, this holster is a favorite for users who want the ability to put on their gun or take it off as their environment changes.
More information on these holsters and the rest of the Comp-Tac line is available at comp-tac.com.