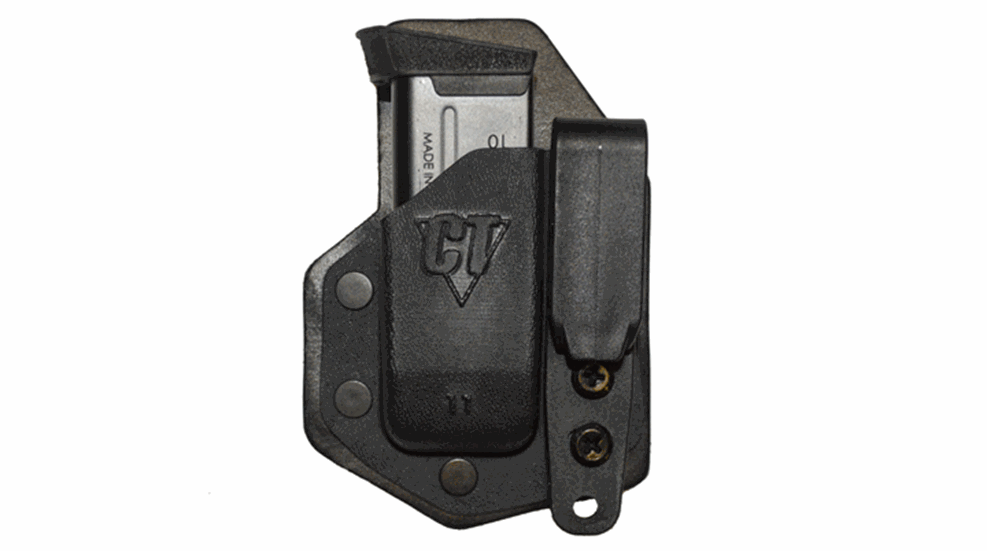 Comp-Tac Victory Gear is known for designing and manufacturing some of the highest-quality holsters and related accessories on the market, perfect for concealed carry, competition and tactical usage. Now it is releasing the eV2 Magazine Pouch, a new inside-the-waistband, hybrid mag pouch, built especially for customers who want to carry a spare mag in the appendix position.
"Appendix carry has become more and more popular as the sizes of guns have gotten smaller," explained Gordon Carrell, Comp-Tac general manager. "Many of our customers who conceal carry also like to carry a spare magazine. While many individuals can drop a spare mag in a pocket, the number of EDC items is on the rise. Having a magazine pouch helps to balance the load of wallet, flashlight, medical kit, keys, personal items, etc. The eV2 Mag compliments our popular eV2 and eV2 Max holsters, giving users the ability to keep all their 'hardware' up front for easy access."
The eV2 is a hybrid pouch that is made with a top-grain, cowhide leather backing and a Kydex shell that holds the magazine securely in place. The pouch attaches to the belt with a nylon clip that is ride-height adjustable, allowing the user to set the height of the magazine in relation to their belt. The magazine pouch is also tuckable to allow the shirt to be tucked in over the magazine for even more concealment.
eV2 Magazine Pouch Features:
Top-grain cowhide leather
Kydex body
Nylon clip is ride-height adjustable and tuckable
Index cut on leather and Kydex for improved draw capabilities
Designed specifically for carrying compact magazines
Created for wear in the appendix region for quick access
MSRP for the eV2 Magazine pouch is $29.99, and more information on this product as well other holsters and accessories from Comp-Tac is available at comp-tac.com.