Support NRA Shooting Illustrated
DONATE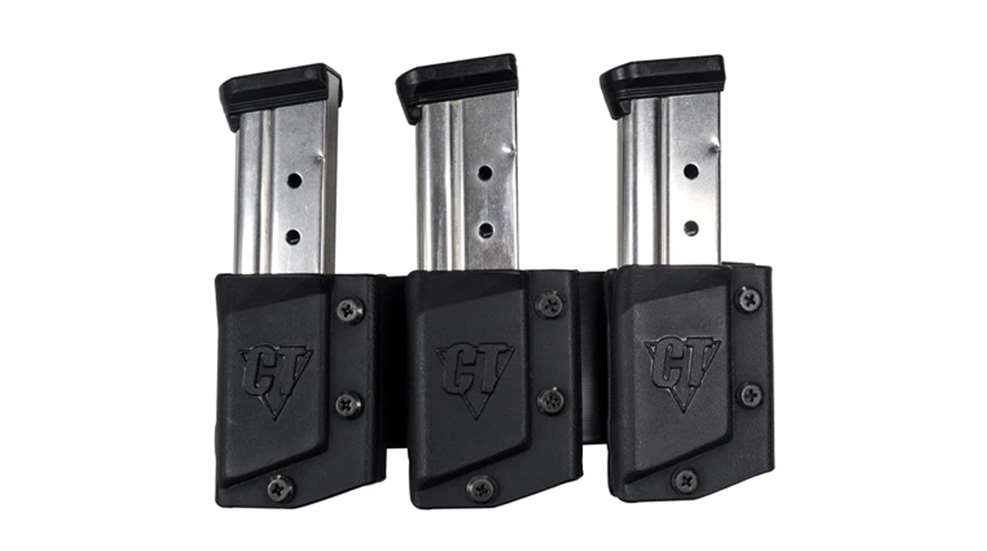 Comp-Tac Holster is releasing a new three-part magazine carrier for anyone interested in a new and modularly designed magazine carrier, be it competitive shooters, law enforcement personnel or EDC practitioners. The Tri-Mag was designed with the input of Rob Leatham, a world-class competitive pistol champion and professional shooter for many decades.
"Having Rob Leatham work with our team on the development of this magazine pouch was such an extraordinary experience. Rob's understanding of the gear, both knowing it from using it, and his understanding of the materials and construction based on his own tinkering, made this one of the smoothest developments we've ever had," explained Bill Babboni, chief operating officer of High Speed Gear (the parent company of Comp-Tac Holsters). "The Tri-Mag just looks cool, and its expansive functionality will be a hit with all customers — law enforcement officers, competitive shooters, and the everyday users."
The Tri-Mag is fully constructed from Kydex and offers shooters the chance to individually set the cant angle and tension for each magazine cell affording a level of user preference and adjustability not typically seen on similar Kydex triple magazine carriers. Cells are designed with a wide opening to make removal or insertion of magazines as seamless as possible. Tri-Mag carriers also count on features such as:
Mount plate attaches to belt with two enclosed belt clips
Belt clips hold 1.5 inch or 1.75 inch belts
Mount platform is ride height adjustable
Pouches are flared at the top for easy magazine insertion
Pouches are "open" allowing flexibility during deployment even if mag is twisted
Each individual pouch is retention adjustable
40 degree cant adjustment, 20 degree cant forward or rearward
Standard version with logo or slick, no logo design available
Available in right and left hand configurations
The Tri-Mag carrier is sold by sizes according to magazine dimensions for specific makes and models of handguns. For detailed sizing, pricing, set up, and adjustment information please visit Comp-Tac's website at comp-tac.com.