by
Shooting Illustrated Staff
posted on May 1, 2021
Support NRA Shooting Illustrated
DONATE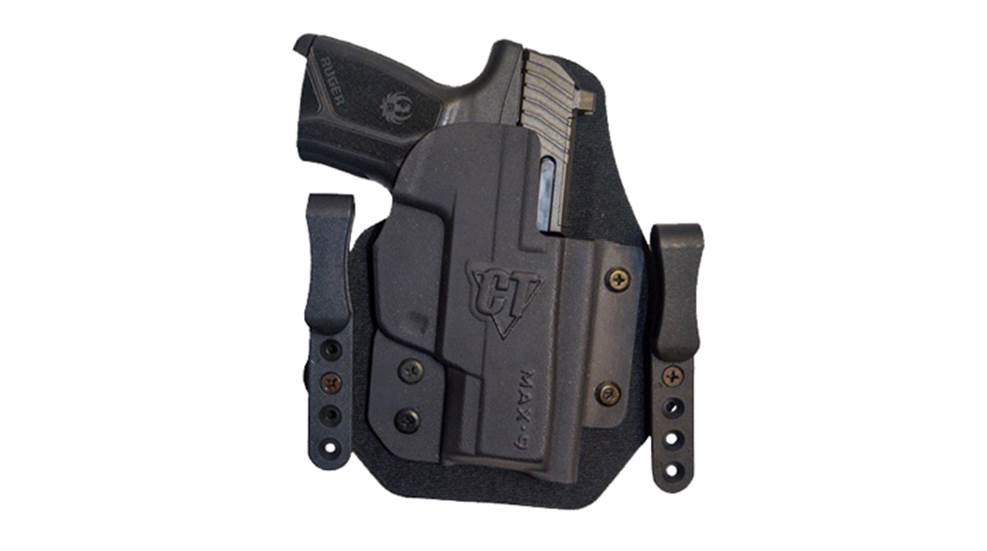 Comp-Tac has added new models that fit the Ruger Max-9 to their line of Sport-TAC, Infidel Max and Warrior holsters. These new holsters give Ruger owners choices for inside-the-waistband wear, hybrid holster (foam backing and Kydex shell) or all-Kydex wear, and outside-the-waistband wear.
"As new weapons come out, Comp-Tac strives to expand their holster selection to match," said Gordon Carrell, Comp-Tac general manager. "The Ruger Max-9 is the latest weapon released that is built to accommodate a micro red-dot sight. As we design and release new holsters, we make sure to accommodate the newest features. All the holsters for the Max-9 come with optics compatibility. For concealed carry, range use or even competition, we want our holsters to work with the most popular gear that is available."
The Comp-Tac Sport-TAC Holster is a hybrid IWB holster that is designed to comfortably carry a 4-inch handgun at the 4-5 o'clock position on your waistline. The Sport-TAC has a 600D interlock padded backing that provides cushion and flexibility for extreme comfort, while the Kydex shell and adjustable retention holds your handgun securely.
The Infidel Max Holster is an all-Kydex IWB holster that is designed to be worn behind the hip at the 4 or 5 o'clock positions. The holster has an easy-on, easy-off single clip that is ideally suited for users who want the ability to put on their gun or take it off as their environment changes. 
The Warrior Holster is an outside-the-waistband holster that was recently tested and recommended by the National Training Officers Association (NTOA). The all-Kydex, pancake design is excellent for concealed carry or general range use.
MSRP for the Sport-Tac is $69, and MSRP for the Infidel Max is $59. The MSRP for the Warrior holster is $75, and more information on these products as well as other gear from Comp-Tac is available at comp-tac.com.