"Nature abhors a vacuum." No, that doesn't mean Mother Nature has it in for Hoover or Dyson. It means that forces compel an empty space to be filled. If there has been a notable empty space in the firearms market the past several months, it is the one that was occupied by Remington Arms. The Ilion, NY, company produced many notable firearms, but none more iconic than the Model 870 pump-action shotgun. 
Known to law enforcement personnel as "Officer Remington," the 870 spent much of the 20th century mounted in squad cars from coast to coast. Simple, reliable and powerful, the 12-gauge version offered a considerable boost in muzzle energy when patrol cops encountered situations that necessitated something more impactful and/or with greater hit probability than a sidearm.




The virtues that drew law enforcement agencies to this scattergun—as well as the implicit endorsement by those agencies—prompted a vast consumer following, too. Though there are other pump-action shotguns available, the absence of the 870 from the market has been tangible.
That brings us to the Blue Line Pump Shotgun. Blue Line, an importer of several established, though not necessarily well-known brands, has introduced this affordable copy of a base-model Remington 870. The 37.25-inch, 5-pound, 12-ounce gun features twin action bars, a brass bead front sight, metal trigger guard, ventilated recoil pad, cross-bolt safety, sling swivel studs, an 18.5-inch cylinder-bore barrel and 5+1 capacity. Moreover, it's chambered for either 2-3/4- or 3-inch shotshells. Both the polymer fore-end and wrist have fine, molded-in checkering.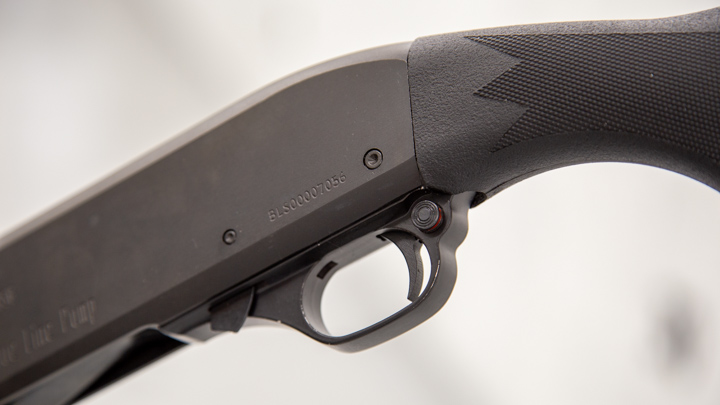 This is as basic a pump-action defensive shotgun as you are going to find, and that is the idea. It aspires to the functionality of the shotgun that inspired it, if not the fit and finish. It is a gun that performs as expected and maybe even a little better.
We ran Federal Premium Force X2 Personal Defense 00 Buck, Federal Premium Magnum 4 Buck and Winchester Super X 1 Buck—all in 2-3/4-inch—and 3-inch Winchester Double X 00 Buck through the Blue Line Pump without a problem. The kick wasn't exactly mild, yet could have been worse without the soft recoil pad. What surprised was the smoothness of the action when racking. We expected a "hitchiness" that was absolutely absent. The well-oiled action worked slickly and easily in both directions, feeding live rounds and ejecting spent shells positively.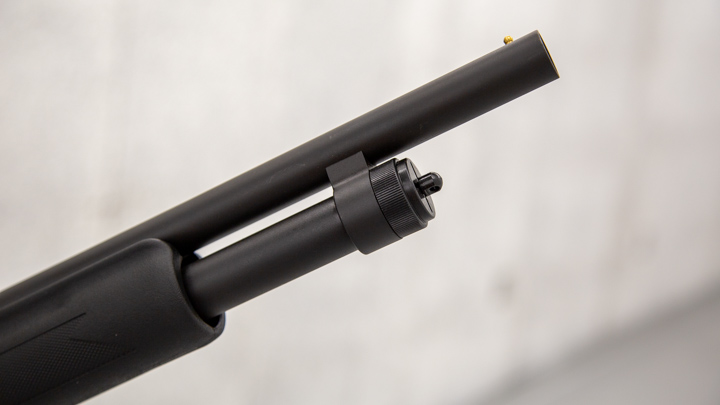 By imitating the Model 870, Blue Line has given itself several advantages. Many veteran shooters are already intimately familiar with the gun's manual-of-arms.  But in addition to appealing to the long-established consumer market for the 870, the company is also offering a gun that will hold considerable interest for the legion of new gun owners now coming into the firearm fold.

Even those who've never previously shopped for a tactical firearm are typically aware of the reputation for reliability, ease-of-use and effectiveness of the 12-gauge, pump shotgun. Further, both the fore-end and buttstock of the Blue Line Pump are compatible with aftermarket 870 accessories, so just because you buy such a basic shotgun doesn't mean it has to stay that way.  
We couldn't get an official MSRP from the company, but a quick search of the internet turned up prices ranging from $203.50 to $249.99. At these extremes, it's either a good deal or a very good deal.
The Blue Line Global website has not been updated with detailed information about this gun. However, a web search for "Blue Line Pump Shotgun" will locate retailers.