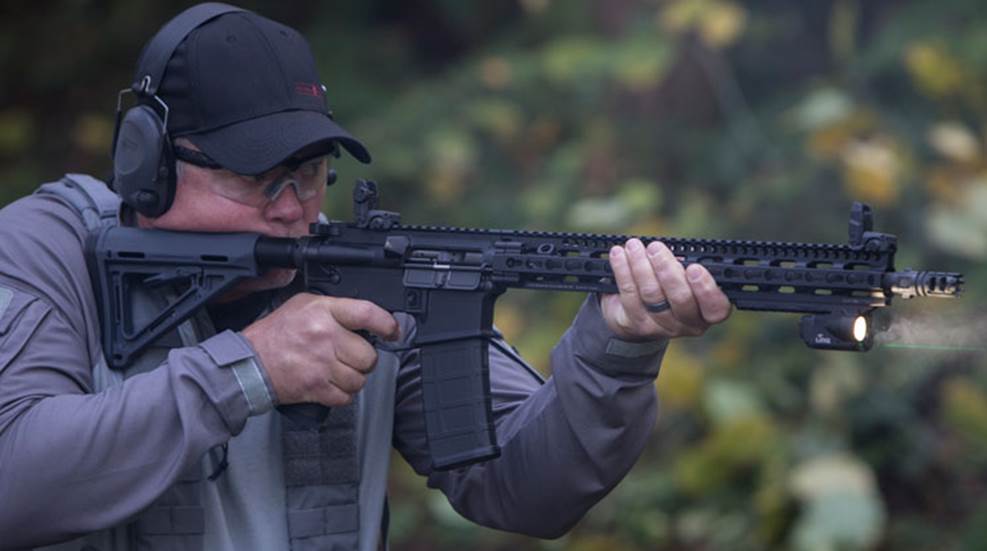 Talent does what it can; genius does what it must. I am becoming of the opinion that the folks who gave us Lasergrips are possessed of the latter.
The most recent supporting evidence for that conclusion is Crimson Trace Corporation's latest breakthrough: LiNQ. In a nutshell, LiNQ is a system that wirelessly connects the pistol grip/controller and fore-end-mounted laser/light module on your AR rifle.
No wires. No tape switches. No kidding.
Think of it as Bluetooth for your gun. (The technology is similar, but not identical.)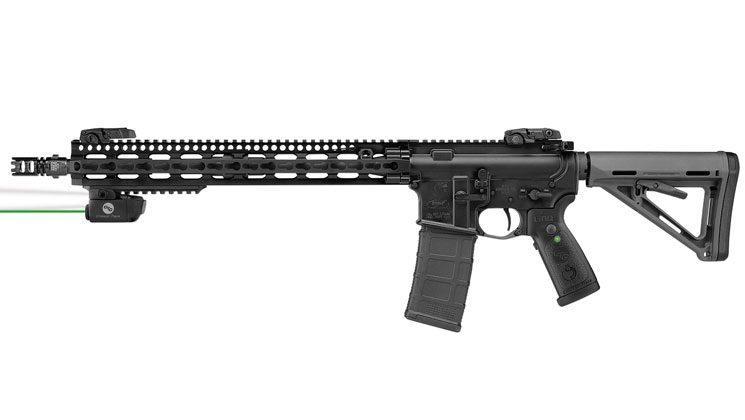 The laser/light module is like an enhanced version of the company's vaunted Rail Master Pro unit. The CR123 battery-powered unit contains a green laser and 300-lumen light with a run time of approximately 2 hours. The module attaches anywhere on a Picatinny or Weaver-style rail and can be operated independently on non-LiNQ-equipped guns.
The grip, which attaches to an AR in the standard manner, is paired wirelessly to the module and controls the module's functions. Those functions include laser, light, laser/light and laser/strobe modes. Like CTC's Lasergrips, the grip offers Instinctive Activation and includes a mode selection button, pairing indication LEDs and a master on/off switch. Moreover, it is waterproof and software-upgradeable, and includes a sleep mode to conserve its CR2 battery.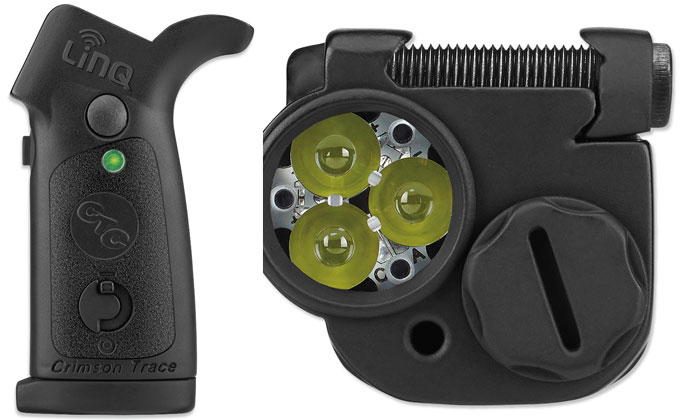 Both the grip and module install simply and easily in a couple of minutes with the included tools. You then permanently pair the units so that they operate together (an indicator light tells you when they're mated). That takes only minutes and they remain paired even if the batteries die or are removed. The closed system is not visible to or affected by other nearby systems, be they friendly or hostile. If either the grip or module is damaged or destroyed, the replacement unit can be mated to the surviving unit, so you won't have to repurchase the entire system. When stored, the system has both sleep and hibernation modes to save power but can be ready to rock almost instantly. There's even a low-battery indicator to remind you when to change your power cells.
I had the privilege of handling a LiNQ-equipped AR on a recent visit to CTC in Portland, OR. Like all the best technology, it's so advanced that it's simple to operate. I grabbed the gun on a darkened range and the unit activated, illuminating the target and placing a green dot on its center. Pressing the mode selection button let me switch to the laser alone, the light alone or the laser and a disorienting strobe.
So, how much is all this high-tech going to cost? Would you believe an MSRP of $549 and a street price around $499?
But wait—there's more! LiNQ technology is rightly being applied first to the AR platform as that is "America's Rifle." Those units should be in stores by mid-year. Down the line, expect the LiNQ to be available for AKs and other Modern Sporting Rifles and tactical shotguns. Further, because the system has a range of several meters, it should eventually be possible to control remote-mounted lights and other electronic modules from the grip of your gun. Imagine being able to illuminate a darkened hallway with pre-mounted high-output lights mated to your LiNQ pistol grip. That could make the hallway nearly as bright as CTC's future.