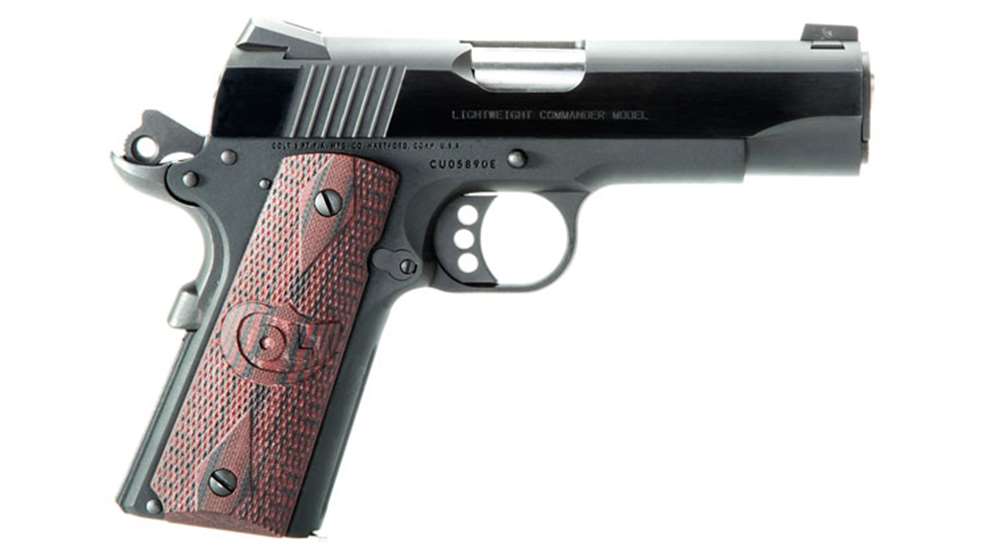 In 1950, Colt modified the 1911 for a military contract that never materialized. The modest modifications were intended to create a lightweight pistol for military officers, but proved ideal for concealed carry: A rowel hammer to prevent snags and reduce hammer bite; a 4.25-inch barrel for ease of concealment while not altering internal geometry; and a frame fabricated from lightweight aluminum alloy. Dubbed "The Commander" and later "Lightweight Commander" (to avoid confusion with the later all-steel Combat Commander) it became much loved in .45 ACP and more gradually embraced in 9 mm and .38 Super as expanding bullets were developed and introduced.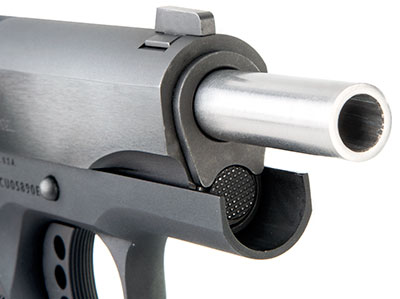 In the past two decades, though, a few popular 1911 tweaks have emerged and endured to the extent that their practicality and desirability are universally accepted. Much to its credit, Colt has recognized and incorporated these tweaks into an updated pistol while resisting frivolous features.
The trigger guard on the new Lightweight Commander is undercut. In other words, the juncture of the frontstrap and trigger guard is dished out to allow the highest hold possible. The gun sits deeply and comfortably in the hand, enhancing control.
The other notable innovation is Colt's Dual Spring Recoil System. Originally seen in the little Seecamp pistol, dual recoil springs have really caught on. Using two recoil springs—one within the other—of different poundages, slows the slide in two stages, lessening frame battering and felt recoil. Typically captive, the setup has gradually been incorporated into other short-slide designs, vastly improving their shooting characteristics. Aftermarket recoil reducers essentially retrofit the system to larger existing pistols, improving them as well. Now manufacturers have begun installing dual-spring systems throughout their product lines, as Glock did with its Gen4 pistols.

Despite the open, non-captive recoil spring of the 1911 design, Colt has just gone ahead and inserted two loose recoil springs of different poundages and diameters, one within the other, beneath the barrel using a standard-length recoil spring guide rod. You'd think they'd get out of alignment, bind or both but, nope, they worked as advertised. Oh, they have a tendency to interlace when you have them outside the gun and aren't careful when centering the smaller spring inside the larger, but you just unscrew them and pay a little more attention on the second try.
You can feel the moderate first stage and the firmer second when you slowly rack the slide. However, it's hardly noticeable when the manipulation is done forcefully, as is typical. Locking the slide back is only slightly more difficult than with a single-spring gun.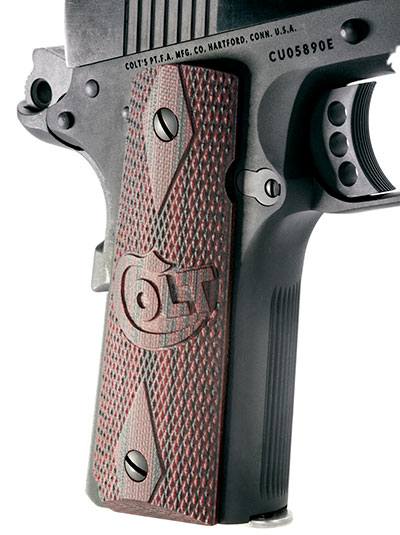 The last enhancement is the inclusion of G10 double-diamond-pattern grip panels in a color called Cherry Wood. The reddish brown and black-figured material is a layering of resin-impregnated fiberglass, and is handsome and tremendously durable. The checkering offers excellent purchase while not abrading the palm. The removable grip panels also somewhat offset the absence of an accessory rail as Crimson Trace Lasergrips can easily be installed if a supplemental sighting system is desired.
While the CCO configuration (Commander-length slide, Officer's-length grip) has come into vogue for concealed-carry 1911s, there is something to be said for the ease and rapidity of finding and getting a firing grip on the Commander in preparation for a quick draw from leather (or Kydex). A CCO is more easily concealable, but the Commander may remain a better choice for those with large hands.
The gun feels great in the hands, not too shocking as people have said that of 1911s for about 105 years now. However, relatively recent niceties like the high-sweep beavertail and the above-described undercut trigger guard have made a good thing considerably better. The extended thumb safety, raised pad on the beavertail and sharply breaking trigger and all other controls are ergonomic and function well.
The barrel is long enough to balance steadily once on target. It doesn't swing between targets with the quickness of a short, sub-4-inch barrel 1911; then again, you're not losing a lot of sight radius or muzzle velocity. Also, believe it or not, a Commander conceals better than very short-barreled 1911s because the 4.25-inch barrel provides more bearing surface in the holster, allowing the holster to hold the pistol more snugly to the body.


The 9 mm fired from a 1911 is a positive delight. Muzzle rise is easily controllable and felt recoil is moderate at worst. Our sample gun fed everything through it from the two included nine-round magazines, and accuracy was quite good; more than satisfactory for a personal-protection pistol.
Colt's new Lightweight Commander should be a hit with 1911 devotees, but may also convert some fans of polymer-frame, striker-fired pistols with which it shares many virtues. It's light, rust-resistant, ergonomic, easy to shoot, offered in a medium caliber and ready to go out of the box. It's an excellent handgun that preserves the best features of the original while tweaking the design just enough to keep it a commanding presence on the concealed-carry firearm market.