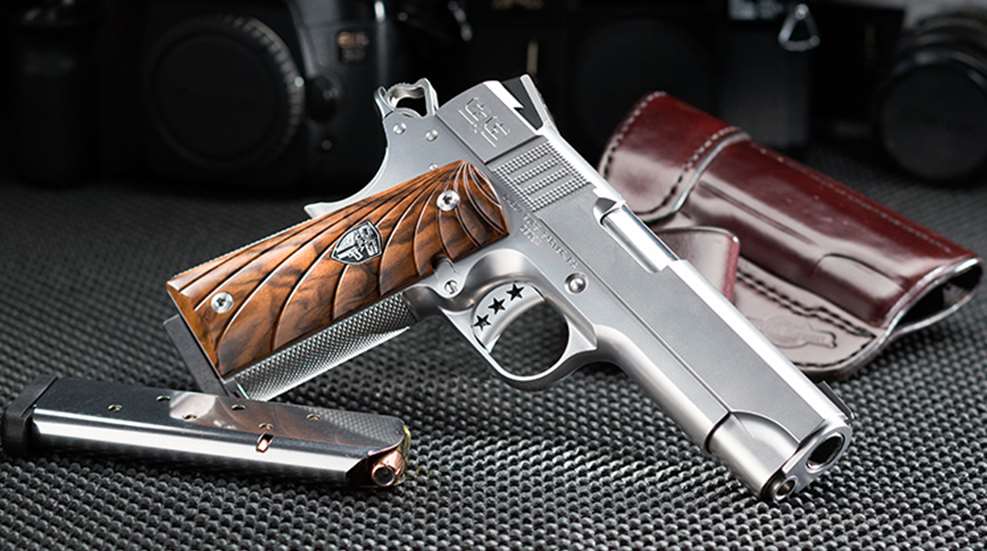 Cabot Guns is the answer to that "what if" question gun nuts most often ponder when the Powerball lottery gets above $300 million. Specifically, the question is: "If money were no object, what would I build (or have built) as my dream handgun?"
Of course, we all have differing notions of perfection. One man's dream is another's nightmare. That said, though, the kind of aficionado we're talking about would more likely than not opt for the 1911. It's the quintessential American semi-automatic. It was designed by John Moses Browning. It is available in several calibers and configurations. Finally, it has been around 105 years, meaning virtually every conceivable redesign, modification or tweak has probably been developed or attempted.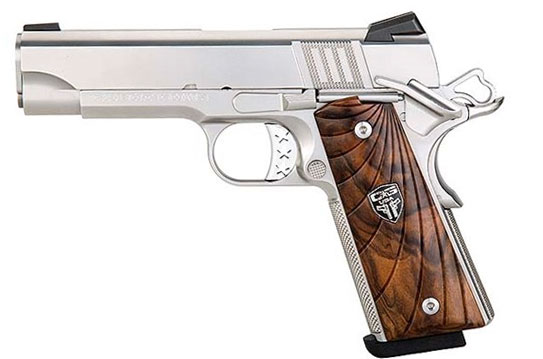 Cabot pistols offer many of the enhancements we've come to embrace, simply carried out to an unprecedented degree of precision and polish. Working with Penn United Technologies, which builds tools for the energy, medical, defense and aerospace industries, Cabot has created pistols held to the infinitesimal tolerances of those industries. For example, its Collector Class guns have a guaranteed slide/fame tolerance of .0001 inches or less.
Virtually everything about a Cabot is ultra-premium, from the billet steel that Cabot ultrasonically tests, to the grips, which are variously carved from G10, wood, mammoth tooth and even meteorite. (No, I'm not kidding.)
Cabot Guns is one of those companies whose products are so expensive that average folks have never even heard of it, let alone its products. That may change soon. The company has introduced its S line of affordable pistols. Bear in mind, "affordable" here is a relative term. The S line costs about twice as much as a top-of-the-line 1911 pistol from a larger, mass-producer and about the same as a standard offering from a small, custom manufacturer.
The gun feels "funny" in the hand, but funny good. There's simply no play. None. It feels like you're holding a solid piece of metal that's been precisely carved in the shape of a gun. And while it has the visual appeal of clean, sharp lines, the pistol's feel is absolutely smooth; not a sharp, abrading edge anywhere. It's actually a little disconcerting. You ask yourself "How'd they do that?"
Whether you're racking the slide, clicking the thumb safety up and down or ejecting a magazine, there is no wobble, vagueness or excessive movement. Generally, 1911s this tight worry me. Some require considerable elbow grease to field-strip and reassemble. Not the S103, though. It came apart and went back together easier than any 1911 I've ever handled. There was no jockeying parts into place, no shifting, shaking or working. I just sort of stared at the reassembled pistol with that epiphany you have when you actually try something you previously regarded as ridiculously expensive: "Ah, so that's what they're paying for." You literally don't know what you've been missing.
The S103 Commander has a number of special features, so many that I'll just highlight some of the more unusual ones. First, it has the same internals as a full-length, 5-inch 1911 Government model. Cabot did not alter the internal design specs of the original and claims that its Commander is therefore more reliable and, for what it's worth, truer to the original Browning design.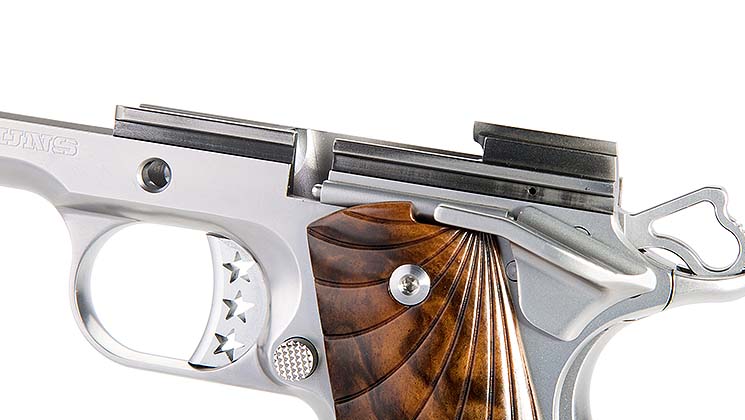 Both the frontstrap and mainspring housing have rhombus (diagonal) checkering. OK, I'm not sure that's better, but it looks pretty cool.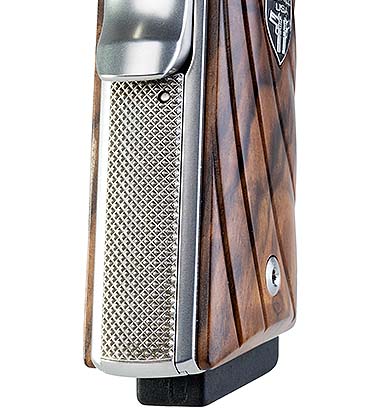 The front sight is described as "blind." It's fitted into the slide from the muzzle end rather than with a dovetail perpendicular to the slide. That means it simply cannot drift to the left or right.
Trinity cocking serrations consist of three slanted grooves in a rectangular field of fine checkering on each side of the slide. I consider cocking serrations a crucial part of a gun's controls and am not a fan of capriciously stylizing them. Fortunately, these perform wonderfully. They offer quick, firm purchase but have no tendency to snag on clothing.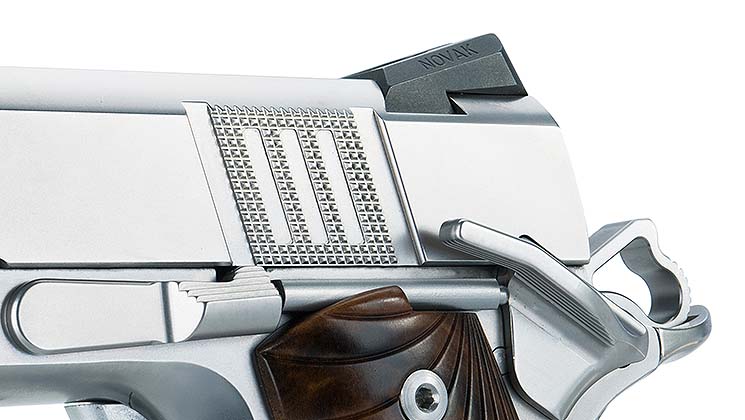 The trademark Tristar trigger is radiused absolutely smooth and, after about one-sixteenth of an inch of take-up, breaks like the proverbial glass rod.

At the range, the S103 impressed more by feel than hard numbers. Accuracy was only combat adequate, not what you'd expect at this price point. On the other hand, a mid-priced sports car will outrun a Rolls Royce. At the risk of seeming to gloss over a failing, there's simply a feeling of precision and elegance to the S103 that defies group size and inspires confidence. And, by the way, it digested everything we put through it, including semi-wadcutter.

A gun is essentially a tool; that's always foremost in my mind. However, anything crafted well enough while maintaining its essential functionality can be elevated to the level of art. Does the S103 qualify? Maybe.
The distinctive, handsomely figured wood grips have lines inspired by a scallop and generated by the Fibonacci sequence. Fibonacci sequence? Look it up; I had to.

OK, if you think that's over and above, wait'll you hear about psychoacoustics. Psychoacoustics is the study of the psychological and physiological effects of sound. Mercedes Benz's doors intentionally produce a distinctive sound, swiping the iPhone is meant to sound like the unlocking of locking pliers and automakers tune the exhaust notes of performance cars. Fascinated by this field, Cabot President Rob Bianchin set about producing a uniquely desirable sound for the racking of this pistol's slide—and he did it. Racking the slide of the S103 produces the sound of the shutter release on a high-end SLR camera. Huh?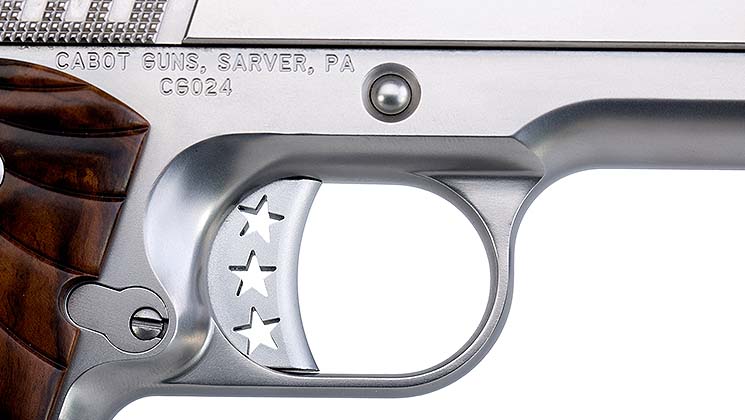 Yeah, I know; it sounds crazy. Why an SLR? I'm not sure. Maybe because it's an expensive, precise instrument that requires you to aim and shoot, smoothly, steadily and at the exact right moment, but that's just a guess.
Honestly, there was some degree of dismissiveness of the whole idea—until we tried it. Darned if it didn't sound just like an SLR's shutter release. The "why" was quickly supplanted by "how." We each kept doing it, marveling at the sound and then at a company's ability to generate such a thing just because it felt like it. I also noticed that we were all grinning.
If art is the ability to craft something to the extent that it produces both wonder and a deep emotional response, then maybe this gun is art. And one pays for art.
Manufacturer: Cabot Guns; (855) 843-1911, cabotguns.com
Action Type: Recoil-operated, locked-breach semi-automatic
Caliber: .45 ACP
Capacity: 7+1 rounds
Frame: Steel
Grips: Scallop-pattern Walnut (G10 optional)
Barrel Length: 4.25 inches
Rifling: 6 grooves, 1:16-inch LH twist
Sights: Novak Lo-mount fixed (fully adjustable optional)
Trigger Pull Weight: 4 pounds, 0 ounces
Length: 7.94 inches
Width: 1.35 inches
Height: 5.39 inches
Weight: 35.1 ounces
Accessories: Hard case, handgun lock, two magazines
MSRP: $3,695
Shooting Results:



Velocity measured is fps at the muzzle for 10 consecutive shots with an Oehler 36 chronograph. Temperature: 64 degrees Fahrenheit. Accuracy measured in inches for five consecutive, five-shot groups from a foam rest at 15 yards.
10/21/16 Amendment to Cabot S103 Review
When I initially tested the Cabot S103, it performed beautifully except—seemingly—for accuracy. It was just OK; plenty good enough for self-defense, but not what I had expected from the pistol. It simply didn't make sense. The gun wasn't just well-fitted, it was perfectly fitted. It's was as precisely crafted a pistol as I've ever handled.
The results bothered me enough to have one colleague informally shoot it, too, with similar results, so I posted the story with my original results. I spoke to the folks at Cabot and they were concerned enough that Mike Hebor, general manager and COO for Cabot Guns, came down to shoot the pistol with me. The Cabot staff had Ransom Rested the gun at the factory and knew what it could do. Hebor's groups were considerably better, his average pattern equaling my very best with the pistol. He said that the rounded trigger was problematic for some shooters (others really like it), and offered to have a more traditional trigger installed. He also noted the less-than-ideal "bench" that had been used during a remodeling of our test range.
When the pistol came back with the new trigger, I shot better with it, but still not as well as I thought the pistol could shoot. I handed it off to our hotshot Firearms Inventory Manager and Armorer Karie Thomas, a competitive shooter. She promptly shot tiny little groups with the S103 while standing. Show off.
OK, fed up, I installed Crimson Trace Lasergrips, loaded the pistol with Federal Premium Gold Medal Match ammunition and from a rest proceeded to shoot some of the smallest groups of my life.
So what was the problem? The S103 has good sights. It has a good trigger. Maybe it was the old bench. Maybe my eyes are getting old. Maybe I just had a bad day. The only thing I really know for sure is it wasn't the gun.
Load
 
Group Size
 
Smallest
Largest 
Average
Federal Premium Gold Medal Match 230-gr. FMJ
0.54
1.06
0.78
Federal Premium HST 230-gr. JHP
0.88
2.32
1.66
Hornady XTP 230-gr. JHP +P
0.71
1.21
1.01