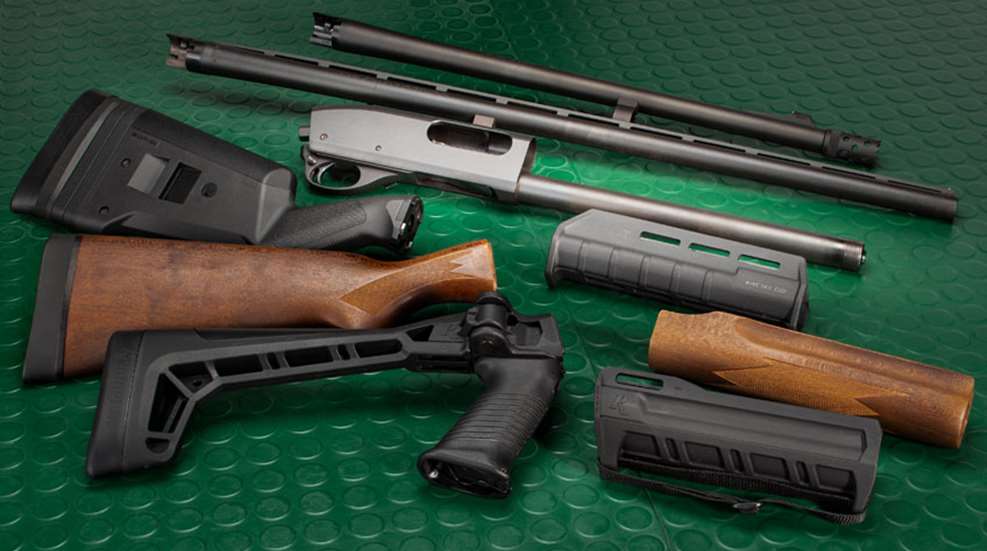 While many praise the AR-15-style rifle for its modular nature, the Remington 870 is equally changeable, from barrel length to stock.
Over the years, I've seen every decently popular semi-automatic shotgun jam on occasion. Some need copious oil, some prefer an extra-firm shoulder, some require frequent cleaning and some demand loads heavy enough to cycle their magnum actions. Most are remarkably reliable when these particulars are met, and I routinely recommend reputable semi-automatics such as Brownings, Remingtons, FNs, Benellis, Mossbergs, Winchesters and others for home-defense. But they aren't as reliable as those guns that rely on human muscle to run them. Specifically, I'm talking about pump-action guns, and one in particular. 
In my experience, the Remington 870 is 100-percent reliable, and it's probably 99.9 percent across the board.
To be clear, I've had 870s jam, but every instance was due to shooter error, such as short-stroking the pump or failing to make sure the round loaded in the magazine was fully inserted in the magazine. But as soldiers, law-enforcement officers and hunters all over the world know, whether the gun is frozen, filthy, using light loads, heavy loads, or if it's as dry as the Mojave, the 870 simply works every time—if you do your part. And that (coupled with the fact that it's one of the most-affordable guns on the market in any genre) is the reason that after 70 years of production and nearly 100 renditions of it, it still sells like hotdogs at a ballgame. Indeed, there's a good case to be made for the venerable Remington 870 being named "America's shotgun."
What follows is its brief history and current state including tactical evolutions that have altered the look and feel of the 870 more in the last 2 years than over the last 67.
A Brief History of the 870
In 1950, Remington released its Model 870 slide-action shotgun as an alternative to Winchester's Model 12 that was whipping Remington's antiquated Model 31 (and every other shotgun) in sales at the time. The 870 remedied all the 31's flaws; namely it featured Model 12-like styling and fit that made it fast and intuitive for wingshooting, it was a bottom-loaded, side-eject gun that remedied some jamming issues of top-eject models, it employed dual action bars that backed each other up in the event one broke, its internal hammer and fire-control system were simple and robust and its controls—including a simple cross-bar trigger safety and slide-release button—were positioned within easy reach of the trigger so shooters could quickly control the gun with the trigger hand efficiently while shooting or moving.

The wood-stocked gun with a blued barrel was offered in popular gauges including 12, 16 and 20 and by 1969 in 28 and .410 bore. Initially the 870 was offered in barrel lengths of 26 and 28 inches for hunting enthusiasts and 21 inches for combat work.
The gun became so popular that by 1972, Remington had sold more than 2 million units. By 1983, it became the world's best-selling shotgun, in excess of 3 million sold. In 1986, Remington updated most models with its revolutionary "Rem Choke" screw-in choke tube system. In 1996, "Big Green" launched its 870 Express, a 3-inch chambered model available with wood or synthetic stocks that was sold right around $200. Few guns could compete at that price.
While people tend to credit sportsmen with the bulk of sales, sales to police departments and militaries across the nation and the world can't be discounted. The 870P (Police) model featured beefed-up sear- and shell-carrier springs, a forged-steel extractor and a Parkerized finish to add more "fool-proofedness" to an already fool-proof gun. As is or with a three-round magazine extension, the Police model is a wonderful choice for home defenders today.
To date, more than 100 versions of the 870 have been made (and if you count various gauges of each model, hundreds); approximately 12 million in total have been sold. But it's the most-recent versions that should excite readers of Shooting Illustrated.
In 2017, Remington smartly jumped on the Mossberg Shockwave train when it launched its 870 Tac-14 model. The shotshell-firing arm that's defined simply as a "firearm" is made with a bird's-head pistol grip from the factory so it can wear a 14-inch barrel without becoming defined as a Short-Barreled Shotgun or Any Other Weapon, and therefore requiring no NFA stamp. At 26.3-inches overall, featuring the legendary 870 action, Magpul fore-end and black-oxide finish, the four-plus-one tool is one heck of a "firearm" for home defense, trucks, travel and packable defense in bear country.
In 2018, Remington launched its 870 DM, a revolutionary, detachable-magazine version that remedies perhaps the shotgun's biggest downside: reloading speed. Its six-round magazine can be swapped out for a fresh one in about a second. The DM Tactical model has every feature a home defender could want—not to mention its 870 reliability and otherwise familiar feel—all for around $750.
Right now, Remington offers about a dozen models perfectly suited for home defense that won't break your budget, including the two aforementioned guns and a few of my favorites, the 870 Express Synthetic Tactical 7-Round (for around $400), the 870 Side Folder (around $500) and the 870 DM Magpul that features aftermarket furniture for $750. (Online, I found a DM Hardwood version for just $259. In an age when a cell phone that will last 2 years costs $1,000, that is truly amazing.) Or, if you desire just one gun to do it all from hunting quail and ducks, turkeys, deer with slugs and for protection in your home year round, go with the 870 Synthetic Express Field and Home two-barrel combination for $500.
As the past 70 years have proven, you simply can't go wrong with a Remington 870.