by
Shooting Illustrated Staff
posted on July 30, 2021
Support NRA Shooting Illustrated
DONATE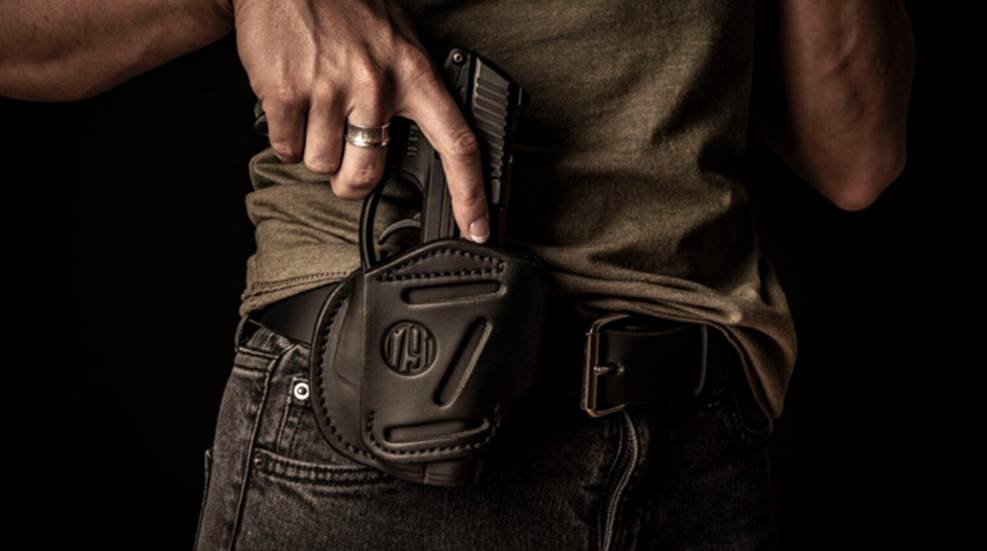 A laser sight on your defensive pistol can be a tremendous help in a low-light encounter or used as a way to get hits on-target when a good sight picture isn't possible. There are many different ways to add a laser sight to your handgun. For instance, you can buy grips which have a built-in laser sight, or you could add a laser to the guide rod of your semi-automatic pistol. One of the more popular options out there, however, is to mount a laser in front of the trigger guard on your gun.
A laser sight in front of your trigger, either attached to the frame of your gun or the front curve of the trigger guard, allows you to choose from a variety of laser sight manufacturers and laser styles. However, mounting a laser in that position can make finding a holster difficult, as the added bulk of the laser usually means a standard holster for your gun won't fit with a laser attached.
Now 1791 Gunleather is rolling out options for their 2-Way, 3-Way, and 4-Way holsters that are compatible with trigger-mounted lasers. All three holster lineups are multi-fit and have the capability of holding pistols that are equipped with lasers mounted on their trigger guard.
The 2-Way holster is a good balance of protection and comfort. This sturdy leather belt holster allows for two possible carry positions, Inside the Waistband (IWB) and Outside The Waistband (OWB).
The 3-Way holster allows for three possible carry positions: vertical, horizontal, or cross-draw, while the 4-Way holster lets you carry your defensive firearm in either a vertical, horizontal, cross-draw or IWB position.
The 2-Way holster is available in Stealth Black, while the 3-Way and 4-Way holsters are available in your choice of Classic Brown, Signature Brown, Stealth Black or Vintage leather. 
MSRP for the 2-Way holster is $46, and MSRP for the 3-Way and 4-Way holsters varies from $48 to $53. For more information on these holsters as well as other items from 1791 Gunleather, please visit 1791gunleather.com.