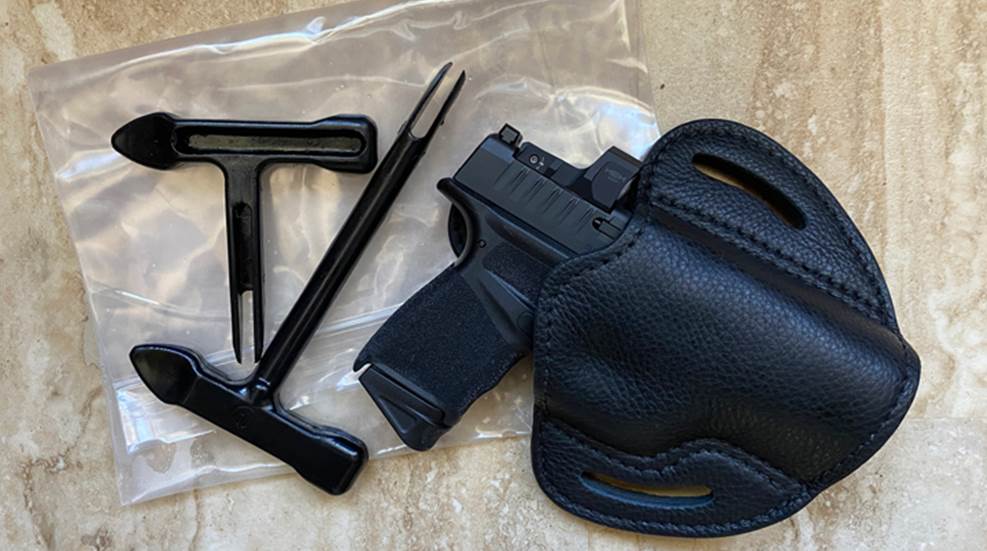 I spent the morning cooking a holster. And got funny looks from my family, but then again, they know my quirks and what I do for a living, so they shrugged it off and left the kitchen. Yes, I was cooking a holster, which is how 1791 Gunleather designed their Ultra Custom Compact OWB to be as custom as possible. Let me explain.
Typically, a custom holster is defined as either a holster that comes in a variety of molds to fit particular guns or it can be custom colored or features can be added to make your holster stand out from everyone else's. In this case, it's not about the color options (as Henry Ford famously said about the Model T, "You can have it in any color you want so long as it's black") or what you add or subtract. It's about making one holster fit any gun with a bit of modification by the user.
The kicker is that it's leather. So how does that work? How do you customize leather without skill and expensive tools? Let's talk about the process.
The Ultra Custom Compact OWB comes in three sizes for various size guns, but none of them are precut or molded for specific models. This is on purpose. To customize the holster, you heat up a gallon of water to at least 150 degrees, place the holster inside the included plastic bag, throw some rocks or other weights into the bottom of the bag to help keep it submerged, seal up the bag, and set it in the water for approximately 8 minutes. This process allows the magic to happen, and by magic I mean the embedded polymer sheet between the inner and outer leather layers becomes soft and pliable.
After cooking time is up, carefully extract the bag from the water, pull out the holster, and immediately shove the unloaded gun as far as you can into the warm leather to start shaping it around the firearm. This is the height of customization. Immediately after heating, the polymer is mushy enough that you can use your fingers to mold it. Once it cools a bit, use the included tools to finish the job. There are even two sizes of push rods to allow for a custom sight channel.
Within about 10 minutes of removing it from the hot water, I had a fully custom molded holster for my Springfield Hellcat RDP. The holster is even optic cut to accommodate the HEX Wasp red dot or any other pistol-slide mounted glass.
If you like leather holsters and want something you can customize for any small handgun in your arsenal, the 1791 Gunleather Ultra Custom Compact OWB is a great option at $99.99 MSRP