Support NRA Shooting Illustrated
DONATE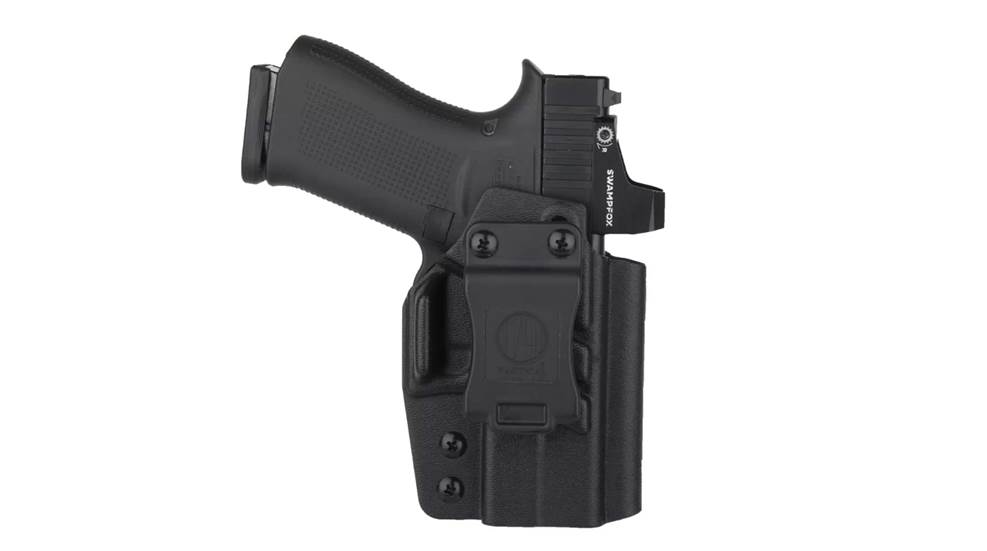 The Glock G43X combines the small size and concealability of the Glock G43 with the 10-round magazine capacity of the Glock G48. Like other MOS models from Glock, the MOS version of the G43X has a slide that is precut for an optics mount, allowing the user to add the optic of their choice to their gun.
While adding an optic increases the capability of the Glock G43X MOS, it can also mean that the optic on top of the slide limits your choice in holsters. The top of the holster needs to be designed with an optic in mind, and sides of a holster should be built so they don't interfere with your draw.
To help ease this problem, 1791 Gunleather is now offering a Kydex holster designed specifically for Glock's G43X MOS. 1791 is known for its leather holsters, but the company also produces a wide variety of Kydex holsters that are built to satisfy the needs of American gun owners.
This trim, lightweight holster features an integrated concealment wing that puts a layer of Kydex in between you and your gun. This allows for comfortable all-day concealed carry as well as protecting your gun from rust due to perspiration. The holster has an easy-on, easy-off design with an adjustable cant and position for a comfort and a smooth draw, and retention for a customized fit and feel. The holster has a snug true-fit to make sure that the durable Kydex holster won't damage the finish of your firearm, while keeping it secure. In addition to this, the holster is compatible with threaded barrels and suppressor-height sights.
Like all 1791 Gunleather products, the G43X MOS Kydex holster belt is backed by a lifetime warranty and 100 percent satisfaction guarantee. MSRP for the G43X Kydex is $64.99, and for more information on this item and other products from 1791 Gunleather, please visit 1791Gunleather.com.