Support NRA Shooting Illustrated
DONATE
Laser sights certainly add an element of cool to any gun. The little dot sends an unmistakable message: If I so choose, this dot will be replaced by a hole. But seeing that dot on paper on a well-lit range doesn't convey the myriad of advantages a laser provides in a self-defense scenario.
Crimson Trace has long been an innovator in laser sighting devices, and the CTC Defense MVF-600 builds upon that tradition. Though it is available only to law enforcement and the military, it is fundamentally based on the company's superior vertical foregrip light/laser combo, the MVF-515. The major difference is that the laser and light modules are quick-detach units powered off of the CR-123 batteries housed in the foregrip. Currently, the company offers a visible red-laser module, a visible 200-lumen light module, an infrared-laser module and an infrared-illuminator module. Here is a video of Crimson Trace's Iain Harrison demonstrating just how easy it is to swap modules on this awesome unit.

The laser units hold zero, so they can be swapped on a single gun without having to worry about POI shift. Here are two videos of Harrison demonstrating how to zero the laser off an already zeroed Trijicon ACOG scope:
The red laser is cool enough, but having limited night-vision experience, I wanted to try the IR laser in combination with a night-vision monocular. To give you an idea of the power of night-vision, here's a video of the IR laser through the NOD:
While it certainly wasn't a defensive situation, I had a chance to use the MVF-600 on a pest-extermination exercise in Texas, where it is legal to remove feral swine at all hours with any firearm/sight combination. Since the hogs we sought to remove were largely nocturnal, most shooting would be done at night. Cue the NOD.
It was impossible to see the pig in question with the naked eye, as it was well into the night and the crescent moon provided very limited light on the ground (though some who have seen me shoot might assume pigs would fly before I hit one). Stalking to within about 40 yards through the pitch black Texas shrubbery, I was able to clearly make out the swine and select one to send to hog heaven.
That's when I became aware of the power of a laser. You see, wearing night-vision headgear that put a monocular on my left eye, aiming through the ACOG was uncomfortable at best. What's more, it was so dark through the scope, I couldn't see the pigs even at that short distance—makes it tough to get a shot. With the MVF-600's IR laser, however, I didn't need to shoulder the DPMS AR-15. I simply put the laser on the target pig and immediately knew where my round would impact. And impact there it did.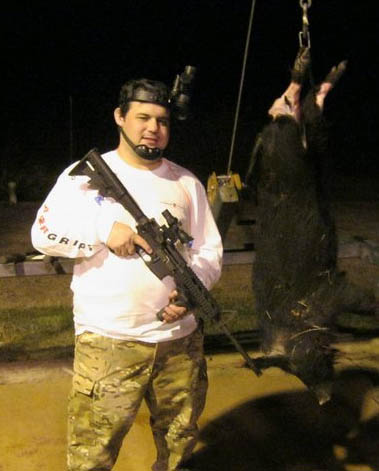 I relate this tale not to brag—the only thing I did was pull the trigger—but rather to demonstrate the virtues of a laser of any color on any firearm. The fact that you need not shoulder a rifle or bring the sights of a handgun to eye level to be sure of a hit on your target might well save your life. If lasers helped me off some pigs, just imagine what a competent shooter could do in a defensive scenario if the swine in question are of the two-legged variety.