by
posted on January 24, 2020
Support NRA Shooting Illustrated
DONATE
It's interesting. I kinda figured that, by day three I'd be running out of cool stuff to check out at SHOT Show 2020. I covered a ton of stuff in the videos from the two range days prior to SHOT, plus the last four round-ups, plus the "I Carry" video. I was afraid that, by the last couple days of SHOT, I'd be running out of cool new stuff. I am happy to report that I was mistaken. Here are five more cool new items seen at SHOT Show 2020: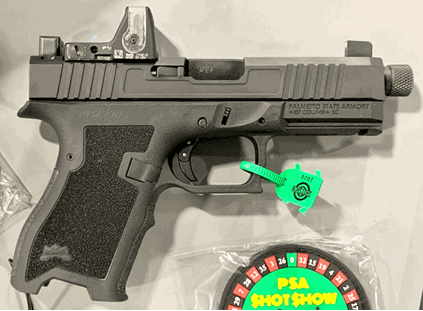 1.
Palmetto State Armory
PS9 Dagger. Talk about catching me off guard! PSA is known for entry-level AR-15s and components. The company has offered 1911s in the past, in addition to ARs, but nothing like this. The PS9 Dagger is compatible with Glock Gen3 components, will be available in late Q1/early Q2, has a hinged, M&P-style trigger rather than the blade and will come with an optic-ready version. MSRP is expected to be $299 for the standard version and $449 for the optics-ready.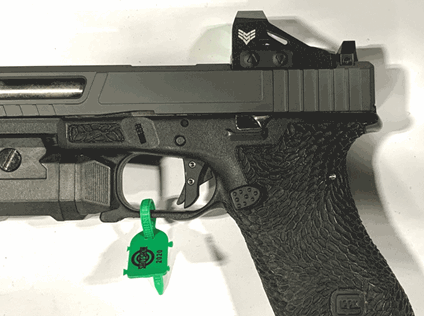 2.
Swampfox Optics
Justice micro red dot. I think I might have mentioned once or twice that mini-red-dot sights mounted on pistols are the new big thing, right? New optics company Swampfox is offering a mini-red-dot that fits an RMR footprint, offers a 3.5-MOA dot and comes with improved battery life over the company's previous mini-red-dot. Available as accessory is a protective stainless steel shell called "Ironsides" (in honor of the U.S.S. Constitution, of course). MSRP is $259.

3.
Samson Manufacturing
Mini-14 folding stock. Get in your GMC Vandura and hope the plan comes together, because Samson Manufacturing is offering a folding-stock kit for the
Ruger
Mini-14. If you've always wanted to re-live the '80s with the "A Team" hardware, now's your chance. Don't have a Mini-14? No worries—there's a version for the 10/22 as well. MSRP is $279.99 for the Mini-14 stock and $249.99 for the 10/22.
4.
CMMG
5.7x28 mm magazine conversion kit. If you've been thinking about getting one of the CMMG Banshees in 5.7x28 mm, the company just came out with an innovative alternative. Simply buy one of CMMG's 5.7x28 mm complete upper receivers, put it on your favorite AR-15 receiver and feed it with these proprietary magazines. MSRP $39.95 each or $99.95 for a package of three.

5.
Kershaw
Lucha balisong knife. I'm not gonna lie. It was a toss-up whether the Samson Mini-14 stock or the new Kershaw Lucha balisong reminded me more of the 1980s. I wasted more time (and bandages) learning how to flip a balisong around like the many cheap action-movie ninjas I watched as a kid. All was finally redeemed, though, at the Kershaw booth. A passerby noticed me flipping the Lucha open and closed and wanted to get video. See, mom & dad? All that time I spent *wasn't* wasted! Seriously, though, "butterfly" knives are cool, and Kershaw makes incredibly good stuff anyways, so this should be pretty darned awesome. Check local restrictions before buying, of course...
So, there you have it. Another five new cool things you simply can't live without, courtesy of SHOT Show 2020. Stay tuned for tomorrow's final New Editor's Pick from the 2020 SHOT Show!