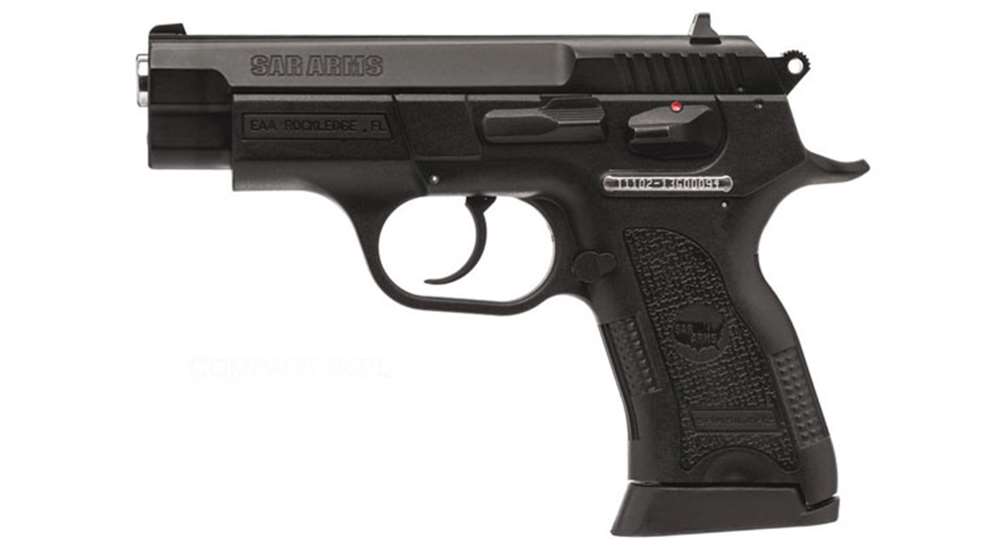 Some Turkish firearms have a reputation among gun owners for being cheap, largely because they are inexpensive and sport rough finishes. In my experience, this assessment is generally unfair, and the 9 mm Sarsilmaz B6P Compact imported by EAA is exhibit A for the defense of pistols made in Turkey.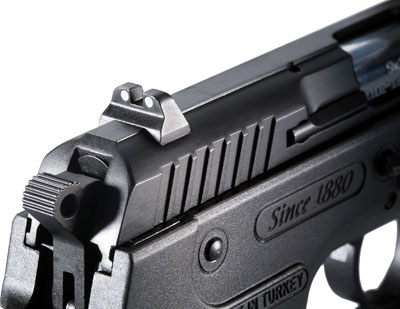 A CZ 75 clone with a polymer frame, the B6P Compact looks sharp and feels great in hand. It is extremely well balanced and boasts an almost ridiculously low-profile slide, rising just .7 inch above the frame. The fixed, three-white-dot sights are mounted close to the bore line, which in testing I found beneficial toward establishing a natural point of the handgun.
The aforementioned polymer frame helps shave weight off of the CZ 75 platform—a major plus given the normal heavy steel frame found on most clones of the legendary Czech sidearm. The grip angle and shape are very comfortable, and the checkering on the frontstrap, the backstrap and the side panels provide added purchase without being too rough. A large beavertail extension eliminates any chance of hammer bite, no matter how high one grips the pistol.
Operational controls are well designed. A manual safety lever is located at the top of the grip on the left side of the gun, and I found it easy to manipulate despite my small hands. It does not function as a decocker, but enables users to safely carry the pistol cocked-and-locked. Just in front of the safety, an extended slide-stop lever is likewise simple to operate, though it cannot be used to send the slide forward on an empty magazine—hardly a major problem for defensive purposes, but a minor annoyance nonetheless. A more serious concern with the slide-stop lever is found on the opposite side of the pistol, where its pin protrudes a bit too far. While the protuberance is not enormous, it extends just beyond the scalloped-out portion of the frame, creating a possibility of snagging during the draw stroke. The serrated hammer can be manually cocked, though I cannot see why one would ever need to do so given the lack of a decocker and the fact the slide locks back on an empty magazine.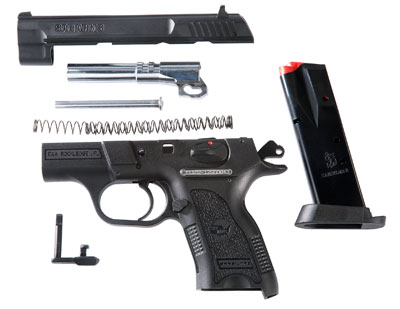 A common complaint regarding Turkish-made handguns is creepy, heavy triggers, but the B6P Compact exhibited a surprisingly lightweight pull. The pistol has a two-stage trigger in double-action mode, with a bit of creep in the first stage before a crisp second-stage pull. Interestingly, the double-action pull weight was exactly twice as heavy as in single-action mode. My one complaint about the bangswitch is its shape—the trigger is overly curved for my liking, making it difficult to ride to reset and hard to find its sweet spot. I did like the large trigger guard, however, because it made firing the handgun while wearing gloves a cinch.
The low-profile slide and corresponding low bore axis provided enhanced controllability and helped make follow-up shots easier to deliver with speed and accuracy. Yet, the slide is so low, maintaining a strong, consistent grip in order to retract it was incredibly difficult. Despite rather deep serrations on the rear of the slide, I found my fingers slipping off more often than not because of the lack of surface area to grab. Unlike nitpicking about details here and there that could be improved to make me like the pistol more, this problem could be quite serious in a self-defense scenario, as it could complicate reloads. The fact the slide locks back on an empty magazine is a partial remedy, but given the large slide-stop lever and the potential for it to be accidently tripped after an empty magazine is dropped from the handgun, any difficulty in retracting the slide could prove disastrous.
In testing, the B6P Compact performed admirably, with no failures to fire and respectable accuracy for a pistol with a relatively short, 3.8-inch barrel. It seemed to slightly prefer the lighter loads, though all groups were consistently in the 3- to 4-inch range. Interestingly, despite sharper recoil than I expected, I  still found it remarkably quick to get on target with a proper sight picture, and equally fast for delivering accurate follow-up shots—it seems the low-profile slide provided its theoretical benefits in reality.
Add to its solid performance smart looks and compact size, and it quickly becomes apparent the EAA SAR B6P Compact's country of manufacture should be entirely irrelevant to any purchase decision. While by no means a pocket gun, it is sized right in just about every dimension for concealed carry in a belt holster, which should make fans of the CZ 75 happy. The B6P Compact's price will make anyone looking for a dependable semi-automatic handgun for self-defense happy, too.
Specifications
Manufacturer: Sarsilmaz
Importer: European American Armory; (321) 639-4842
Action Type: Recoil-operated, semi-automatic
Caliber: 9 mm
Capacity: 13+1 rounds
Frame: Polymer
Barrel Length: 3.8 inches
Sights: Fixed; three-dot configuration
Trigger Pull Weight: 9 pounds, 6 ounces (double action); 4 pounds, 8 ounces (single action)
Length: 7.5 inches
Width: 2.5 inches
Height: 5.7 inches
Weight: 25.6 ounces
Accessories: Hard case, cleaning rod, bore mop, manual
MSRP: $386
Shooting Results
| | | | | |
| --- | --- | --- | --- | --- |
| Load | Velocity |   | Group Size |   |
|   |   | Smallest | Largest | Average |
| Federal Premium 124-grain Hydra-Shok JHP | 1,085 | 2.97 | 3.88 | 3.35 |
| PMC Starfire 124-grain SFHP | 1,017 | 3.06 | 4.01 | 3.52 |
| Winchester 147-grain PDX1 Defender | 971 | 3.11 | 4.12 | 3.67 |

Velocity measured in fps at the muzzle for 10 consecutive shots with an Oehler Model 36 chronograph. Temperature: 63 degrees Fahrenheit. Accuracy measured in inches for five consecutive, five-shot groups from a sandbag rest at 25 yards.