I like going to my local range on weekdays, around midday, because that's when one is most likely to have it to one's self. There's hardly anybody there except a few stalwarts: A retiree working up handloads, or an attorney on his lunch hour working on draw times from his USPSA rig in one of the pistol bays, but that's usually about it. On the day I was wrapping up testing of the EAA Pavona, there were only three people using the range.Two of us were women.
Unless one has spent the last decade or so living with some undiscovered Stone Age tribe near the head-waters of the Amazon, or perhaps under a rock, it's been hard to miss the news of sweeping gains made in "shall-issue" concealed-carry laws from coast to coast. Along with those gains come throngs of new gun owners, and the fastest-growing subset of those new gun ownersis women.
The firearm industry, traditionally pretty dude-centric, has engaged in a tremendous amount of navel-gazing, focus-grouping and (for all I know) drum-circling in an attempt to figure out how to market to this new and expanding demographic. Sadly, for the most part they seem to have determined one should just paint a gun pink, and the ladies will come a-flocking.
Fortunately, not all companies subscribe to that theory. European American Armory (EAA), importers of Tanfoglio's Witness line of pistols, realized in order to best serve this new market, the company had to address two separate concerns. Yes, one was marketing, but the other was purely mechanical.
On the marketing side, the question was "How do we make it appeal to the woman shopping for a pistol?" EAA answered this question handily—there is no mistaking the Pavona for any other gun in the showcase.
Too often, companies just take what I call the "Beyoncé route" of selling guns to women: "If you wanna sell it, then slap some pink on it." This pink-gun phenomenon generates strong opinions one way or the other, and I've found myself on both sides of the argument. I've come to terms with the fact that the color firearm a person wants is really none of my business. Besides, companies sell tons of guns with "tactical dirt" frames to guys who aren't going to get any closer to dirt than weeding the garden. If you can dress a pistol up like GI Joe, why not Barbie?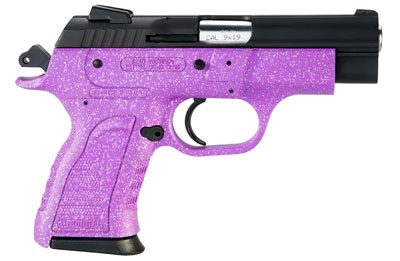 The Pavona transcends the whole pink-gun discussion. Instead of just basic pink, EAA offers the frame in a range of fashionable colors, including charcoal and a deep imperial blue, along with the expected purplish-pink hue termed "Fandango" in the brochures. Further, the frames sport a metallic sparkle caused by glittery flakes molded into the polymer of the frame instead of being applied as a soon-to-flake-off topcoat. Trust me, the sparkle gets noticed at the range. The "Pavona" name is emblazoned on the slide in an elegant font—no doubt intended to evoke the pistol's Italian heritage and the implied style. Molded-in textures on the frame are subtle and organic, without giving up purchase.
Of equal interest, and what sets EAA's offering apart from so many in the field, is how the company handled the other half of the equation: the engineering side of things. Mechanically, what EAA needed to accomplish was to design a pistol that would be easy for a new shooter—perhaps with small hands and below-average grip strength—to operate, and still have it appeal to more experienced shooters as well. Fortunately, the platform EAA started with was a solid one.
The company's Witness line of pistols is a huge success worldwide. They're one of the dominant types used in IPSC competition and are based on the Czechoslovakian CZ 75, used by militaries around the globe for decades. The polymer Witness, from which the Pavona is derived, has been sold in the U.S. since the mid-1990s and has enjoyed continuing sales success.
The Pavona is a single-action/double-action semi-automatic, with a long trigger pull for the first shot, and a shorter, lighter pull for subsequent shots. My trigger scale only reads to 8 pounds, and the Pavona's double-action trigger broke just past the end of the calibrated area. The single-action pull broke consistently right at 4 pounds. The double-action pull, while heavy, was not gritty on the test sample, and the single-action pull had minimal take-up and broke cleanly.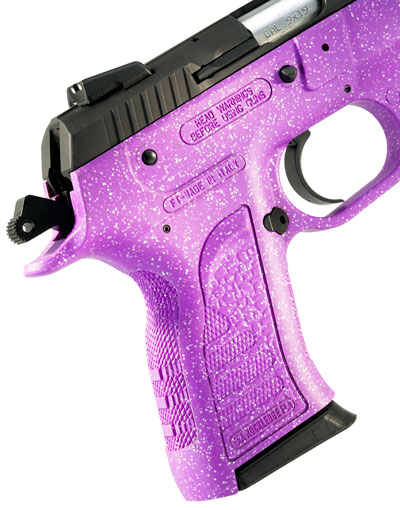 It is just stupid-easy to shoot well, especially for a compact pistol in a service caliber. At 7 yards, the Pavona was chewing up a bullseye with such monotonous ease, one of the range officers looked over my shoulder and said, "Hey, write my name!"
Sights on the Pavona are of the low-profile, non-snagging sort, with the familiar three white dots. The rear unit is adjustable for windage by drifting in its dovetail cut. This can be useful when, like my test sample, the pistol shoots very slightly to the right at 25 yards from the box. Correcting that minor problem is quite easy.
Firing controls are also intended to be unobtrusive and snag-resistant. Unfortunately, they are not ambidextrous, although a southpaw might find it easier to activate the slide-stop lever with their trigger finger than a righty would with their thumb. This is a roundabout way of noting the reach to the slide-stop lever is a long one. I wear a size medium when buying men's work gloves, and I couldn't get my thumb onto the release without a bit of gun-juggling. The answer is to use the support-hand thumb to actuate the slide-stop lever, or to release the slide with the support hand.
The safety was easy to use and fell naturally under the thumb as the pistol was grasped. Further, unlike a 1911, the Pavona's slide can be worked with the thumb safety on. That's a good thing, because it means administrative chores like unloading the handgun or taking it apart for cleaning can be accomplished with the hammer cocked—so the shooter doesn't have to fight the resistance of the mainspring while running the slide—and still have the safety on as an added layer of precaution.
Speaking of running the slide, the Pavona also sports the "inside rails" of the CZ 75/Witness. Unlike most pistols, the Pavona's rails reside within the interior of its frame. While this is claimed to offer benefits in the accuracy and dirt-resistance departments, it also means there's less area to grasp, particularly when cycling the slide with an overhand grip.
Conscious of the needs of new shooters or those with less grip strength, the folks at EAA took a two-pronged approach to remedying this potential pitfall. First, the company reshaped the serrations on the slide. Despite appearing cosmetically pretty with their shallow, scalloped cuts, when I gripped the slide, I was impressed by the purchase they afforded. There was no problem getting a sufficient grip, even with a thumb-and-forefinger pinch instead of my preferred over-the-top, whole-hand grab.
Another aid built into the handgun is the use of lighter recoil and mainsprings. The reduced-power mainspring (which is accompanied by a heavier firing pin to ensure reliable ignition) also makes it easier for those with less grip strength to cock the hammer before racking the slide.
The pistol's short grip aids in concealment, but users with wider hands should be careful when executing rapid reloads—like with many compact pistols, it's possible to pinch a finger between the magazine's floorplate and the grip's frontstrap.
While I didn't subject the test gun to any torture tests, I did manage to put a fair number of rounds through it over several range sessions. More than 300 rounds of assorted FMJ target ammunition, plus three brands of self-defense hollow-points, all failed to induce a single malfunction.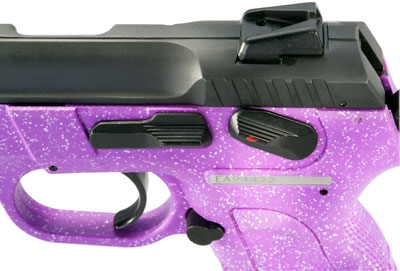 While there's no getting around the fact that this is a lightweight polymer pistol, recoil was quite tolerable. A beavertail-type extension molded into the rear of the frame above the grip allows for a recoil-controlling high hold on the handgun with no fear of getting the web of your hand bitten by the hammer. Extended range sessions were no problem, and unlike that five-shot snubby gun-store clerks tell me is the ideal gun for a woman, you could shoot the Pavona all day without wishing you hadn't.
Is it perfect? No gun is, but the faults on the Pavona are minor and most can be worked around with proper technique. My only real gripe is the lack of a decocker, and that's largely a personal preference. Given the selection of purses also sold in the Pavona line, there's a good chance these guns will be carried off-body. While I carried a cocked-and-locked 1911 in a belt holster extensively, I'm less sanguine about carrying one in a bag that is going to be bumped around.
If my mom were to call right now asking for advice on a pistol to purchase, I'd tell her I knew where I might be able to get a good deal on one. Sure, it's a bit dirty, but I've made sure it works and I can clean it up again until it sparkles.
Specifications
Manufacturer: Tanfoglio
Importer: European American Armory; (321) 639-4842
Action Type: Recoil-operated, semi-automatic
Caliber: .380 ACP, 9 mm (tested), .40 S&W
Capacity: 13+1 rounds
Barrel Length: 3.6 inches
Rifling: 6 grooves; 1:10-inch RH twist
Sights: Three-dot; fixed front, windage-adjustable rear
Trigger Pull Weight: 10 pounds, 2 ounces
Length: 7.3 inches
Width: 1.4 inches
Height: 4.5 inches
Weight: 30.4 ounces
Accessories: Hard case, one 13-round magazine, cleaning brush, manual
MSRP: $476
Shooting Results
| | | | | |
| --- | --- | --- | --- | --- |
| Load | Velocity |   | Group Size |   |
|   |   | Smallest | Largest | Average |
| Remington UMC 115-grain FMJ | 1,065 | 4.53 | 6.98 | 5.74 |
| Nosler Match 124-grain JHP | 1,110 | 3.67 | 5.46 | 4.43 |
| Hornady Critical Duty 135-grain Flexlock +P | 1,055 | 3.10 | 6.60 | 4.81 |
Velocity measured in fps at the muzzle for 10 consecutive shots with a Shooting Chrony Beta chronograph. Temperature: 81 degrees Fahrenheit. Accuracy measured in inches for five consecutive, five-shot groups at 25 yards from a supported rest.