Yes, the Glock G43 subcompact single-stack pistol is real.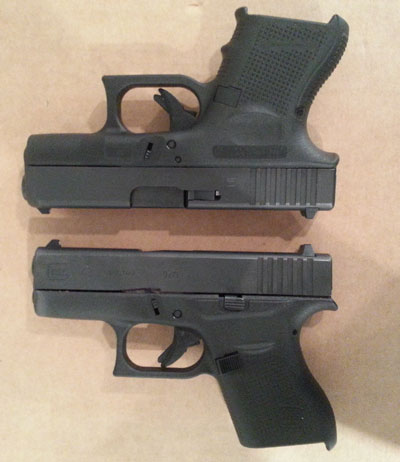 The long-awaited semi-automatic falls between the long-established double-stack 9 mm G26 "Baby Glock" and the recently introduced single-stack .380 ACP-caliber G42. We got an early look at the G43 and even got to handle and shoot it next to a G26 and G42. And the G43 revealed itself to be …
… a Glock. It handled well, the controls were familiar and it went bang every time we pulled the trigger.
There has been considerable demand for this gun, given Glock's loyal customer base and the arrival of several competing brands into the market niche for flat subcompacts in 9 mm. This is primarily due to both the burgeoning concealed-carry market and the re-ascendancy of the 9 mm, thanks to high-performance bullet designs from major ammunition manufacturers. Despite the presence of numerous other makes in the market segment, the Smyrna, GA-made G43 has consumers eagerly waiting for it.
Since the introduction of the G17 30 years ago, Glock pistols' unusual assemblage of features (polymer frames, double-action-only triggers and double-stack magazines) has always been a strong selling point. That those features no longer seem unusual is evidence of just how successful the company and its products have been. It seems counter-intuitive that Glock should develop a hot seller by eliminating one of those features, but a flat subcompact that can easily be worn in a pocket holster has tremendous appeal for those who carry concealed yet want a pistol with some oomph.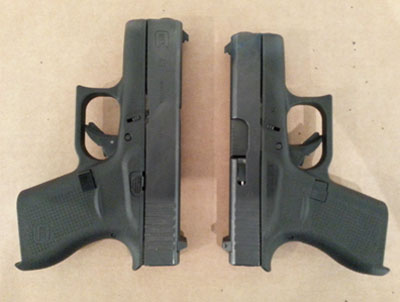 There are also those consumers who have smaller hands. Okay, women. (Who're we kidding?) Yes, women tend to have smaller hands and some of them have found the grip circumference of a double-stack just a bit too much for them. Given that women are one of the fastest growing demographics among gun buyers, the G43 couldn't get here fast enough.
Look for more on the G43 soon at shootingillustrated.com and a full review of it in a future print edition of Shooting Illustrated.