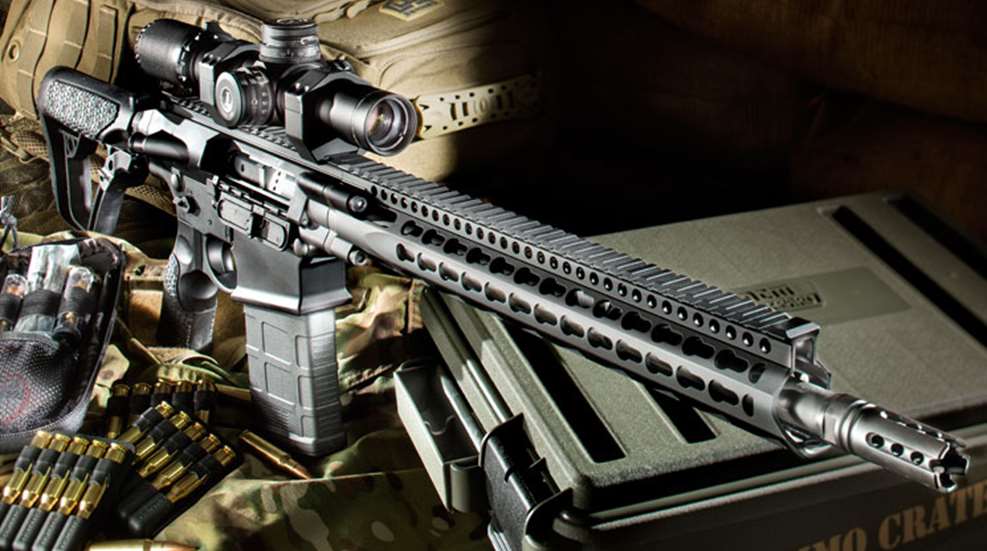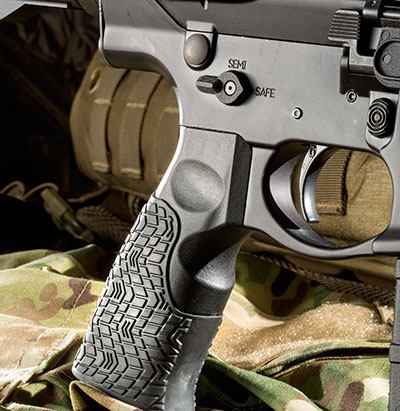 The DD5V1 is Daniel Defense's first foray into the .308 Win. world. This direct-impingement carbine feels deceptively light. After removing my sample rifle from its hard shipping case and checking to be sure the action was clear, the first thing I noticed upon shouldering was the gun's excellent balance. I would have sworn this was an 18-inch, pencil-barreled, 7-pound, large-receiver AR, but it was actually a 16-inch gun with a medium-weight barrel, tipping the scales at just more than 8 pounds. Part of the DD5V1's excellent feel comes from a small-outer-diameter, lightweight, 15-inch freefloat fore-end. The barrel, as well, is just about the perfect contour for a rifle this size—balancing the needed heft for stiffness and heat dissipation with natural "pointability."


The handguard accepts KeyMod rails and accessories, but is topped with a machined-in, full-length Picatinny rail. The fore-end's rear reveals the first major departure from what we are used to seeing on modern ARs. Instead of a barrel nut, Daniel Defense uses a proprietary upper receiver and handguard that attaches from front to rear via four bolts. The handguard and receiver sandwich a star-shaped flange that is actually part of the barrel extension. The through-bolts hold the flange (and therefore the barrel) in place so long as they are tight. My test rifle's screws were a little loose to my way of thinking. The included manual did not indicate any torque setting for these screws, and the protected bolt heads would be tricky to get at with a torque wrench anyway. I used a simple Allen key to snug them up a bit before shooting. I checked with a company representative and was told to take it "a quarter-turn past hand tight." Freefloat tube removal is easy after unscrewing those bolts. The barrel on my test sample was very tight to the receiver and does not appear to be intended as a switch-barrel system beyond what is normal for the AR family. The barrel extension's large flange is there mainly to provide more surface area and a much more positive lockup between receiver, barrel and fore-end.

A low-profile, .750-inch-diameter gas block sits under the fore-end at the mid-length position. It is secured both by a single setscrew in the bottom and a transverse roll pin through the barrel. The journal seat—that .750-inch outer-diameter step around which the gas block is secured—is of the short variety. That is important for anyone who might be inclined to install one of the longer aftermarket adjustable gas blocks. The upper receiver is slimmer than many .308 Win. AR uppers and sports an effective, machined-in brass deflector and polymer ejection-port cover.
Ambidextrous controls are all over this thing and are welcome additions to an out-of-the-box rifle. The charging handle, safety selector, mag release and bolt stop/release are all ambi versions. Included are a spare set of selector levers, one short and one long, which add many configuration options to the mirrored set already installed on the rifle. Likewise, the charging handle has removable "ears" that can be swapped with a longer set (also included). The shooter can select a long and a short, two long, two short or even just one ear if desired. The charging handle is not retained using the normal left-side latch. Instead it contains a nested ball-detent on top that engages a recess in the upper receiver to hold it closed. I have seen one damaged charging handle—on an Army M4A1—grab a bolt-carrier key and try to move back with the carrier while cycling. The traditional latch is the only thing that stopped it from coming back. If the handle had been allowed to move it would have made a nice dent in the shooter's face. That is an extremely rare occurrence, so I do not think it is a big concern with the DD5V1's charging-handle design, despite the ball-detent being much softer than a traditional latch.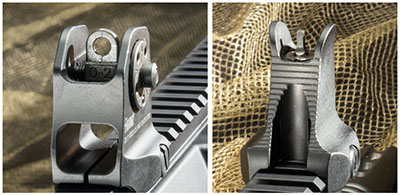 The rifle's rail-top surfaces are adorned with a pair of fixed, Daniel Defense iron sights. While they do not fold down when not in use, the sights are removable. If a magnified optic will be mounted, the sights will need to be replaced with emergency flip-up BUIS. The DD5V1's out-of-box sighting configuration is perfect for those who plan to mount a zero-magnification, red-dot-type sight or to use open sights only.
Solid ergonomics (you may notice a theme here) continue with the company's own pistol grip. Its 1911-ish angle is quite comfortable, and rubber over-mold panels ensure the grip stays in-hand. The same can be said for Daniel Defense's adjustable buttstock. It is comfortable when shouldered in upright shooting positions, and can be used with or without either of the included rubber buttpads—one convex and the other concave. The glass-infused polymer stock also has soft-touch rubber on each side of the cheek rest. Multiple sling loops and a double-sided QD socket are also present. The lower receiver is pretty standard for a .308 Win. AR with its oversize trigger guard and generously flared magazine well.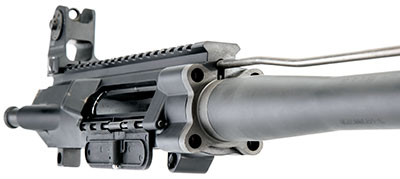 A look inside the DD5V1 reveals more departures from the norm. Large-caliber ARs are notoriously finicky when it comes to ejection, so dual ejectors are a welcome addition to the bolt assembly here. Proper function is further aided by a very beefy extractor spring and buffer, which are about double the normal diameter of .308 Win. extractor-spring assemblies. In spite of the extra tension on the extractor, the L-shaped extractor pin is easy to insert and remove for bolt cleaning and maintenance.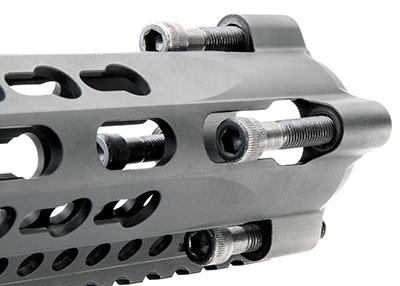 The cam pin seats in a semi-blind hole in the top of the bolt carrier. Instead of being the usual through-hole, the bottom of the cam-pin channel merely has a small drain hole in it. The entire bolt-carrier group is nickel-boron coated to help make cleanup a bit easier. Down below, we find that Daniel Defense chose Geissele Automatics Super Semi-Auto (SSA) two-stage, match trigger as standard equipment for the DD5V1. This is a welcome addition and a monumental upgrade over stock AR triggers. The SSA breaks cleanly on the second stage, but is not so light that it will get the shooter into trouble. In fact, the SSA is the semi-auto version of Geissele's full-automatic Super Select Fire (SSF). The SSF is prized for its match-like, single-shot performance and gunfighting prowess by elite military units in the U.S. and several other countries.
After inspecting the DD5V1, I ran a couple patches through the bore, lubricated the bolt carrier and then headed to the range. A magnified scope and one-piece mount with solid track records were attached to the flattop receiver rail to help me shoot as well as possible. Even though this rifle has a rather loose 1:11-inch twist barrel, I decided to test the practical accuracy of both light and heavy bullets using a mixture of hunting and match loads.
Right off the bat, I had problems with one brand of aftermarket magazine. C-Products' 20-round mags would not lock into the mag well, regardless of how much encouragement I gave them. I had three on-hand, two new and one old. None of them worked unless I first shotgunned the upper receiver open and then locked the mag in before closing upper and lower. The bolt stop was non-functional when loaded this way, and in the end I elected to not fire the rifle with these mags, just to be safe. A veteran Knight's Armament SR-25 magazine from my range bag locked in place but then popped out of the mag well twice as the rifle fired. Twenty-round Magpul PMags (one comes with the rifle), DPMS and LaRue magazines all locked in place and functioned normally, so plenty of solid feeding options exist.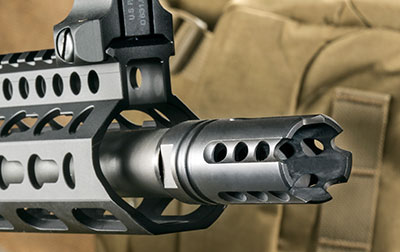 I tested both static accuracy at 100 yards and handling at close-range targets to put the DD5V1 through its paces. I fired the rifle prone and standing and found it to be particularly well-suited for the latter. Accuracy was acceptable for a fairly light .308 Win., especially given that two of the loads tested were about as far from match-grade as you can get. Neither Remington nor Winchester hunting loads are known for their ability to make tiny clusters on targets. I included them because I typically get asked how various field-ready ammunition types will do in the guns I test. The single match load was included because it is a known performer that shoots extremely well through most .308 Win. rifles I use. I typically shoot a minimum of five—and sometimes as many as 12—different factory loads through the rifles I build to determine their likes and dislikes. That is not practical for this type of evaluation, but even so, the fact that the DD5V1 shot four straight (out of five) 1-inch groups using Black Hills Ammunition's 175-grain match load tells me it is a consistent rifle with a lot of potential.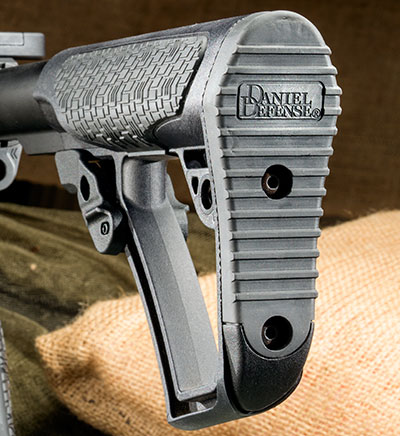 Daniel Defense's "Superior Suppression" muzzle device controlled recoil quite well when standing, driving the rifle straight back for fast transitions from one target to another. However, the buttstock was not a good fit for me to shoot prone, which is how I do my best shooting. The stock's short toe was difficult to support and the carbine tended to slip down off my shoulder with each prone shot, regardless of the buttpad used. I feel that problem also contributed to my less-than-stellar group shooting.
Daniel Defense calls the DD5V1 a "... performance driven platform engineered from muzzle to buttstock." That is marketing-speak for what is simply a solidly built carbine with good features and battle-rifle accuracy. My test sample handled the 150 rounds I fed it without any trouble when using magazines it liked. Combining these attributes with a bunch of user-configurable features makes for a good fighting rifle in my book. I would have been happy to strap the DD5V1 to my body in some of the world's most austere environments back in my soldiering days.