by
Shooting Illustrated Staff
posted on January 13, 2014
Support NRA Shooting Illustrated
DONATE
Crimson Trace announces the introduction of numerous new and innovative products for shooters and their firearms in 2014. Leading the new product group are the innovative and compact Rail Master Pro light and laser combinations—CMR-204 (Green) and the CMR-205 (Red). Other new products released by Crimson Trace in 2014 include green diode Lasergrips for the full-size 1911—and numerous red and green laser sights for Glock's Third Generation pistol group.

Rail Master Pros continue Crimson Trace's popular Rail Master series, but now combines a bright light with a laser in one compact and easy-to-operate unit. The tap-on and tap-off side paddles will cycle the durable unit through various modes, including: laser and light, laser only, light only and a laser with a strobing light. The units are housed in a sturdy CNC machined aluminum structure. The powerful 100-lumen LED white light incorporated in this new product will penetrate any darkness. The Rail Master Pro can also be easily secured to any pistol, rifle or shotgun with M1913 Picatinny or Weaver accessory rails. Each unit comes with four adapters to ensure a secure fit.Another star in the Crimson Trace new product line will partner closely with a newly released handgun.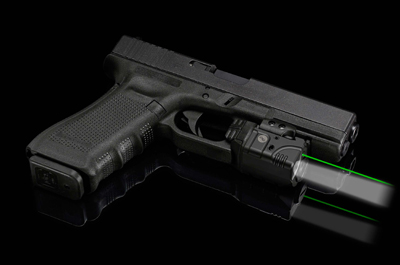 Remington's new R51 pistol (just being shipped) has also met its perfect match—a Crimson Trace Laserguard. Remington partnered with Crimson Trace during the development stage of this new handgun, and as the firearms manufacturer releases the handgun, many of those guns will be equipped with Crimson Trace's laser sighting system that's factory installed. The Crimson Trace Laserguard—Model LG-494—can also be purchased separately.Fans of the popular 1911 handguns will also take interest in Crimson Trace's new attractive wood Lasergrip options in Cocobolo and Cocobolo Diamond. Both Lasergrips will project red lasers via Instinctive Activation. The Cocobolo Diamond Lasergrips will also be offered to fit compact 1911 models. Other 1911 replacement grip options will also include innovative green lasers for full and compact handgun models. Those Crimson Trace 1911 grips (LG-401G and LG-404G) are designed to fit like the firearm's original grips, and in many cases can be an upgrade in appearance.Glock owners will also find options to consider in 2014. Crimson Trace will offer four new Lasergrips for Glock's Third Generation pistols—two LG-637 models for the full size handguns and two LG-639s for the compact Glock pistols. Available options are red or green lasers in both models, and all of these units have Instinctive Activation. These new grips will fit 15 Glock handgun models.Crimson Trace will celebrate 20 years as a company in 2014. Based in Wilsonville, OR, the company's goal is to make laser sighting systems standard equipment on every personal protection firearm in the United States. All Crimson Trace products are Made in the U.S.