When Crimson Trace visited NRA headquarters earlier this month, the representatives told us the company's best-selling universal-fit laser was the CMR-201 red laser. At $159, it's one of the company's least-expensive laser options, and it fits most pistols with rails, even subcompact variants.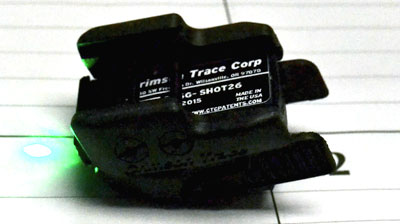 Crimson Trace wanted to replicate both the size and utility of the red laser unit with a green laser, as well as keeping the price low to fit in with the universal-fit line. The CMR-206 represents quite a bit of engineering to downsize the unit to accommodate the higher power requirements of the green laser.
Fit is universal; the CMR-206 will fit any accessory rail with approximately 2 inches of rail space. With the activation paddles slightly overhanging the trigger guard for ease of activation it will take up closer to an inch and a half, and only protrudes approximately .75 inch below the rail.
MSRP: $229.