One of the easiest and most-versatile means of carrying a handgun, a pocket holster not only provides maximum concealment when discretion is paramount, it also enables you to adapt your methods of concealment to warmer weather.
While this form of concealment may come across as new or perhaps unorthodox to some, fellow gunscribe Tom Marx proved quite the contrary in his article "The Ins & Outs of Pocket Holsters." He wrote, "The practice of carrying a small handgun in a pocket has been around forever. Westerners hid not only derringers, but also scaled-down revolvers like the Colt 1849 in vest, pants and coat pockets—often with reinforced linings to prevent premature wear and the firearm from printing through the fabric."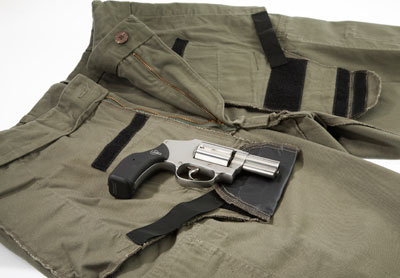 But, I know of someone else who took the concept of pocket holsters much further. During his tenure at Colt's Manufacturing Company from 1918 through 1944, former New York City cop J. Henry "Fitz" FitzGerald utilized a similar method to carry a pair of cut-down and heavily modified Colt New Service revolvers chambered in .45 Colt—a famous configuration that went on to bear his name—in the front pockets of jodhpurs he wore regularly, undoubtedly due to their extra-deep pockets. Unfortunately, the manner in which Fitz successfully accomplished carrying this remains not only a mystery, but a hot topic of debate among afitzcionados, gunwriters and historians even today, with theories ranging from heavy leather-lined pockets to the incorporation of ultrathick leather suspenders used in conjunction with his equestrian-style trousers, to offset the approximate 2 pounds, 4 ounces weight of each pistol.
Regardless of the method, history is repeating itself in style thanks to the folks at CCW Breakaways with the company's lines of concealed-carry cargos, jeans and khakis. A fresh alternative to traditional holster-based carry methods, the front pockets are made from a combination of extra-sturdy 100-percent cotton and rip-stop nylon. Although more expensive than other fabrics, the use of rip-stop nylon provides enormous advantages. According to company owner Jay French, it provides a natural slipperiness against the firearm, which makes for a smooth drawstroke. What's  more, the material will not turn the pocket inside out during presentation. Rip-stop nylon is also snag resistant. By pairing it with heavy-duty cotton, the use of two materials possessing different frictional coefficients results in a long-lasting combination ideal for use with firearms.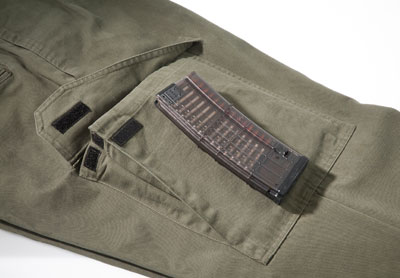 Incorporating hook-and-loop-style fasteners within the pocket's design enables the wearer to customize his pistol's degree of cant and depth, providing a discreet means of successfully concealing a wide variety of full-, compact- and subcompact revolvers and semi-automatic handguns. In addition, the fully adjustable concealment system is featured in both front pockets, which is great news for southpaws like me.
Such a degree of customization—and the inherent versatility that comes with it—eliminates the need for using a traditional pocket holster in the usual shallow pockets typically associated with today's pants. From a practical standpoint, this is huge. In addition to providing a substantial savings as far as holsters are concerned, the ability to customize the pocket to fit your pistol and the angle it is carried also greatly reduces the likelihood of your pistol's grip orientation being altered due to movement.
But, the innovation of CCW Breakaways' design isn't limited solely to its interior-pocket design. The product provides a solution to a problem typically encountered when attempting to draw a handgun from a trouser pocket: once it's gripped,  your clenched fist has difficulty clearing the pocket. CCW Breakaways' solution involves designing the exterior top edge of the pocket to open outward or "break away," increasing the pocket's opening as needed during the drawstroke, thanks to blind snaps strategically concealed within the garment's waistband.
In addition to offering their fully adjustable concealment system in three different clothing lines, the company also produces hook-and-loop-backed pouches to attach to the inside of the opposite pocket as an inconspicuous means of carrying spare magazines. However, front pockets also serve as an excellent place to stash small valuables by simply placing an item, such as jewelry or your passport, in the pocket and sealing the hoop-and-loop material above.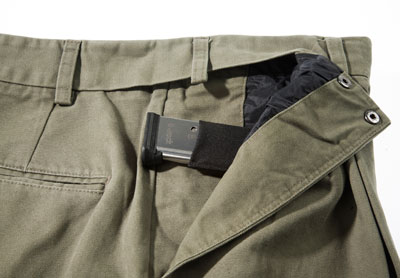 For concealed-carry, CCW Breakaways has a lot to offer. Much like a traditional pocket holster, they provide easy access to a handgun no one else can see, without the need for a  burdensome cover garment. Then, the moment your "Spidey senses" begin to tingle, nonchalantly sliding your hand in your pocket in true "GQ" fashion provides access to your handgun without drawing undue attention. Unlike traditional pocket holsters, however, this product enables you to obtain a full firing grip on the pistol prior to initiating the drawstroke. Most of today's men's trousers contain pocket designs that make presentation from a seated position nearly impossible, but this product's relaxed fit, roominess and its cleverly concealed open-top pockets provide a means to successfully conceal and quickly draw a handgun from deep concealment—without the added burden of leaning to one side or being forced to stand at the outbreak of a life-threatening encounter without access your self-defense handgun.
While this product has something for everyone, being wheelchair bound, I can attest to this product's flexibility, especially for those CCW permit recipients with physical disabilities. The location of the concealment pockets provides an alternative to the common concealment methods, such as strong-side and shoulder holsters, by offsetting the uneven distribution of weight, which could otherwise alter the balance of those who rely on mobility aids like canes, crutches and walkers just enough to be potentially hazardous.
Whether you're searching for new methods for carrying your primary self-defense handgun, more-effective gear for storing your backup sidearm or an alternative means of warm-weather concealed carry, CCW Breakaways pants are an innovative approach to an age-old concept.