Those who legally carry a firearm for self-defense know successful concealment requires modifying the wardrobe to accommodate their handgun. The act of donning a holstered sidearm and related gear is as routine as selecting any other item to complete their daily ensemble. But what about those special occasions when one must look their best? Such occasions call for formal wear paired with fine jewelry, rather than a run-of-the mill service-grade semi-auto. The Kimber Diamond Ultra II delivers the quality and reliability consumers expect from the brand in a special-edition compact pistol that imparts equal amounts of elegance and peace of mind.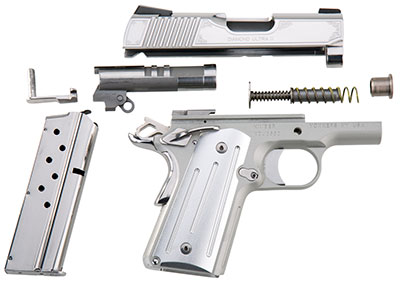 One look at the Kimber Diamond Ultra II and  it's easy to understand how someone can be drawn in merely on the slide's aesthetics alone. Special-edition markings flank the Kimber roll mark on the left side of its highly polished stainless steel slide. However, the pistol's mirror finish isn't the only refined element to this pistol. There's also engraving, complete with a border of delicate scroll accents on each side of the slide. The touch of elegance also adds a subtle but welcome contrast to what would otherwise be a blank, albeit shiny canvas. Closer inspection of the slide confirms this pistol's purpose-built as well as pretty. The ejection port is lowered and scalloped at the rear to improve reliability, while the tapered 3-inch barrel lacks a barrel bushing to promote greater concealment and fewer moving parts surrounding the muzzle for enhanced accuracy.
Closer inspection of the barrel revealed all the necessary attributes for precision accuracy, despite its diminutive size. The feed ramp is also caliber-specific for maximum reliability during slide reciprocation. Moreover, the Diamond Ultra II features a dual-spring guide rod assembly. The two springs help compensate for the subcompact slide's shortened travel. It also reduces the likely stress on a single recoil spring by sharing the load between two. Similarly, such a system also helps mitigate felt recoil and overall wear and tear.
Sights are three-dot style, with a pair at the rear and a single, identically sized dot up front. Despite not being as low profile as I'd prefer, both are dovetailed into the slide allowing windage adjustment and sport a sleek, forward-wedge design and tritium inserts—all of which are nice touches for those who may be drawing in low-light conditions or from under a snag-prone garment. Generously sized rear serrations ensure positive purchase for press checks or other forms of slide manipulation. 


While engraving and a mirror-like finish are superb means of showcasing a firearm's beauty, the Diamond Ultra II's stainless steel slide rides atop a satin-silver frame which, although complimentary, provides a neutral and welcome palette by comparison. Some may perceive it as less extravagant, yet to me the contrast provides a welcome dichotomy that properly accent the pistol's highly polished fire controls—though that's only part of the frame's appeal. Its flowing lines are beveled in all the right places to reduce abrasion, not evoke envious stares.
Besides being shorter in length, two key elements to the micro-size frame's concealability are its truncated grip and aluminum construction, each of which aids in minimizing weight as well as telltale bulges when discretion is paramount. Amidst the curves are several features that promote an optimum firing grip, such as the flat mainspring housing and beavertail grip safety, which helps shooters quickly obtain a higher grip for optimal control during recoil, while the lower portion of the safety's face is built up to maximize positive sear disengagement. Such artistic touches are sure to appeal to a connoisseur of the self-defense pistol.
An ambidextrous thumb safety provides a perfect ledge for the shooter who prefers shooting with their thumb atop the paddle—commonly referred to as "shooting high thumb"—which not only helps counter muzzle flip, it also keeps the safety down for enhanced reliability. What's more, the second paddle facilitates something that can't be bespoke, customized or crafted: the precious versatility of being able to fire the pistol using one's dominant or support hand, in the event either becomes injured during the fight—thereby making it a more-practical alternative.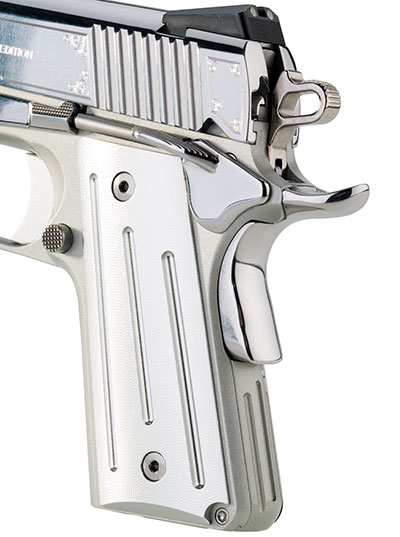 Speaking of alternative, unlike most 1911s that are clad in synthetic wooden stocks that often feature checkering or some other means of overly abrasive purchase enhancement, Kimber chose a different approach by adorning the Diamond Ultra II with thin aluminum panels. Each features three attractive vertical ball-mill flutes, which add a touch of style to the Diamond Ultra II. Additional flutes span its frontstrap and mainspring housing, making for extremely comfortable feel and ample purchase. 
Occasional stoppages occurred with PolyCase ARX, which I attributed it to the ultra-lightweight round's inability to garner sufficient impulse to cycle the semi-auto's  slide. Yet, from an accuracy standpoint, all three loads performed more than adequately for self-defense. The pistol printed groups ranging from .74- to 2.09-inch groups at 10 yards. 
Like any self-defense tools, firearms also can be eye-catching works of art. The Kimber Diamond Ultra II proves to be a purpose-built pistol for those times when one requires both ornamentation and peace of mind.