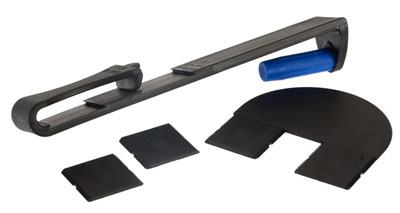 For many, the concept of effective handgun concealment begins and ends with purchasing a compact or subcompact pistol. While such an approach is beneficial, it's only part of the equation. The most practical concealment holsters should possess a minimalist design, lacking in both bulk and size.
One of the first to come to mind is the Yaqui slide—an innovative design that securely held a handgun by encompassing the areas surrounding its ejection port and trigger guard—originally produced by Milt Sparks and made popular by Col. Jeff Cooper during the early days of API and Gunsite. As a sign of the Yaqui Slide's unwavering popularity, today many holster makers offer their own spin on that small-but-versatile holster.
The Versacarry Handgun Concealment System takes minimalist holster design and versatility to a whole new level, offering an extremely lightweight and low-profile holster in an inside-the-waistband (IWB) platform. I suppose it can be debated that IWB holsters are more concealable than traditional exterior-belt holsters, since the holster's body (along with the majority of the pistol) is tucked inside one's waistband, thereby making it easier to conceal and less prone to print through clothing.
Unlike a typical IWB, however, the Versacarry sports a simple—albeit radical—design. In fact, I hesitate to use the word "holster" to describe it, because the Veracarry is far from a traditional holster design. It consists of a polymer bar with a belt clip on one end and an angled barrel-retention rod on the other. (I describe the product in this manner, not to sell it short, but to illustrate the simplicity and versatility of its ambidextrous design.) The aforementioned rod is coated in Delrin—a strong plastic with a natural lubrication property.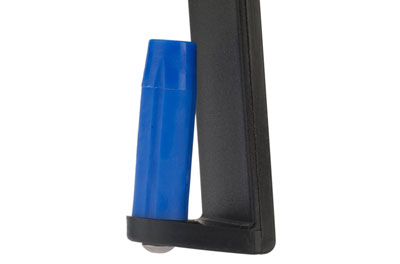 For those questioning the safety of this feature, according to the Versacarry website, the barrel-retention rod is cut to exactly 15 thousandths of an inch below the barrel's diameter. Due to such exacting tolerances, the company assures the rods will not harm a gun's bore in any way. Also, the Versacarry possesses 75 percent less bulk than the typical pouch-like design of standard IWB holsters.
Despite its different design, I found the system easy to use: Merely insert the barrel-retention rod through your pistol's muzzle at a 45-degree angle. (The angle of the stud creates a friction fit to the pistol.) Slide the Versacarry into your waistband and fasten the clip to your belt. As I write this, the manufacturer is working on another variant of the system featuring an adjustable barrel-retention rod, which will enable the user to customize its tention level to their liking.
At only 6 inches long and 2.5 inches wide (with its optional snap-on triggerguard attached), the sample I received was easily concealed by jeans, cargo pants and even tailored business slacks.
By the same token, once the mercury rises, the Versacarry's size and shape should also prove easily concealed by shorts and a T-shirt. Its lightweight polymer construction makes it less likely to be affected by the damage of summertime heat, humidity and the major nemesis to steel and gunleather—perspiration.
This system is ideal for someone who carries handguns of different sizes, even extra-small pocket pistols chambered in .25 ACP, .32 ACP and .380 ACP. Along similar lines, for concealed-carry permitees who typically favor bigger pistols in larger calibers, the Versacarry is available in extra small through extra large sizes for full-, compact- and subcompact-size pistols chambered in 9 mm, .357 SIG, .40 S&W/10 mm and .45 ACP.
With its innovative design, built to accommodate such a plethora of pistol sizes and priced at only $24.99, it's safe to say there's a Versacarry that will fit your budget and your needs.