Leather and Kydex hybrid holsters have come a long way over the last few years, especially in the IWB world. It used to be that if you wanted a hybrid, you had to get a wide leather back with two clips spread far apart. Of course, you can still get holsters like that, but you can also get good holsters with a smaller footprint that work just as well.
Such is the case with the Versacarry Comfort Flex Custom IWB Holster. The single-clip design gives it a small presence, but with plenty of area for a decent leather backer.
The holster starts with a traditional Kydex mold patterned to simulate carbon fiber on the outside. Like all Kydex holsters, it is molded to your particular gun model. All the molds for this holster are cut for optics right from the factory, a smart move for Versacarry with the increased popularity of pistol red dots.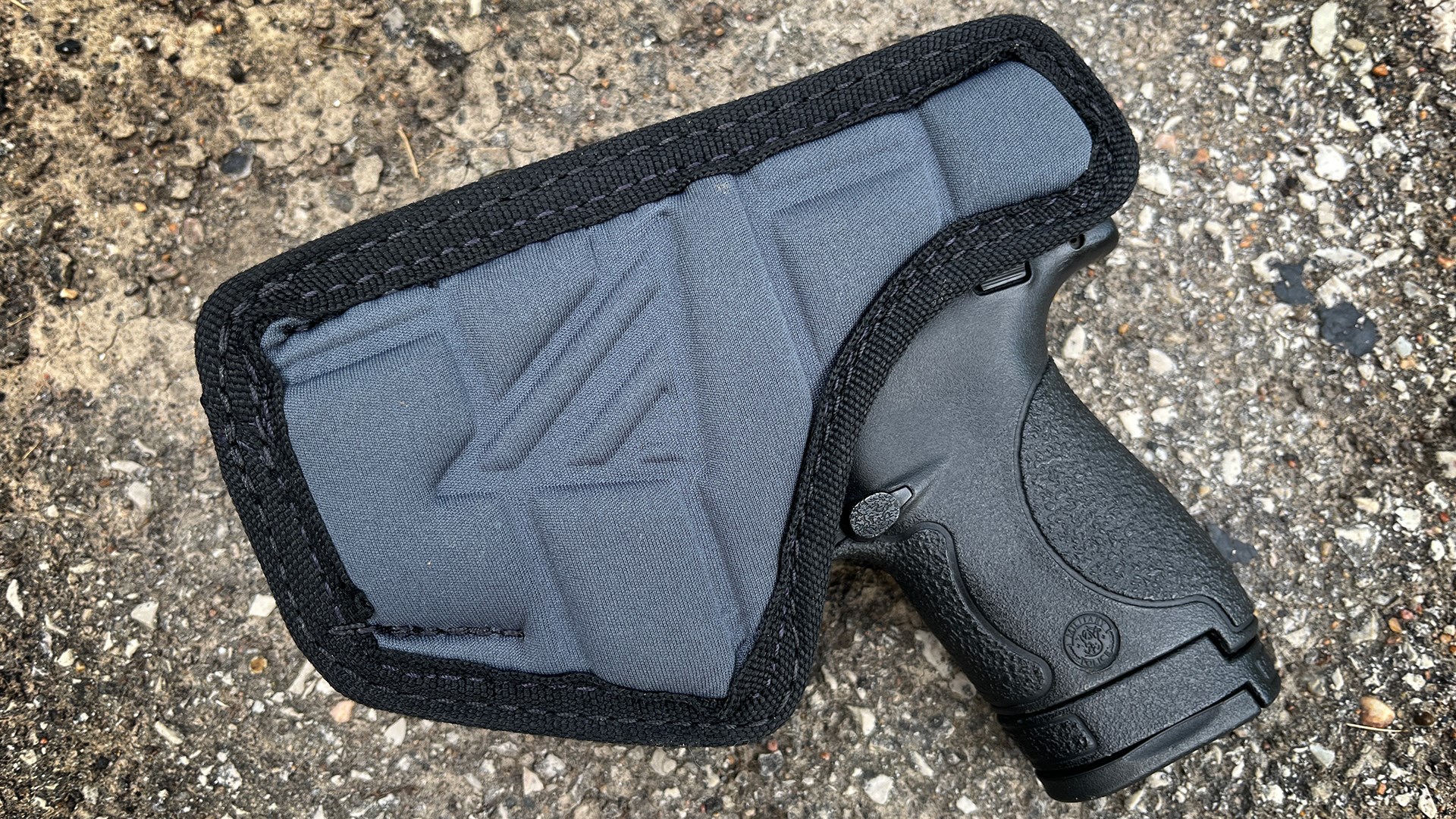 The shell is bound to the tanned water buffalo leather backer via a single screw, which doubles as retention adjustment. The bottom and back of the shell are slotted into the leather backer and stitched into place. The craftsmanship looks top-notch solid like it will last for years of continuous use.
What sets the Comfort Flex Custom IWB Holster apart is the first word in its name: comfort. Most leather holsters are comfortable, thanks to the inherent properties of animal hide. But Versacarry takes it one step further by adding a cushioned layer between the leather and your skin for even more comfort.
The holster is held to the belt with a fully cant adjustable 1.5-inch steel clip attached by two Phillips screws. Throughout my testing period, my sample clips held tightly except for a couple of times when the top one loosened just slightly enough to let the holster tilt a little too much for my taste. But a quick turn of a screwdriver fixed it right up.
While I am not a fan of leather IWB holsters, I do like hybrids, especially ones as comfortable as the Versacarry Comfort Flex Custom. The solid Kydex shell held its shape extremely well, and the leather backer was comfortable yet not so fluffy that it inhibited the gun from going back in smoothly and safely. This is a great choice if you're a fan of this holster style.
At $64.99, this holster is right in line with some other holsters that don't offer the same quality of craftsmanship. The holster is comfortable and does its job extremely well. It's a great overall design and value.