When it comes to handguns, I am an equal opportunist: Revolvers, semi-autos; I love them all. That same sense of equality comes through as a collector. Though there are considerably more pistols and revolvers than long guns in La Bunker del Boyd, when it comes to handguns, surprisingly both wheelguns and (revolvers) what the late Jeff Cooper referred to as "crunch'n tickers" (DA/SA semi-autos) are, for the most part—equally represented—with classic (alloy/steel-framed) and modern (polymer) examples each being prominently represented.
As a concealed-carry licensee for more than 25 years, a large portion of those firearms have features designed for concealment and personal protection. For most of that time, my go-to handgun of choice has been a semi-auto with personal preference gravitating toward one of the three sizes of 1911, (depending on the situation, appropriate seasonal wardrobe changes and my needs at a given moment in time). Lately however, I've found myself rediscovery the revolver's appeal for concealed carry and one particular model that's often overlooked: The Charter Arms Classic Bulldog. 
Origins of the Name 
Much akin to a certain polymer-frame pistol of Austrian manufacture, my experience is when it comes to Charter Arms most in the firearm community either love them or do not. Historical and pop culture references aside however, there is another niche the Bulldog fills in which some may be unaware. But, to truly discuss the wheelgun's merits as candidate for personal protection, we need to examine it from a historical perspective. The first, and perhaps the most obvious clue lies in the gun's name. As the name implies Charter likely selected the name in an attempt to draw similarities between it and the classic, short-barreled, solid-frame pocket revolver first introduced by Philip Webley & Son of Birmingham, England, in 1872. The design appealed to consumers as an easily concealable option for self-defense, and gunmakers throughout continental Europe and even the U.S. began copying the design. Though designs varied slightly by brand, the term bulldog eventually evolved into a colloquialism used to describe a small, medium or large-frame, revolver, with a short barrel (generally 3 inches or less) and typically chambered for large cartridges like the .455 British.
While this design is far from new, when Charter Arms first began producing its Bulldog in 1973 (in the midst of the popularity of the film "Dirty Harry") the snubby gained its own notoriety among consumers. Certain police departments approved the .44 Spl. cartridge for officers looking for a large-bore backup while off-duty or working undercover. Why? A side-by-side comparison with the typical steel-frame .38 Spl. and the answer become apparent almost instantly. Dimensionally speaking, the Bulldog is only a tad larger than the J-Frame. In addition, the Bulldog featured a 3-inch, tapered barrel and the same capacity as the Smith & Wesson. Conversely, the slightly longer barrel offers a greater sight radius for improved accuracy without compromising concealment. Best of all, the Bulldog boasted that much larger big .44-caliber hole in the end of the barrel. Further, the movement to improve the terminal performance of ammo through the development of high-pressure loads had not begun yet. (SAAMI did not begin using the +P designation regarding dimensional specifications, velocity and pressure-test barrels until early November of 1979.) The 158-grain round-nose lead rounds that were still being used by law enforcement were capable of anemic velocities around 940 fps. Therefore, timing of the Bulldog's release allowed citizens and law-enforcement personnel the ability to up their concealment and terminal-performance simultaneously without breaking the bank. The same holds true for wheelgun enthusiasts and concealed-carry practitioners today.
Whether you subscribe to the philosophy, "All proper self-defense pistols must be in chambered in a number that begins with the number four," or you're looking for a revolver that offers added ounces of prevention without weighing you down, Charter Arms' Bulldog is worth a look. Though its product line contains several offerings with a variety of different configurations and features, the Classic Bulldog blends all the attributes that consumers expect with a touch of old-school class.
A Classic Reborn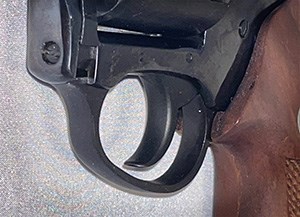 From the moment I opened the case, I was taken back to an earlier time when handguns were a blend of steel and walnut, without a trace of the materials commonly seen on today's handguns. No trace of alloy, injection-molded polymer or rubber was present, and it's that absence that allows one's attention to be drawn to all the graceful lines and curves that make a revolver so appealing. Whether it's the richness of the blued finish, the subtle textural elements of partial checkering/knurling or the warm hues of wood, the Classic Bulldog reflects a level of craftmanship, elegance and aesthetic appeal that is noticeably absent in today's sea of Cerakote-clad, polymer-frame market.
In addition to being eye-catching, the Classic Bulldog is extremely light weight. Its 3-inch barrels sports a tapered contour, sans an underlug or ejector-rod shroud, of which I'm a huge fan. The contour allows for the greater barrel length without negatively affecting the balance. It's true that such additions would add mass under the barrel where it would be most beneficial (and mass is certainly a friend when offsetting the recoil associated with big-bore calibers) yet the tapered contour remains true to the original Bulldog design and contributes it being extremely well balanced in the hand. Further, in a world where nearly every revolver manufacturer produces some variant of snubby with an underlug, shrouded ejector rod, the departure serves a breath of fresh as for some, while reminding others of duty guns from the past that sported such minimalist features, like the Smith & Wesson Model 10 or early Detective Specials. In addition to cleaner lines and light weight, the lack of an ejector rod also offers an element of enhanced versatility in that the user can open the cylinder either by actuating the cylinder-release latch or by pulling forward on the knurled tip of the ejector rod.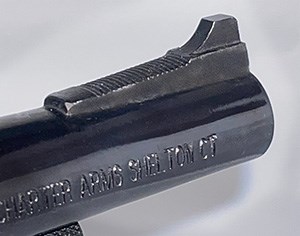 This theme of minimalism is carried further upon closer examination of the sights. However, unlike wheelguns of the past that traditionally feature sights with graceful contours and radiused edges, none of that is present with the Classic Bulldog. Its small, but robust front blade lacks any sort of contemporary eye-catching adornments such as a white dot or fiber-optic frill and is perched atop a tapered base of considerable size. Interestingly, glare-reducing serrations can be found along the base, but do not span the face of the front blade. As such, the smooth face of front blade might be the ideal candidate for a coating of brightly colored nail polish/paint. Whether you opt to do so or not, the fixed, integral rear that notch spans the length of the topstrap allows ample light along each side of the front sight, so despite its plain appearance, it's quick to acquire and get on target.
Concerning the grips that adorn the Classic Bulldog, given that this variant showcases the revolver's original design, it's tempting to acknowledge the attractiveness of the wooden stocks, the similarity one could draw between the inset medallions to that of another Connecticut-based firearm manufacturer, the aesthetic/practical advantages of partial checkering or that the recess along the left permits the use of speedloaders in a defensive encounter, but there's another aspect that is easily overlooked: While compact for optimum concealability, they are beefy in volume and fill the hand well. This girth accomplishes two things. It contributes to the pistol's good feel/balance and while some may consider dismissing them in favor or the rubber offerings found on company's contemporary variant the Bulldog, consider that the rubber panels may be more comfy in hand, however the wider wooden panels will be more effective at distributing recoil than the thinner rubber models. Similarly, the wooden panels are less likely to bind/catch on clothing when drawing from concealment, unlike rubber. 
Serrations, like those found along the front-sight base, are along the hammer spur as well as along the cylinder-release latch, each providing a practical means of purchase enhancement where it's needed most. The same can be said for the partial checkering along the sides of the grips. The texturing is just enough to foster a non-slip grip for greater control without the worry of abrading skin, clothing or gear. 
Unlike similar revolvers of yesteryear that featured a firing pin affixed to the hammer nose, original Bulldogs offered a more practical alternative, as does this contemporary classic: an inertia firing pin mounted to the frame, complete with a transfer-bar ignition system, which allows all chambered to be loaded for an uncompromising safety and added peace of mind against accidental discharge.
Thanks to tremendous technological advancements in contemporary bullet and powder development, a myriad of .44 Spl. ammunition is available today compared to when the Charter Arms Bulldog first began rolling off the assembly line. However, given the current ammo shortage gripping the firearm industry my selection was limited to what presently resided in our ammo closet. Thankfully, I was able to procure three loads and headed to the range.  
Range Testing
Shooting the Classic Bulldog from the bench proved quite enjoyable despite its small frame and minimalist iron sights. The cumulative effect of recoil, which is nothing to be ignored in a 20-ounce gun, prove quite manageable. I wasn't surprised to find that my offhand groups at 7 yards, fired in single-action mode, weren't much larger than my groups from the bench. When I rested the gun on a benchrest, group sizes averaged from 1.34 inches to 3.55 inches, depending on the load. Surprisingly, when shooting offhand they didn't grow that much. Shooting double-action offhand, I could easily keep five rounds in a 6-inch target out to 10 yards. As far as combat accuracy is concerned, you can't ask for more than in a revolver that's designed for personal protection.
The sample I received for testing had an excellent single-action trigger pull weight of 3 pounds, However, the double-action trigger pull was quite heavy at exactly 9 pounds more, and like every Charter Arms revolver I've shot over the years, it was predictably stagey, which is not necessarily a bad thing.
For wheelgun aficionados engaged in the timeless quest of finding a big-bore revolver packed with solid features and a classy appearance in an industry dominated by alloy and polymer, the Charter Arms Classic Bulldog is more than up to the role of personal protector, and in these times of rising costs, high inflation and tight budgets, we can all use the added peace of mind that comes from having such a companion ready to serve your personal-protection needs.
Charter Arms Classic Bulldog Specifications
Manufacturer: Charter Arms
Action Type: DA/SA revolver
Caliber: .44 Spl.
Cylinder Capacity: 5 rounds
Grips: Wood
Frame: Carbon Steel
Barrel Length: 3 inches
Sights: Plain front, U-notch rear
Trigger Pull Weight: 12 pounds, (double action), 3 pounds (single action)
Length: 7.55 inches
Width: 1.45 inches
Height: 5 inches
Weight: 20 ounces
Accessories: Manual, hard case, trigger lock
MSRP: $452.20
Shooting Results
| | | | |
| --- | --- | --- | --- |
| Load | Smallest | Largest | Average |
| Hornady Critical Defense 165-grain FTX | 1.34 | 1.82 | 1.57 |
| Speer Got Dot 200-grain GDHP | 2.26 | 3.55 | 2.7 |
| American A-MERC 240-grain LRN | 1.44 | 3.12 | 2.23 |
Temperature: 68 degrees Fahrenheit. Accuracy measured in inches for three consecutive five-shot groups at 7 yards from a benchrest.