by
Shooting Illustrated Staff
posted on January 3, 2012
Support NRA Shooting Illustrated
DONATE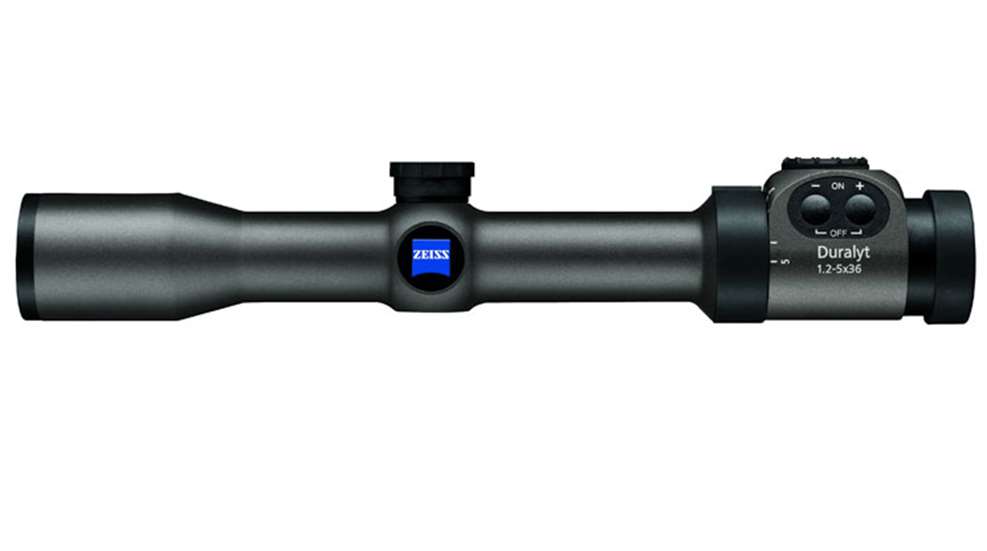 Known for their reliability and precision, the three premium German-made models are available with illuminated reticle #60 or non-illuminated reticle #6, giving today's active hunter excellent options for most hunting situations.  The distinctive design, durability and outstanding value of these 30mm scopes set them apart in the premium segment.
"We're excited to bring this new line of rugged, versatile 30 mm Conquest riflescopes to the U.S. market," said Michael A. Jensen, President of Carl Zeiss Sports Optics. "We want to provide our customers with more choices, and the Conquest Duralyt represents the best value for a European engineered riflescope!  These riflescopes feature the mechanical precision that you expect from Zeiss, large fields of view, incredible daylight illumination and image quality that is absolutely outstanding for this class.   Simply put, the 30 mm Conquest Duralyt offers exceptional performance at a very appealing pricepoint."
The illuminated reticle #60 features an extremely fine red dot in the center of the crosshairs. When turned off, the dot disappears and it looks identical to reticle #6 (both are non-magnifying reticles in the second image plane). The daylight-visible illuminated reticle #60 was developed using fiber optic nanotechnology that produces the finest illuminated dot in its class – covering just 0.3 inches at 100 yards on 12x magnification. Illumination is activated, and brightness intensity controlled, by pressing one of the two touch keys on the eyepiece. After four hours of unaltered operation, the illuminated dot switches off automatically. For manual deactivation, both buttons must be pressed simultaneously.  
The progressive design of the Conquest Duralyt also features a unique dark grey, anodized surface with deep black rubber operating elements to ensure that the scopes blend well into natural surroundings. The Conquest Duralyt scopes are also nitrogen filled to remain water and fog proof for years of hard use and enjoyment.
The three Conquest Duralyt models provide hunters and shooters with options for just about any situation afield. The Conquest Duralyt 1.2-5x36 mm's low magnification and wide field of view allows for quick and safe target acquisition at close range making it an excellent choice for dangerous game and tactical applications. 
The sleek and compact Conquest Duralyt 2-8x42 mm provides bright images in twilight and allows for accurate shooting at moderate distances exceeding 200 yards. This is the model of choice for those seeking a practical magnification range for various types of hunting. 
The Conquest Duralyt 3-12x50 mm is the ideal choice for shooting medium to longer distances during the day or in twilight conditions. Its 50 mm objective allows for excellent low light performance and yet this scope is still lightweight enough for mountain hunters. 
| | | | |
| --- | --- | --- | --- |
| Scope | Reticle | MSRP | Retail |
| Conquest Duralyt 1.2-5x36 | #6 | $1,055.54 | $949.99 |
| Conquest Duralyt 1.2-5x36 | illuminated #60 | $1,388.88 | $1,249.99 |
| Conquest Duralyt 2-8x42 | #6 | $1,111.10 | $999.99 |
| Conquest Duralyt 2-8x42 | illuminated #60 | $1,444.43 | $1,299.99 |
| Conquest Duralyt 3-12x50 | #6 | $1,166.66 | $1,049.99 |
| Conquest Duralyt 3-12x50 | illuminated #60 | $1,499.99 | $1,349.99 |
Conquest Duralyt Technical Specifications
| | | | |
| --- | --- | --- | --- |
|   | 1.2-5x36 | 2-8x42 | 3-12x50 |
| Magnification | 1.2-5x | 2-8x | 3-12x |
| Effective Lens Diameter | 36 mm | 42 mm | 50 mm |
| Exit Pupil Diameter | 16-7.7 mm | 16.3-5.3 mm | 16.3-4.2 mm |
| Twilight Factor | 3.4-13.4 | 5.7-18.3 | 8.5-25.9 |
| Field of View (ft/100 yds) | 98.4 - 27.9 | 52.2 - 15.7 | 36.0 - 10.5 |
| Diopter Range | +2 / -3 dpt | +2 / -3 dpt | +2 / -3 dpt |
| Eye Relief | 3.54 in | 3.54 in | 3.54 in |
| Parallax Adjustment | 109.4 yds | 109.4 yds | 109.4 yds |
| Square Adjustment Range (in/100 yds) | 110.2 | 63.0 | 43.3 |
| Adjustment Per Click (in/100 yds) | 1/3 | 1/3 | 1/3 |
| Center Tube Diameter | 30 mm | 30 mm | 30 mm |
| Eyepiece Diameter | 42 mm | 42 mm | 42 mm |
| Objective Lens Diameter | 42 mm | 48 mm | 56 mm |
| ZEISS Multicoating | yes | yes | yes |
| Nitrogen Filled | yes | yes | yes |
| Reticle Image Plane | 2nd | 2nd | 2nd |
| Length | 11.88 in | 11.88 in | 13.66 in |
| Weight (non-illuminated) | 16.57 oz | 16.75 oz | 18.87 oz |
| Weight (with illumination) | 18.16 oz | 18.34 oz | 20.45 oz |
| Order Number (non-illuminated) | 525401-9906 | 525411-9906 | 525421-9906 |
| Order Number (with illumination) | 525405-9960 | 515415-9960 | 525425-9960 |