by
Shooting Illustrated Staff
posted on October 15, 2021
Support NRA Shooting Illustrated
DONATE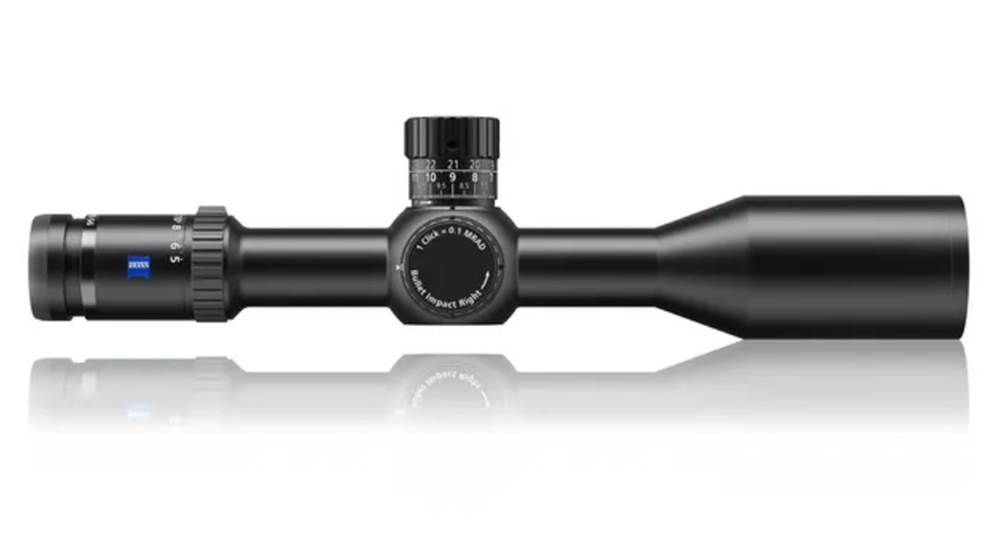 Zeiss recently announced the launch of the new LRP S5 series of first-focal-plane riflescopes. The new long-range riflescopes from Zeiss include high-performance optics, best-in-class total elevation travel, highly repeatable, precise, and tactile turrets as part of a compact and heavy-duty riflescope. Likewise, a daytime visible illuminated reticle comes standard.
The new scopes offer two first-focal-plane reticle designs and are available in either Mils or MOA. The Zeiss LRP S5 is designed, engineered, and manufactured in Germany and is built to withstand up to a massive 1,500 G-force of recoil. The product family consists of two models, including the 3x18-50 mm and 5x25-56 mm and is available in four unique configurations. Each of the offerings come with 34 mm main tubes.
"For longer-range shooting, precision is crucial. With our new Zeiss LRP S5 we have decisively expanded our product line to provide an elite riflescope that can dominate at every competition," according to Kyle Brown, Director of Marketing and Product for Carl Zeiss SBE, LLC. "With the compact and heavy-duty design of these riflescopes we have validated and proven that they are ready to tackle the toughest shooting competitions and the most difficult hunts."
The new LRP S5 riflescopes offer an external elevation turret with larger font sizes and dual row engraving. It also incorporates the Ballistic Stop, which provides a rock-solid return to zero. In addition, the all-new Zeiss External Locking Windage Turret (ELWT) allows the shooter to pull out on the locking collar, make necessary adjustments, and then lock-in the selected setting.
The premium optical design comes with Zeiss' Fluoride lens elements, Schott glass and Zeiss' proprietary T-Star lens coatings for optimum color fidelity, image brightness, exceptional resolution and edge-to-edge sharpness within the entire field-of-view. The scopes deliver 90 percent light transmission to the eye, clearer visuals, faster target identification and validation of the finer details down range. The exterior facing lenses are final coated with Zeiss LotuTec protective lens coating process for anti-fogging and to repel water, dust, dirt, fingerprints and more.
The MOA-based turrets are adjustable with .25 MOA-per-click values and offer 30 MOA of travel per rotation. Each click is audible and provides a tactile confirmation for every adjustment. The MRAD turret features a more pronounced click at whole MRAD intervals.
The 3-18x50 mm and 5-25x56 mm scopes offer best-in-class (140 MOA or 40.7 MRAD) total elevation adjustment which enables shooters to engage targets up to 1,500 yards. When combined with the side parallax adjustment, infinitely variable reticle illumination, and a European-style fast focus eyepiece, the Zeiss LRP S5 looks to be a long-range powerhouse. 
The scopes also come with the option of two new FFP reticles: the ZF-MOAi and the ZF-MRi, illuminated reticles in MOA and MRAD smart reticle designs.