by
Shooting Illustrated Staff
posted on March 9, 2012
Support NRA Shooting Illustrated
DONATE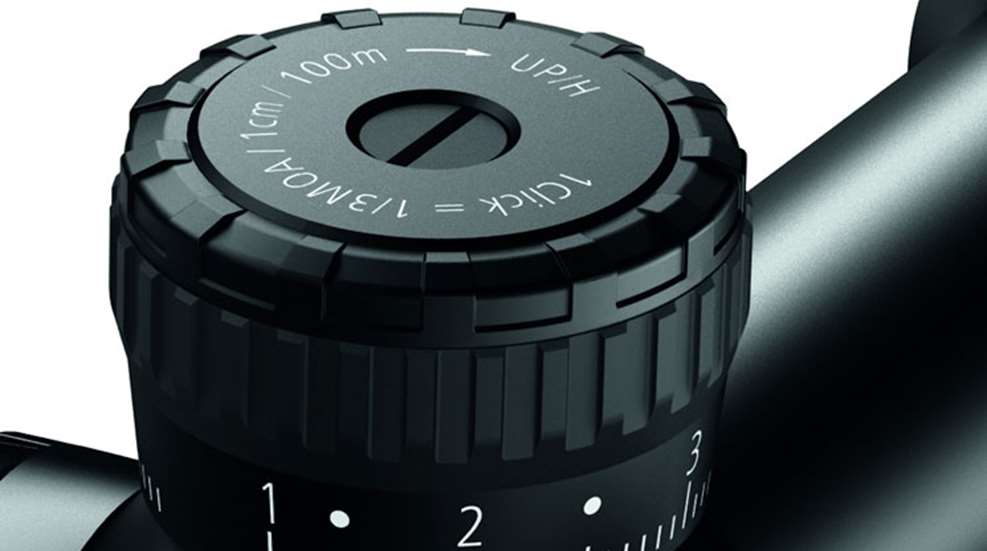 Carl Zeiss Sports Optics introduces the all new, super-bright VICTORY HT Riflescope line available in 1.1-4x24, 1.5-6x42, 2.5-10x50 and 3-12x56 models.  These VICTORY HT 30mm riflescopes achieve an unprecedented light transmission of near 95% thanks to the state-of-the-art proprietary High Transmission (HT) glass by SCHOTT and enhanced T* multi-layer coatings.  As a result, hunters with VICTORY HTs atop their rifles will experience a level of image brightness never seen before, giving them a distinct advantage in extreme low-light conditions.  The VICTORY HT also comes with one of the most versatile reticles ever invented - Zeiss' proprietary reticle # 60, featuring the world's finest illuminated red dot for superior precision. 
The illuminated reticle # 60 is non-magnifying in the second focal plane for minimum target coverage and activated by pulling out the knob on the left side of the scope.  Turning the knob then controls the brightness, allowing for the most versatile levels of illumination.  When the knob is simply pushed back in, the illumination turns off.  The superior ergonomics of this system make it easy to operate while looking through the scope, even while wearing gloves.  The illuminated dot is as easily visible in bright sunlight as it is in any low light conditions. This dot is so fine, it totally disappears when the illumination is turned off offering the shooter an absolute distraction- free sight picture.  If the illumination knob is untouched for four hours, the illumination automatically shuts off to preserve battery life.
The VICTORY HT riflescopes are also designed with a notably slim ocular for a lower profile and come with Zeiss' new ASV + turret for quick ballistic compensation.  Each scope will have a complete set of ballistic rings for any hunting load, allowing for easy, fast and accurate target acquisition and distance compensation with a quick turn of the elevation turret.
VICTORY HT 1.1-4x24

With its large exit pupil and wide field of view on low power, this smallest VICTORY HT is perfect for any shooting requiring extremely fast target acquisition whether hunting dangerous game, shooting in a 3-Gun competition or use for tactical applications.   When every second counts, the VICTORY HT 1.1-4x24 delivers fast, accurate results.  Available with reticle # 54 or # 60.
VICTORY HT 1.5-6x42

This super-compact, low-profile scope is versatile and perfect for varied terrains - from heavy brush to open country stalking.   The high-performance HT glass in this scope is a benchmark in low-light performance for 42mm riflescopes.  Available with reticle # 60.
VICTORY HT 2.5-10x50

This low-profile, all-purpose scope squeezes the utmost light out of its 50mm objective – from dawn until dusk.  This scope is as versatile as they come and, with the ultra-fine dot in reticle # 60 and state-of-the-art HT glass, it delivers unprecedented precision at longer distances.  Available with reticle # 60.
VICTORY HT 3-12x56

The largest of the VICTORY HT line, this 3-12x56 makes targets visible in the very last of shooting light when conventional optics often fail.   The combination of the advanced HT glass, high-performance 56MM objective lens, the super-fine illuminated dot and ASV+ turret option makes this scope deadly accurate at any distance in any light.  Available with reticle # 60.
"Carl Zeiss has set a new standard once again," said Michael A Jensen, President of Carl Zeiss Sports Optics.  "The VICTORY HT is the finest, highest-performance riflescope on the market today and once you've looked through one, you'll see why.  There is nothing comparable."
The VICTORY HT riflescopes will be on display for the first time in the United States at the NRA Annual Meetings and Exhibits in St. Louis, Missouri, April 13-15, 2012 and available in stores in the third quarter.
MSRP:
VICTORY HT 1.1-4x24                      $2,556
VICTORY HT 1.5-6x42                      $2,611
VICTORY HT 2.5-10x50                    $2,667
VICTORY HT 3-12x56                       $2,772
Specifications:
| | | | | |
| --- | --- | --- | --- | --- |
|   | 1.1-4x24 | 1.5-6x42 | 2.5-10x50 | 3-12x56 |
| Magnification | 1.1-4 | 1.5-6 | 2.5-10 | 3-12 |
| Effective lens diameter | 16.3 to 24 mm | 22.6 to 42 mm | 37.7 to 50 mm | 44 to 56 mm |
| Exit pupil diameter | 14.8 - 6 mm | 15 – 7 mm | 15 – 5 mm | 14.9 – 4.7 mm |
| Twilight factor | 3.1 – 9.8 | 4.2 – 15.9 | 7.1– 22.4 | 8.5 – 25.9 |
| Field of view (feet at 100 yards) | 114 - 31.5 ft | 74.4 - 20.7 ft | 44.4 - 12.3 ft | 37.5 - 10.5 ft |
| Viewing angle | 21.5º - 6º | 14.1º - 1.4º | 8.5º - 2.3º | 7.2º - 2º |
| Diopter adjustment range | -4/+2 D | -4/+2 D | -4/+2 D | -4/+2 D |
| Eye relief (inches) | 3.54 in | 3.54 in | 3.54 in | 3.54 in |
| Parallax free (yards) | 109 yd | 109 yd | 109 yd | 109 yd |
| Adjustment range 100 yards | 108 in | 82.8 in | 50.4 in | 43.2 in |
| Adjustment click at 100 yards | 0.34 MOA | 0.34 MOA | 0.34 MOA | 0.34 MOA |
| Center tube diameter | 30 mm | 30 mm | 30 mm | 30 mm |
| Eyepiece diameter | 42 mm | 42 mm | 42 mm | 42 mm |
| Objective diameter | 30 mm | 48 mm | 56 mm | 62 mm |
| Nitrogen filled | Yes | Yes | Yes | Yes |
| Waterproof | 13.1 ft | 13.1 ft | 13.1 ft | 13.1 ft |
| Operating temperature | –13 F to +122 F | –13 F to +122 F | –13 F to +122 F | –13 F to +122 F |
| Length | 11.37 in | 13.03 in | 12.64 in | 13.66 in |
| Weight without rail | 15.5 oz | 18.1 oz | 18.5 oz | 20.2 oz |
| Weight with rail | 16.4 oz | 18.9 oz | 19.4 oz | 21.1 oz |
| Warranty | Limited Lifetime | Limited Lifetime | Limited Lifetime | Limited Lifetime |
| Image plane | 2nd | 2nd | 2nd | 2nd |
| Reticle | 54, 60 | 60 | 60 | 60 |