Something very cool happened at the 143rd Annual Meeting. Beretta hosted a gathering of gunbloggers and media professionals... who happened to be of the female persuasion.
From professional media to accomplished shooters and everyone in between, all were welcome at the meetup. A personal tour of the Beretta booth, with full coverage of all new items, as well as items specifically tailored for women, was offered.
And who should happen to stop by during the demonstration?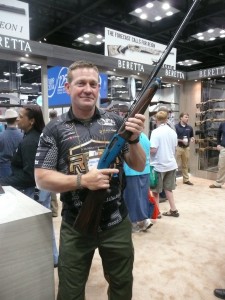 None other than Top Shot season five second place winner Chris Cerino, who was checking out Beretta's new A400 XCel semi-automatic shotgun.
There's always something interesting happening at the NRA Annual Meeting.