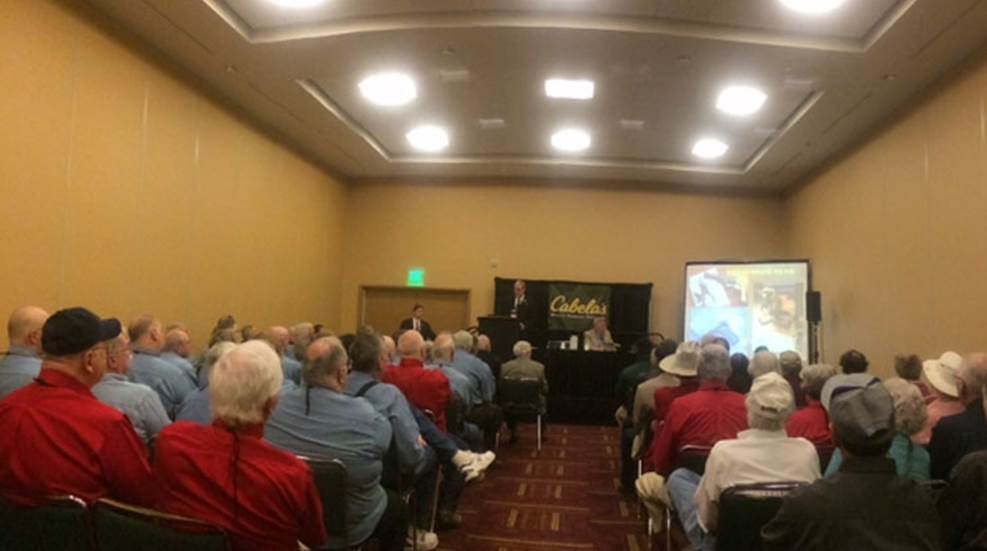 It's hard to imagine an NRA annual meeting without grandiose display of guns, but according to NRA Museums Senior Curator, Phil Schreier, "Gun-collection clubs have used the organization's annual meetings as a venue to display their finest guns since the mid 1950s. By 1960, the NRA Gun Collector Committee decided to recognize the best exhibits and best individual guns at the meeting with awards.
In addition to 24 exhibits being provided from all 24 affiliates, this year's award ceremony was attended by more than 150 people and marked by two firsts: Museum Director Jim Supica spoke in depth about the recent opening of The NRA National Sporting Arms Museum, located in Springfield, Missouri. Featuring 1,000 firearms from the 1600s to modern day, the Bass Pro flagship is home to elegant displays showcasing firearms from U.S. Presidents like Theodore Roosevelt and Dwight D. Eisenhower, guns from the Remington Arms Company factory collection, a multi-million dollar collection of U.S. military sidearms, ornately engraved Colts revolvers from the old west and an assortment of guns that belong to exhibition shooter Annie Oakley.
The second crowning achievement occurred during the awards ceremony when the NRA Gun Collectors Trophy was won in a tie by The American Society of Gun Collectors for its display of American Revolutionary War guns, and the Missouri Valley Arms Collectors Association for its assortment of Vicker's guns.