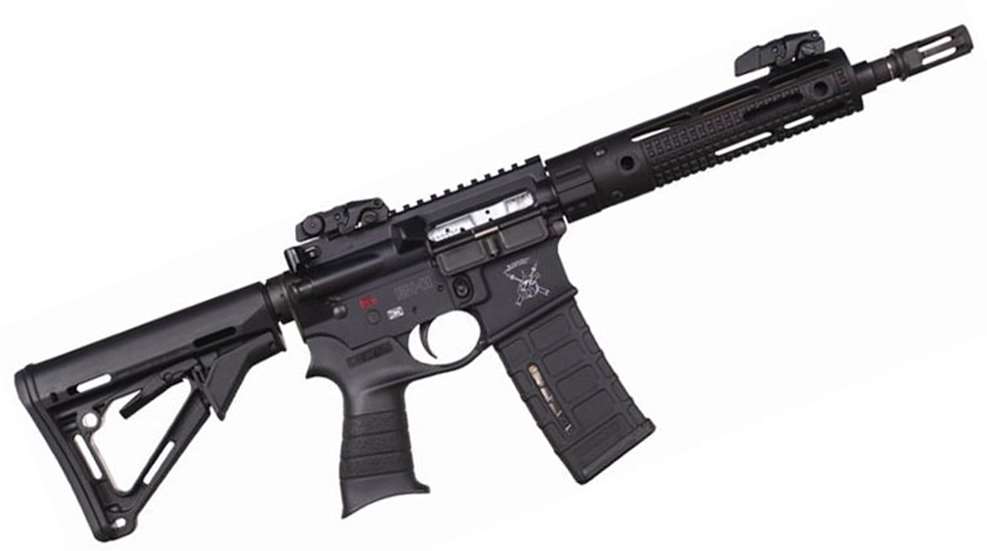 The inclusion of Picatinny rails, both on top of the receiver and on the handguards, changed everything. Suddenly, using only a coin as a tool, anyone could easily and precisely add an accessory to an AR rifle or carbine.
So, what did we do in those dark days before rails became ubiquitous? Well, we suffered. Each accessory manufacturer was tasked with not only developing a useful product, but also with designing a means for mounting that specific product on a firearm.
Pictured is a carry handle-equipped PWA AR-15 carbine assembled during pre-rail days. It is contrasted with a modern Daniel Defense M4 carbine. The older AR features a SureFire M500L WeaponLight that replaces the fore-end handguards. It offers 500 lumens and can be set to constant-on, or instant-on via a pressure switch.
Up top is a knock-off of a Colt 4x20 mm AR scope. Its pre-attached mount screws into an existing hole in the gun's carry handle, but keeps the iron sights usable. The scope is used in conjunction with a snap-on plastic comb to raise the shooter's eye level.
Crimson Trace formerly made the AR-specific laser shown on the PWA. It replaced the pistol grip with one that housed batteries, and activation and master switches. The semi-flexible housing for the laser module extended up the left side of the firearm, held in place at the top by a piece that fit into the carry handle. The laser beam was fully adjustable for windage and elevation, and very easy to activate, but the module housing had to be detached if you wanted to pivot or remove the AR's upper.
This old carbine is still a very functional, effective piece of ordnance, but putting it all together way back when was quite a hassle—and an expensive one (scope notwithstanding). (The SureFire unit is still offered, but has an MSRP of $895.) Today, you'd need only a red-dot with built-in rail mount for CQB (an EOTech is shown on the M4), or a rail scope mount and magnified optical scope for longer range.
Both the light and the laser could quickly be replaced with a Crimson Trace MVF 515 Modular Vertical Foregrip laser/light (though the light would be less powerful). In fact, we so accessorized the M4 in less than two minutes.
The old, rail-less AR-15 carbine could be updated quite easily with a see-through carry handle rail mount (keeping the iron sights usable) and either a red-dot scope or a rail scope mount and magnified optical scope.
Raising or detaching the upper would still be a pain because of the laser, but too much time and effort was expended putting this baby together to retire it just yet.